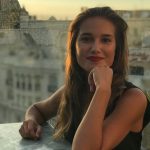 Alba Aragón
https://amanecemetropolis.net/author/alba-aragon/
They told me I learned to walk with a pen in my hand, and I haven't let go of it since. After working in various online media, I'm currently professionally involved in communications and marketing. I also write micro-stories.
Subscribe to our newsletter
Subscribe now and you will receive our top posts and keep up to date on the latest from our blog.
Utilizamos cookies propias y de terceros para posibilitar, personalizar y analizar la navegación, mejorando la calidad de los servicios. Haciendo click en el botón "Acepto todas las cookies", acepta su uso conforme a nuestra
política de cookies
. Puede cambiar sus preferencias tanto en su navegador como en el panel de gestión de cookies que aparece a continuación. Si desea más información, consulte la
Política de Cookies
.
Accept all cookies
Cookies settings