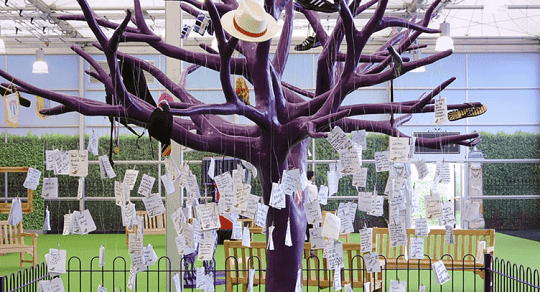 Following the closing ceremony of the London 2012 Olympic Games, Heathrow Airport waved off athletes in style on one of the most challenging and high-profile days in its history. The athletes arrived at a specially constructed Games Terminal which had been dressed like a London park to give a memorable farewell.
The terminal included plants, park benches, replica gas lights, trees and model stags. Its walls displayed London's skyline and the park was filled with iconic London designs such as the red telephone box and Routemaster bus. Some Heathrow staff were dressed like park wardens for the day and a bearskin guard is stationed at ticket presentation. Athletes were invited to record their favourite memory of the London Games and hang them on a tree. Their comments are being collated into books that will be presented to the 1,300 Heathrow volunteers who helped make arrivals and departures such a success.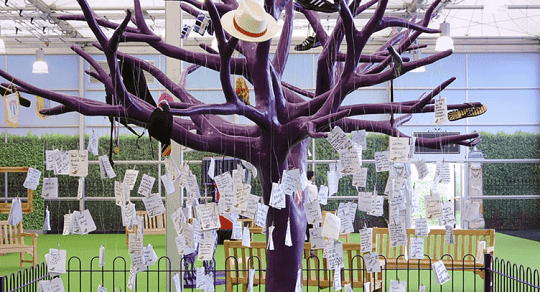 The Games Terminal was part of a completely new departure process that was put in place for Olympic athletes. Departing athletes were expected to leave with more than three bags per person, including outsize sporting equipment. To make departures easier and to cope with the large number of bags, athletes used check-in and bag-drop facilities at the Olympic Village. 5,040 bags were successfully collected at the Olympic Village and processed through Heathrow's baggage system overnight to relieve the pressure on the airport.
During its busiest day, the Games Terminal received 6,000 athletes. The temporary terminal is part of Heathrow Airport's £20 million investment in handling London 2012 passengers. Equivalent in size to three Olympic swimming pools, the terminal had 31 check-in desks and seven security lanes to help deal with the high number of departures. After three days of operation the terminal was decommissioned and the site returned to its original use as a staff car park.
No aircraft departed from the Games Terminal, though. Instead, athletes took an airside coach to their final departure point where they were able to mingle with regular passengers as they waited for their flights. Athletes were be clapped into each terminal by a 'guard of honour' made up of Heathrow volunteers who wished them luck in their future sporting endeavours.
To learn more about this initiative, visit Heathrow Airport's homepage (click here to have instant access).