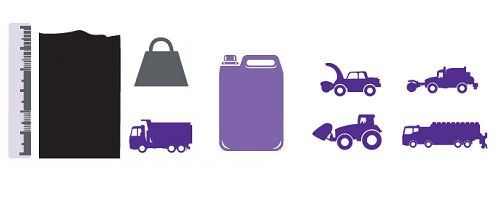 Since 2010, Heathrow Airport's Winter Resilience Programme has invested over £36 million pounds. Such effort has focused on different fields:  £11 million pounds went to new vehicles and equipment; £10 million pounds were dedicated to aircraft de-icer storage and facilities; £8 million pounds were invested in IT improvements such as maps, tracking or CCTV technology; £7 million pounds were dedicated to improving infrastructure as well as improving operational centers; finally, further resources were made available for maintenance, equipment upgrades and training purposes.
130 is now the number of Heathrow Airport's snow clearing vehicles and pieces of equipment, a figure that surpasses 2010-2011 levels by an increase of 61 units. Further vehicles provided by contractors for snow dump removal include 50 new lorries and 15 new loading shovels. The staff that will support the snow plan is currently set at 510 people per shift, up from 117 in 2010. Additionally, some 150 aircraft de-icing staff will also be available per shift.
The volume of contingency de-icer stored on site and locally for use on the airfield and aircraft is 20% higher from 2011-2012, and now equals 1.8 million litres for airfields and 1.3 million litres for aircrafts. The later will be used by airlines and airline contractors, while the earlier will be used by Heathrow staffers.
It is also important to point out that Heathrow Airport is the only commercial airport in the UK that has an on-site Met Office forecaster providing dedicated forecasts for the airport. It is based in the air traffic control and operates 24 hours a day, 365 days a year.
Check out the following infographic for more details:
The fleet of specialized vehicles that will take part in the Winter Resilience Programme will include 26 tractors and 16 gators, both with front mounted brushes and ploughs. Ten runway sweepers and 10 de-icer combis will also be at hand. The fleet also includes 9 de-icers, 7 taxiway sweepers, 4 ramp hogs, 4 sweepers with front mounted brushes and 4 snow blowers.
Check out the following infographic for more information about the fleet: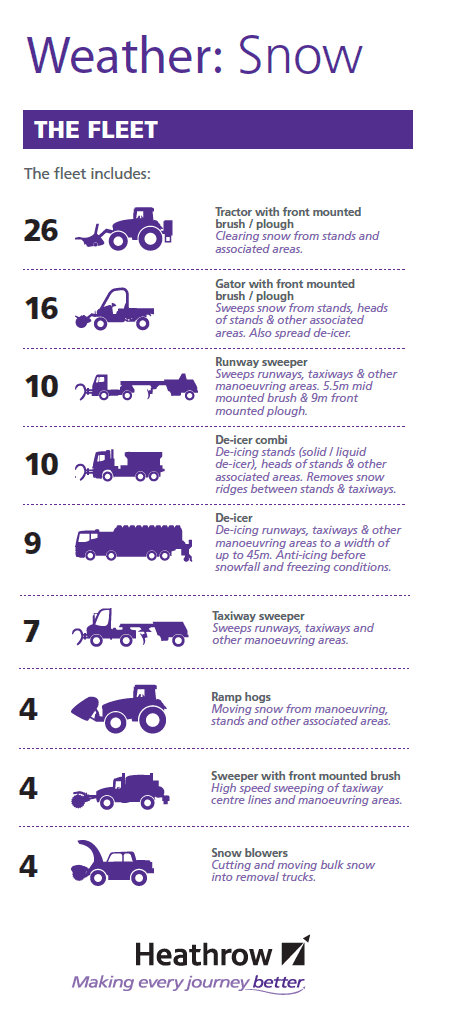 This post will be followed shortly by another feature on Heathrow's Winter Resilience Programme.