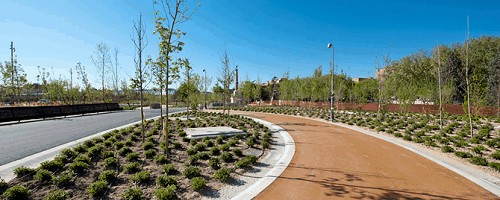 Thanks to the ecological restoration of the Madrid-Río project, the inhabitants and visitors of the capital of Spain enjoy a vast natural park where they can have long walks, play sports and enjoy privileged views of remarkable city monuments such as the Royal Palace and the Almudena Cathedral. This area of the city, which was previously unattended, has become a new lung for the city of Madrid, following redevelopment works by Ferrovial Agroman.
On our first blog post about the project, we analyzed the most apparent elements of the project. However, it is below street level that we find the most complex challenges of the Madrid-Río works. The lack of soil thickness and the difficult draining conditions ended up changing the original design of the gardens in different occasions. Those species that would have higher water requirements were replaced by plants who are friendlier to the average Mediterranean climate.
When such changes were not possible, original alternatives were found: for example, to plant the Melias, a plant which is very sensitive to waterlogging, air pipes were used to facilitate drainage in the roots of each organism.
To adjust the irrigation system to the different needs of these ecosystems, Ferrovial Agroman was forced to replace the original draft. The result was a new and improved closed circuit, which was be sectorized in order to split the garden according to the water needs of it's different areas. All irrigation sectors were designed separately, according to its own needs.
Another relevant challenge of the project was the restoration and protection of those unique tress which survived five years of civil works in the area. During construction, all trees in the area were protected and, fortunately, there were no casualties among them. In fact, some trees that were in no man's land before the works have actually been greatly recovered following work by Ferrovial Agroman.
The company managed this complex environmental project with Ecological Landscape Restoration criteria, a model that integrates several factors and deepens the speed and response with which to act. In this sense, different instruments were settled in order to enhance monitoring, control and performance.
Three work teams supervised the process: one dealt with land management, one was in charge of irrigation and another one focused on flora and fauna. Individual monitoring was implemented for each sample tree: from it's initial selection all the way up to it's final delivery.