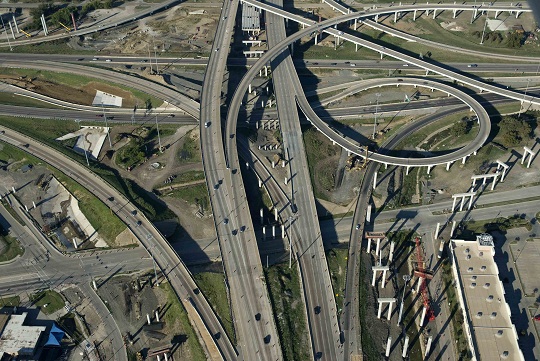 Since its construction some 40 years ago, the LBJ Freeway (I-635) has become one of the most congested and crowded roadways in the United States. That is about to change. Over a 5-year period that began in 2011, the North Texas corridor will undergo a dramatic transformation that will result in the new LBJ Express.
Described as the most comprehensive and complex project of its type in the country, the approximately 17-mile LBJ Express project encompasses improvements along IH-635 from Luna Road to Greenville Avenue, as well as on IH-35E between Loop 12 and Valwood Parkway.
What will this mean for the Northern Dallas County area of the Lone Star state? Here are some of the positive features of this project:
Traffic relief: the LBJ Express will nearly double the capacity of the former LBJ Freeway. Besides retaining and rebuilding the same number of current freeway lanes, the new LBJ Express will add up to six new managed toll lanes on I-635 as well as four on I-35. This will accommodate future population growth for the next 30 years.
Mobility Choices: the LBJ Express will enable drivers to select freeway lanes for short or non-urgent trips. It will also guarantee fast 50 mph trip on the managed toll lanes, as well as delivering real-time traffic information that will help drivers make smart decisions. Drivers will now have the choice to remain on the free, main lanes or to opt for new high-speed, express lanes with adjustable toll rates initially set in accordance with a methodology established by the North Central Texas Council of Governments.
The $2.7 billion LBJ Express improvements will be designed, financed, built, operated and maintained by the LBJ Infrastructure Group LLC (LBJIG), which was selected for the project by the Texas Transportation Commission (TTC) after a rigorous, competitive public bidding process.
LBJ Infrastructure Group LLC is led by Cintra US, a world leader in private-sector development of transportation infrastructure, and Meridiam Infrastructure, a global public-private partnership investor and developer of public facilities. LBJIG also includes the Dallas Police and Fire Pension System. The contractor for the project is Trinity Infrastructure, a collaboration between Ferrovial Agroman and Texas-based Webber. The LBJIG firms together employ more than 2,000 Texans and will integrate more than 150+ other Texas companies and their employees into the project.
Expanding the 17 miles of congested corridor by 2016, the LBJ Express project is enhance mobility while boosting the local economy with new employment and contracting opportunities. The following video helps visualize what the final result will look like: