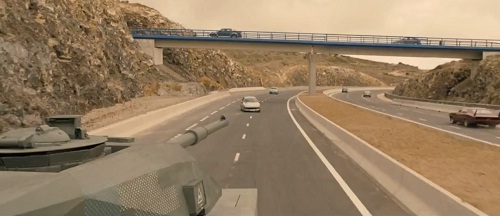 Hollywood has picked Spain as the location for some of the major scenes in the next instalment of The Fast and the Furious franchise. The sixth movie in the series, which will hit the big screen in mid-2013, features stars such as Vin Diesel, Paul Walker and Dwayne "The Rock" Johnson. Some scenes were shot on location in the Canary Islands, and that's where our construction company entered the picture: one of the movie's most exciting scenes was filmed on a road that Ferrovial Agroman built.
Specifically, the film used the new highway linking Adeje with Santiago del Teide, in southwest Tenerife. Five million cubic metres were excavated and 200,000 cubic metres of concrete were poured in building this 26-kilometer road. Shooting took place on completed sections of the road, which is not yet open to traffic. More than 300 stunt performers were involved, in addition to the main unit, which included 350 people plus the actors, director and staff. In total, there were more than 650 people on location. After ten weeks of filming, the definitive scene for the movie consists of a six-minute long action sequence. It's not a typical car chase, since it features a military convoy with four tanks, one of them real.
The Ferrovial Agroman team participated in the filming and in related processes, one of the most interesting of which was a simulated collision where a faux concrete median is smashed. For this scene, our professionals provided the art department with drawings of the median, and the special effects department used plaster and wood to make a prop that was indistinguishable from the real thing.
Our employees worked very closely with the film crew. The project also required coordination of heavy cranes, which was organized according to our calculations and consent. We were also involved in other areas, including set design, and our contributions were always very well-received. However, the most intense part of the process was the sequence where the tank falls off the trailer that's carrying it. This required the tank, which weighs more than 60 tons to fall from a height of 1.5 metres off a trailer travelling at 50 kilometers per hour. The result was spectacular, as moviegoers will be able to see when the sixth instalment of The Fast and the Furious hits theaters worldwide.