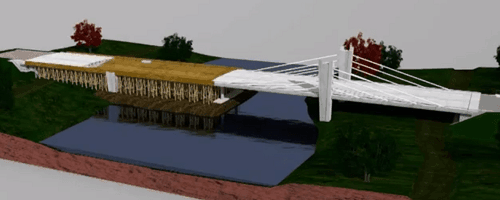 Erne River Bridge is part of the N3 Road Improvement Project at Butlers Bridge to Belturbet segment, in Cavan County, Ireland. The solution adopted for the river crossing is a 142 m long extradosed bridge, with a 69.5 m long central span.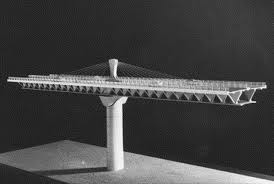 Extradosed decks shape a relatively new typology of bridge, which design advantages have gain large consideration among bridge design engineers in the past few years. The creation of the concept and its denomination is attributed to French engineer Jacques Mathivat. He firstly used this term referred to the solution proposed for the Àrret Darré viaduct, in which the prestressing tendons protruded over the depth, being anchored to a low height tower. Hence, tendons gathered eccentricity, being more effective and reducing material costs compared to conventional solutions.The proposal was rejected though.
Nevertheless, Mathivat proposal inspired various Japanese bridge designers, who brought back the concept in 1994 to build the Odawara Blueway bridge. Nearly a hundred of extradosed bridges have been built all around the world since then, being the Erne River Bridge the first one in Ireland with this typology.
Thus, based on a preliminary design by Roughan & O'Donovan for the Cavan Council, Ferrovial Agroman Technical Office introduced for the tender some improvements on the structural design, and developed the Little Design Project. The construction of the Erne River bridge is currently almost finished.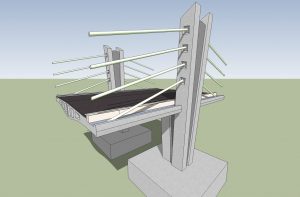 The structure consist of a concrete voided slab 17.1 m wide with a transversal curve soffit shape, supported by means of bearings and stays on two pairs of concrete pylons, 16 m high.
The pylons accommodate one saddle for at each tendon, which are key elements placed at the passing point through the pylon, that provide the tendon with a fix point by means of friction, preventing the sliding of the tendon.
The construction sequence is conditioned by the environmental orders affecting the Erne River. The temporary occupation of the riverbed was limited to a certain extension. Therefore, the construction sequence is conceived in two main phases, building one half of the bridge at each phase, supported by scaffolding on a temporary peninsula that occupies approximately one half of the riverbed. The construction reaches its end with the finishes (walkways, parapets, pavement, etc.) and a last operation of stay strength adjustment, to leave them with their final tension.
Update (March 2014):
The Irish Concrete Society Award Entries for 2013-2014 recognized the Erne River Bridge with a nomination in its Infrastructure category. On March 22nd, the final decision was revealed and this project ultimately won the Award.