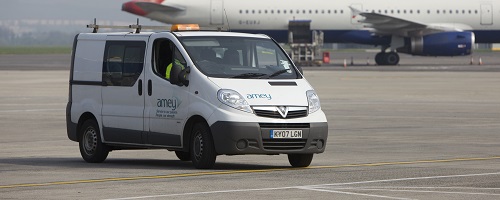 At the beginning of the year, Amey was awarded a £3m contract to provide services for Passengers with Reduced Mobility (PRM) at Edinburgh airport. The contract will run over three years and will see us support in the region 50,000 passengers per annum. The service will help passengers on their journey through the airport including check in, transport to the boarding gates and aircraft as well as assisting with egress from aircraft and access to their onward journey transportation. Amey's bid was supported by Ferrovial's Ferroser team who have significant expertise in this area.
On the 2nd April Amey successfully mobilised the contract and welcomed 40 staff who transferred from the old supplier including three Controllers, eight Drivers and 29 Customer Service Agents.
Accessibility is essential to the contract and we have utilised existing equipment to transfer passengers to the aircraft without the use of stairs, known as 'Mallaghan Ambilifts'. We have also purchased a new innovative 'Aviramp' which provides ramp access to smaller aircrafts as well as a new minibus with ramp access for passengers. We have also implemented new processes to allow refuelling of the vehicles airside and also arranging pet passports for passengers with assistance dogs.
As with all new contracts we have faced a number of challenges, including the extreme weather conditions in Edinburgh, the increase in passenger numbers as we move into the summer season as well as organising rotas and shift patterns to provide a streamline service.
The software which transfers information from the airline to the team on the ground is fundamental to the day to day operating of the airport. One of the biggest challenges during mobilisation was to ensure that the system was transferred and implemented within the time frame given. The system is now working efficiently and has allowed us to be aware and prepared for passengers arriving with reduced mobility.
We have been delighted to receive positive feedback already from customers who we have helped around the airport. One Dutch customer commented:
"Thank you for all the help, service and assistance we have had at the Airport. When we needed a wheelchair, there was no problem for the staff to organise it, we are very grateful"
Throughout the process the client at Edinburgh airport has been extremely supportive of Amey and has assisted us with a smooth and efficient transition.