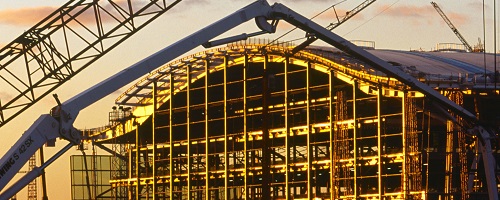 The following blog post, written by Richard Rogers, is taken from the book "Ferrovial, as seen by José Manuel Ballester". Rogers is one of the world's most renowned architects, known for numerous projects such as the Pompidou Centre (Paris), the Millennium Dome (London), the European Court of Human Rights (Strasbourg), Barajas Airport Terminal 4 (Madrid), and Heathrow Terminal 5 (London). He was awarded the prestigious Pritzker Architecture Prize in 2007.
There is an abstract line between engineering and architecture; some of the finest engineers are talented designers and some of the finest architects are clever engineers. Brunelleschi in the 15th Century was both an architect and engineer as well as an artist. Dividing the two disciplines into separate and water tight compartments is a strange concept.
Nonetheless, architecture and engineering are not the same. Architects have got a view about space, urbanism, and aesthetics in a purer sense. An engineer has a clearer understanding of structural and mechanical services. The way architects and engineers work together it is like a relay race, with the baton being passed back and forth many times during the course of a project. The key thing is you have to know to whom you're handing over the baton.
All good buildings come out of dealing with constraints, seeing if you can turn them upside down and to find a different angle, and engineering is an essential part of this process.
People sometimes ask why England has such good architects who use high technology.  I think the answer is that there were some very good buildings, such as all the big railways stations from the 19th Century, which have deep roots in engineering. We, as architects, find it easier to incorporate these concepts than the neo-classical style, for example. You could question whether Isambard Kingdom Brunel was an engineer or an architect, but in fact the answer doesnít really matter. Regardless of whether you are an architect or an engineer, you are both trying to solve the challenges inherent in the built environment.
At the beginning of any project you have to set out the brief and ask what the costs will be, the basic structure and above all, will it work?  That's the heart of the project; you can't have an airport that doesn't work. There are some buildings, maybe museums, where there's more art, more free form, more potential, but you've got to take technology into account in everything you do.
It is difficult to define design. Einstein, was asked how he got to the theory of relativity and he answered ìby the use of the imaginationî. In a sense that says it all, we all use our imagination, and everybody does it in their own way. My experience of building the Pompidou Centre in Paris was instructive in the way cost and imagination have to find a practical balance. Renzo Piano (my partner on the project) and I were both very young when we won the architectural competition to build it. We had a fantastic client who provided us with a very tight brief, very French and very well written. Part way through the project the client suddenly announced  we were fifty per cent over budget. I said to him "Well you never told me the cost". His response? "I didn't want to curtail your imagination", to which I said "You sure have now!"
Of course there was a budget, and when the client dared to make it clear we produced the project to budget. The building that we now see works very well, I think. Would it have worked better with more money? I am not sure. In many cases things work better with more money, but actually with some projects paring back gets you to the core of the concept, so cutting money is not always a bad thing.
My practice, Rogers Stirk Harbour + Partners, designed Terminal 5 at Heathrow and Terminal 4 at Barajas in Madrid and we learnt a significant amount from both builds. It was the political problems that were so different – Terminal 5 at Heathrow took nearly twenty years, and it was half the size of Terminal 4 in Barajas, which took less than half the time.
Architecture is about team work, it's too complex nowadays to have one person do everything. But even amongst architects there are tremendous differences. Some may be expert in city plans, others in the nuts and bolts of it all or the economics and that goes for engineering as well. At Rogers Stirk Harbour + Partners we have a collegiate approach to work. We work as a team.
We don't employ engineers in-house, although many practices do, partly because we believe in maintaining a relatively small practice of around 180 people. With a smaller team flexibility can be maintained both in the design and the application of the design. When we started the Pompidou Centre, it was going to be the largest public library in France housing thousands of books, however, by the time weíd completed the project books had practically disappeared and most of the investment was in IT. The Lloyd's building in London (and the Pompidou Centre) is designed to be a flexible space which could be a university or something completely different if the insurers who commissioned it move out. Architects and engineers have to keep change of use in mind. Change is the only constant.
One of the world's greatest engineers was Peter Rice, a wonderful Irishman who was the engineer on Pompidou and who sadly died about twenty years ago. We worked immensely closely with him and his team at Ove Arup. We had a relationship where it would be very difficult to know exactly who did what. He could and did often talk in aesthetic terms. When we worked on the Pompidou Centre, the fee more or less divided into two parts: half went to Arup engineers and half to the architects.
Insufficient attention is paid to what one might call the overall architectural context, which includes roads, motorways, parks, bridges and so on. I can think of some great motorways in Germany. In the United States, there are some wonderful freeways out of New York by Robert Moses. In that case the landscape was integrated, avenues of trees, the edges of the street and of the roads were very beautiful, there was a great deal of attention paid to where the lighting and the signing were sited. In Italy recently it drove me mad that major road signs repeat themselves every ten metres, saying "It's hilly", "There's snow", "There is a risk of falling stones"… It completely destroys your entry into the countryside or the city. This is a simple point but it's all about giving order to space. Someone has to make a decision about where to put things. To make a comparison with music, it's a rhythm and if you've got the notes there you might as well play those notes as well as you can. And it should not cost more; it should cost less.
As Chief Adviser on Architecture and Urbanism to the Mayor of London I was able to work on a larger scale, to have more input, to make certain amendments to the way the city works. It is important to have as broad a view as possible. When we were working on Terminal 5 at Heathrow there was a piece of adjacent land with a small river; we undertook detailed discussions with the Government and with the local authorities about how to conserve this valley, the river banks and so on. The same was true of the Olympics site in London. I was heavily involved in the master planning of the site and I worked to preserve the river there too. I regard viewing buildings as part of the overall visual environment as vital. In Bilbao, Frank Gehry's Guggenheim played a significant role in the regeneration of the city, but the Mayor of Bilbao at the time didnít just commission one building; he approached a city plan and created an infrastructure that sings from the public metro system to the greening of the tramways.
The most fundamental change I would like to see that would affect both architects and engineers is in education. For architects it is basically six years education before you are able to specialise. I would propose four years of general understanding of scale, rhythm, form, materials and so on, and then the student could start to specialise, in engineering, urban planning, urban sociology and so on. The training would follow more closely that of the medical profession where you have a general education, and then you become a specialist. In this way we would be able to bring the two disciplines more closely together and forge an even better understanding between architects and engineers.