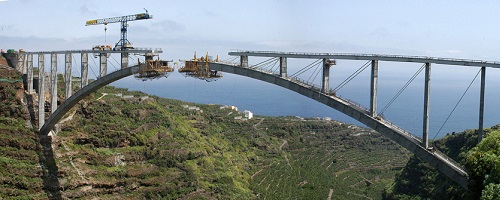 Javier Manterola is one of Spain's most remarkable civil engineers. He is a professor at the Madrid Higher School of Engineering and a member of the Royal Academy of Fine Arts of San Fernando. Manterola has received numerous awards for his work in bridge design and other fields, including the Príncipe de Viana Culture prize and the Spanish National Engineering Award. The following paragraphs, authored by Manterola himself, are part of one of the book "
60 looks at Ferrovial
".
The arch bridge is the most common structure in the history of construction, built over a centre. The construction procedures that ultimately create an arch are nothing until they are complete.
Centres reached great lengths and heights in the 20th century. The world's largest centred arch, the Glandesville Bridge in Sydney, has a span of 305 metres.
However, centres are quite costly and hard to execute since they must be sustained in places where no support exists (or will exist); for this reason, the segmental construction method was invented for beam bridges, and it was first used for arch bridges in the bridge over the river Peixe, in Brazil.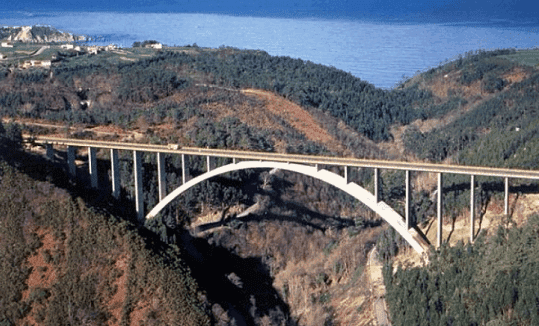 Segmental bridges can be built in several ways. Triangulating the trapezia formed between the arch, the architrave and the piers, in order to replace the arch with a large triangulated beam, as in the case of Los Tilos bridge, the Ricobayo bridge (also the work of Santiago Pérez Fadón and Ferrovial, with a span of 168 metres), and the Pintor Fierros bridge in Asturias (194 metre span).
The arch can also be supported by stays from a vertical metal or concrete tower, such as the Contreras bridge (261 metres) and the bridge over the river Tagus (324 metres) where it enters the Alcántara reservoir. The arch and the deck may be made of metal, concrete, or both.