– Ferrovial Agroman and Heathrow Airport Holding are sponsoring the Richard Rogers exhibition at the Royal Academy of Arts -.

Richard Rogers' vision and passion for architecture and the fact that, as he once told me, he enjoys designing more as he gets older, stems directly from witnessing the impact his work has had on people's quality of life. Rogers believes that everybody has the right to walk from one end of a city to the other in safe and beautiful spaces, and that vision is fully endorsed by Ferrovial's commitment to inspiring communities and societies through the company's engineering ingenuity.
The very first time I had the opportunity to meet Richard Rogers, I was surprised by the simplicity and honesty with which he conveyed his ideas – a true reflection of his architectural style and humanistic approach to life. Richard has always had a very pragmatic and elegant purity to his work. As such, every single one of his projects is delivered with effortless effectiveness and understated excellence.

Some of the principles of zen wisdom can easily be identified in Richard Rogers's work: simplicity (eliminating what doesn't matter to make room for what does), austerity (refraining from adding what is not absolutely necessary in the first place) and naturalness (incorporating patterns and rhythms into the design).
There is one project which encapsulates this perfectly –Richard Rogers' house in Wimbledon, London. Built for his parents in the late sixties, the construction consists of steel frames, fourteen metres of lighting, and lateral facades employing a technology which, at the time, was only being developed in the United States for the manufacturing of fridge containers: insulated panels covered with lacquered aluminium and joined with neoprene. The innovation in industrial elements and new technology were used here by Richard Rogers to create a flexible and personal space; a reminder of his mother and the strong attraction she felt for vibrant colours. The metal frames, kitchen bench, roller blinds, sliding doors were painted in an array of yellows and greens. The Rogers' house is a place which tells the story and culture of a family.
The Pompidou Centre is another great illustration of Rogers' simplicity at work. In order to create large and flexible spaces on the inside, all non-essential elements (lifts, mains, pipes and tanks) were placed on the outside of the building.
The best example of collaboration between Ferrovial and Rogers Stirk Harbour & Partners is the terminal T4 Barajas-Madrid Airport in which Richard took the principles of structural honesty and truth in materials to new heights. The result was a beautiful and functional building with clear patterns and rhythms repeated throughout, bringing light and efficiency to the operation.
Richard's commitment to innovation and sustainability led to him being awarded the Stirling Prize twice and the Pritzker Prize in 2007. His humanistic approach to planning and to the development of large cities such as London, Barcelona and Shanghai, proves that the longest lasting legacy of an architect is that they are a true citizen of the world.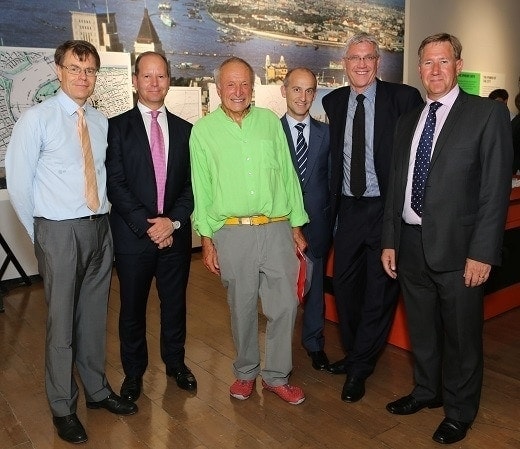 Sharing Richard Rogers' passion for city and community improvements is one of the main principals of Ferrovial's existence. The innovative use of materials and technologies that transpires from every single detail in Richard's design and his revolutionary style has led the way for British architecture on the world stage. This is precisely what makes the successful partnership between Ferrovial and Rogers so special.
It is no wonder then, that when Richard and I discussed working together on the Inside Out exhibition at the Royal Academy to coincide with his 80th birthday which would celebrate his work, ideas and ethos, there was only one possible outcome. By extending our partnership into the future, I am proud to see that the dialogue between Ferrovial and one of the best architects of the last century continues to thrive and that the sustainable future of our cities becomes less about a vision and more about a reality.