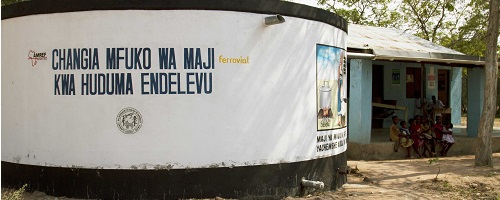 At the 7th edition of the Human Right to Water and Sanitation conference, organized by ONGAWA with the support of AECID and the Engagement and Development programme on 20 and 21 November, Ferrovial reflected on the role of companies in multi-agent alliances providing rural water supply and sanitation.
Five years ago, in the framework of corporate social responsibility, we launched a project which was innovative in the way it approached collaboration with the third sector and local governments.
We decided to accept the challenge posed by the 8th Millennium Development Goal and become an agent for development, going beyond the traditional role of business as a mere donor. As a company specialized in managing infrastructure and services, our expertise made us the perfect partner for this type of collaboration.
This initiative, which developed prior to the crisis, was not well received by many aid organisations, which viewed it as a private company intruding in an area (development cooperation) where it had no experience.
We worked for three years with a mid-size NGO, Amref Flying Doctors, which gave us greater flexibility to act, provided us with direct communication on the ground, and treated us as partners. The project provided drinking water and sanitation services to 51,000 people in Tanzania.
In view of the good results obtained during that period, we decided to convert our pilot project into an ongoing programme, Social Infrastructure, with an annual call for proposals in which we offer third sector organisations support that goes beyond the provision of funding.
To date, almost 300,000 people have benefited from this programme, in which Ferrovial volunteers act as technical advisers and bring their skills to impoverished areas of Africa and Latin America.
Advantages of multi-agent projects
These inclusive alliances multiply the impact and increase the efficiency of aid. They lead to projects which are more efficient (resources are better managed, and technology is used to greater advantage), sustainable (infrastructure lasts longer and local people are better trained in maintenance) and more easily replicated (local governments have the technical capacity to expand coverage of the service).
Ferrovial's experience in this type of collaboration is not based on a commercial initiative, though that would be a perfectly legitimate approach if done responsibly. A company needs to be profitable in order to remain in existence; however, in the case of Ferrovial, returns are obtained in another way. For the company, employee participation in these projects strengthens its corporate culture, cooperation between businesses and departments, skills development, and the spirit of innovation.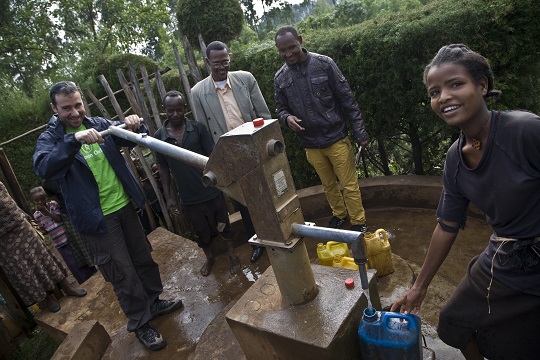 Moreover, working with communities is very important for companies looking to establish themselves in the Global South. In some countries, public works tenders require that type of experience and a commitment to meet the needs of populations which are affected by public projects in any way. Providing basic services to marginalized communities is a good start, and the expertise which the company obtains as a result is advantageous in its for-profit ventures.
Challenges for advancing alliances in water and sanitation
Returns (not necessarily economic) are essential for promoting private sector participation. Measuring the impact of this type of alliance, in both social and business terms, would be a good start. Although it appears to be emerging as a trend, and there are an increasing number of tools, the ability to measure these intangible aspects is still only incipient.
It's important to bear in mind that water and sanitation are a right, not a merchandise. Governments should assume most of the costs of providing these services with a view to fulfilling one of the key aspects of the right to water: it should be affordable. If the government can't cover those costs, development aid organisations must step in.
Companies, especially those that operate in the Global South, have a responsibility to users who are excluded from the system due to a lack of funds. In our current projects in Peru and Colombia, we are working in small rural villages that are far from, and have difficult access to, city centres, where the cost of operating and maintaining supply infrastructure is high. Where a private approach isn't profitable, the company should transfer skills to the local population and provide technical support so that the service can be managed by local users.
It would be interesting to encourage participation by private sector professionals through direct communication with local teams via new technologies, which would allow for the transfer of know-how to be immediate and practically free.
To promote participation by companies, we need events which encourage dialogue among all the players involved in providing water and sanitation services in rural environments. A first step is to organize conferences like the one which inspired this blog entry, and whose conclusions we hope will be shared and adopted by all parties.
Key aspects of our commitment
Key aspects for private sector participation in development aid projects:
–Activating the company's role in projects: as a technical advisor.
– Aligning the project with the company's strategy and expertise.
– Transferring the company's know-how to local governments and the beneficiaries.
Distribution of responsibilities in multi-agent alliances for rural access to water and sanitation:
– Provision of materials and funding: governments and international development aid, where governments are unable to bear the entire burden.
–Skill transfer: private sector.
– Management of the service: local governments and beneficiaries, with government assistance.
– Community awareness-raising and organisation: the third sector.