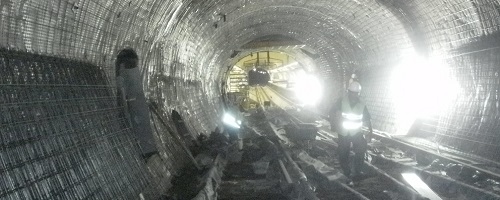 Madrid Metro was inaugurated in 1919 by King Alfonso XIII. At that time, it comprised a single line with stops at the following stations: Cuatro Caminos, Ríos Rosas, Martínez Campos, Chamberí, Bilbao, Tribunal, Gran Vía and Sol. These stations are all operational today, except for Chamberí, which has been converted into a museum.
Madrid Metro was a resounding success during its first year of operation, carrying over 14 million users. That first line was 3.5 kilometres long and all eight stops were in the city centre.
In the decades that followed, Madrid Metro gradually expanded its coverage. Ferrovial Agroman completed many major engineering projects on Madrid Metro: it connected the Sol and Embajadores stations in 1934, completed the "Boulevard Line" in 1944, and built the section between Argüelles and Moncloa in 1963.
Those contracts helped strengthen our company's capacity. Since then, Ferrovial Agroman has built more than 150 kilometres of metro tunnels and developed stations and stops in Barcelona, Bilbao, Granada, Lisbon, Santiago de Chile and Valencia. Madrid Metro is currently the sixth-largest underground network in the world in terms of kilometres of line.
Infrastructure of this calibre requires regular maintenance. To this end, in the summer of 2013, Ferrovial Agroman was involved in several projects for Madrid Metro on the section between Tribunal and Bilbao stations.
Construction of this section began in 1900. The tunnels, built with granite masonry and adobe bricks, are  6.86 metres wide and 5.36 metres high; they are quite close to the surface and generally followed the line of the streets overhead. Trains measuring 2.3 metres wide and 3.34-3.52 metres high travel on this section. The average carriage length is 14.72 metres.
In view of these measurements and materials, it is impossible to use modern tunnel machinery. As a result, our team of 70 professionals worked in shifts around-the-clock on the projects  to compensate for those practical limitations.
Our company was tasked with protecting the tracks, establishing overhead clearances, cleaning and repairing the tunnel lining, and waterproofing and adding structural support to this section of the Metro.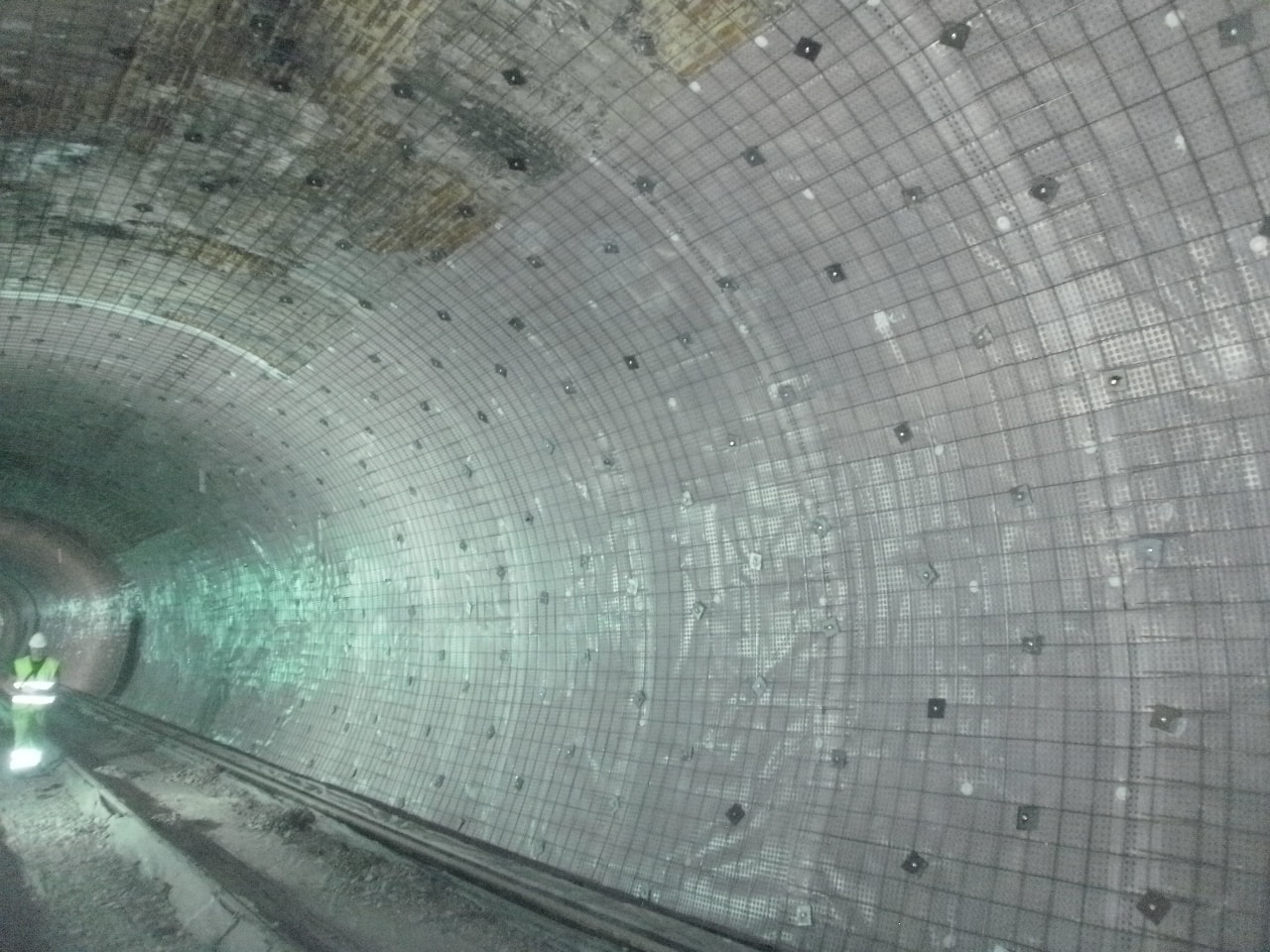 THE PROJECT IN 2013
What procedures did we follow to complete this project? First, in the Tribunal-Bilbao section of Madrid Metro, the track is laid on ballast and wooden ties. As a result, it necessary to cover the track and bed completely with fireproof tarps to prevent contamination of the ballast in the process of cleaning and applying shotcrete to the tunnel lining.
Once the track was covered, the entire section of tunnel was cleaned with water at high pressure; then the brickwork was repointed by hand to remove accumulated dust. The bricks, which are 5-10 cm thick, were scarified to eliminate surface deterioration produced by the passage of time, humidity and other causes.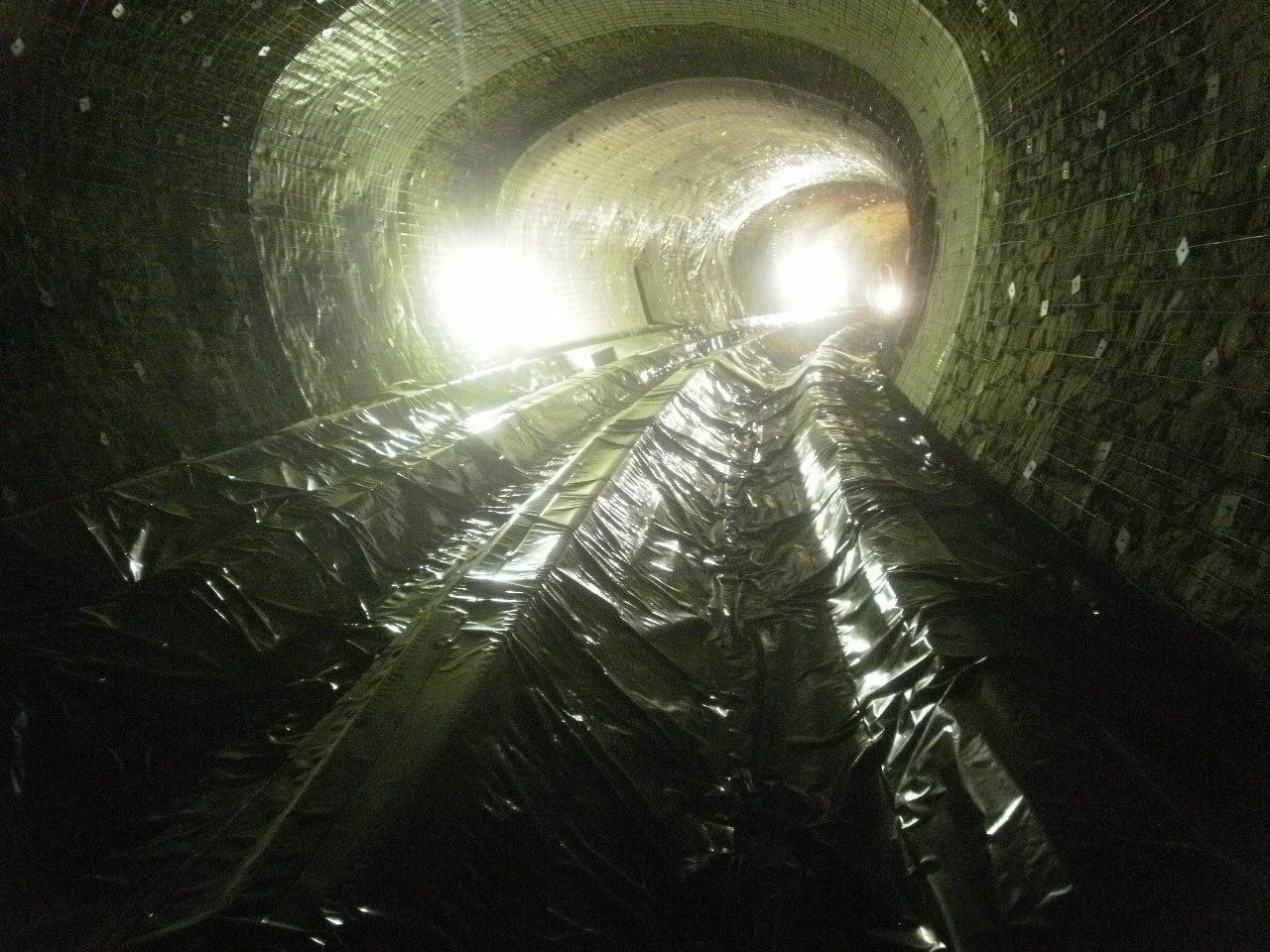 This section of the tunnel is below the water table and a considerable amount water flows into the tunnel in certain places. To seal or channel these water flows, grout was injected into the tunnel walls and deep drains were installed to prevent entrainment of fine particles from creating cavities behind the brick or masonry lining of the tunnel. In areas where the entire cross-section of the tunnel was affected by water infiltration, waterproof backing was installed before the tunnel lining was reinforced.
The tunnel was reinforced by installing an electrowelded mesh, attached to both roof and walls with mechanical anchors (5 per square metre), over which a 10-cm layer of shotcrete was applied as the final finish.
Overhead clearance in tunnels dating from this period can be as little as 10 cm, so an exhaustive survey is required before reinforcing the ceiling to ensure no loss of headroom