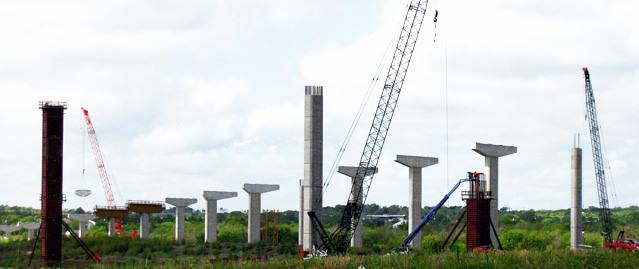 Mexico's economy has outperformed the rest of Latin America during the financial turbulence of the last few years. The country registered growth of around 4.3% between 2010 and 2012, i.e. well above the region's average. During that period, Mexico increased exports and reduced its economic dependence on the US.
The international markets' perception of Mexico's risk improved in 2013. In 2007, Fitch upgraded Mexico's sovereign rating from BBB to BBB+. Over the course of the year, Mexico approved an economic acceleration programme, a tax reform and a package of economic measures to stimulate growth.
Although 2013 won't be an especially memorable year for economic growth, the foundation has been laid for a positive outlook in the medium and long term. Mexico is one of the countries in Latin America with the greatest level of investor confidence, which is attributable to the stability of its policies. It has sound macroeconomic fundamentals based on fiscal discipline and a relatively low level of public debt, a constant inflow of foreign direct investment, and a well-capitalised financial system. The International Monetary Fund expects Mexico's GDP to grow by 3% by 2014.
NEW INFRASTRUCTURE
The government has focused especially on combating poverty and providing opportunities to all Mexicans by boosting economic growth. President Enrique Peña Nieto put this kind of initiative in place as Governor of the State of Mexico, when his administration implemented an ambitious infrastructure plan which attracted many private investors.
The inclusion of infrastructure plans in the Government's programme is positive for the industry, which is expected to grow by 4.8% on average between 2014 and 2018. So far during his term, the President has shown a clear commitment to reforming the energy sector under the "Pact for Mexico" and to bringing investment to the industry. Nevertheless, Mexico faces several challenges, which include reviving its industrial sector and increasing private consumer spending, and especially implementing the fiscal and energy reforms approved in 2013.
TRANSPORTATION OF THE FUTURE
In July 2013, the Mexican government presented the Transport and Communications Infrastructure Investment Program 2013–2018, a framework with five lines of action which seeks to modernise, expand and preserve communications and transport infrastructure with a total investment (public and private) of approximately 300 billion dollars.
Initially, around 100 billion dollars was allocated to building new roads and bridges, modernising airports, developing new railway lines, and increasing telecommunications capacity. The scale of these figures reflects the government's intention to make infrastructure a strategic driver.
Roads: the goal is to have a network of main roads which is safe, complete and in good condition so as to improve connections between all regions and reduce travel time to distant communities. In total, there will be 5,400 kilometres of roads and toll roads.
Railways: the objective is to promote railway transport and incentivise the use of cargo trains by reducing costs and travel time. Around 950 kilometres of railway line are expected to be built.
Ports: the goal is to have four international ports and to strengthen port system capacity. Nine Mexican ports will be modernised with a view to increasing merchant shipping capacity by 60%.
Airports: the objective is to improve the service, cost and frequency of air travel by decongesting Mexico City Airport and promoting regional connections. Around 15 airports nationwide will be upgraded.
Telecommunications: the goal is provide universal access by increasing network coverage and competition.
The 105 commitments undertaken by the Secretariat of Communications and Transportation include 15 toll roads, 29 roads, 16 bypasses, 7 bridges, 3 passenger trains, 6 municipal transport systems in various cities, 4 sections of cargo rail, 7 ports and 7 airports. The Public-Private Partnership Law, approved in early 2012, will be vital to ensuring private sector participation in these new projects. That law will substantially improve protection for private investors, which will help promote the infrastructure that Mexico needs to advance in terms of development and competitiveness.