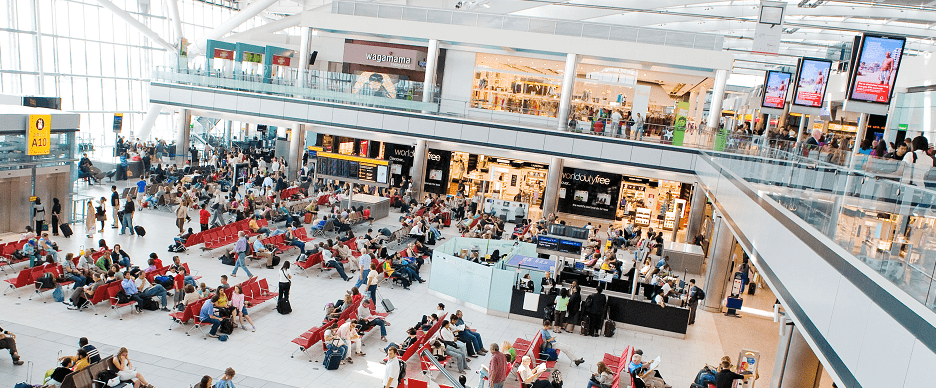 Paris has the Champs-Élysées, New York has Fifth Avenue, Milan has the Via della Spiga, and London… has Heathrow Airport. The best shopping in top cities around the world is traditionally concentrated around their most famous streets; however, the extensive offer of stores and restaurants has made the UK hub into one of the largest shopping areas in the world. Sales at stores in Heathrow Airport are more than double those at stores on Bond Street and, in terms of square metres, are more than triple those at Harrods.
Less than a decade ago, airports were places that people preferred to spend as little time as possible; nowadays, travellers enjoy their wait, due to the sophistication of these spaces and the new flying experience concept we implemented.
With a shopping area spanning 53,000 square metres, a selection of the most internationally-recognised brands sell their products to the more than 72 million passengers served by Heathrow each year. Retailers realise that having a shop in the London hub is the fastest way to reach a global audience.
In terms of productivity, some luxury brands' second best-performing stores are in Terminal 5, surpassed only by their outposts on London's main shopping streets. For other names, their airport shops are the most productive in terms of square metres.
Heathrow's commercial team knows in advance the number of passengers it will serve each day, the predominant nationalities, and which brands and products they generally prefer—vital business intelligence in selecting the commercial mix. By sharing that information, digitalising devices, using screens with the latest technology, etc., the stores can adapt their merchandising strategies more quickly and effectively, and in real time, to appeal to a greater number of clients that pass through the airport each day.
Heathrow is a leader in the airport sector in the way it uses digital media to provide passengers with access to its products and services. Heathrow Boutique, an online store, provides access to more than 1,500 products that can be bought and collected at the airport upon departure or arrival. It has a Heathrow Rewards loyalty card with more than 700,000 regular customers who frequently (more than four times a year) pass through airport. It offers interactive maps that are easily accessible from mobile telephones and allow users to quickly locate shops and services, and even make restaurant reservations.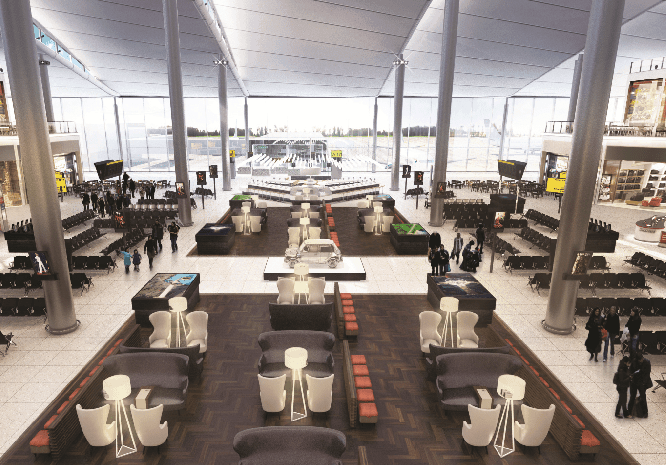 PIONEERING SERVICES IN THE NEW T2
A large part of the sales team's efforts in the last two years has been focused on the new Terminal 2, The Queen's Terminal, with a view to providing a varied, innovative offer with extraordinary quality. The new Terminal became operational just one month ago. Although it was utilised by just 10% of passengers in the first few days, 100% of the shops, restaurants and services were available and functioning from day one.
The new terminal's retail area, which has 67 stores and restaurants, has notably British attributes, with brands that already have a presence in Heathrow, such as Burberry and Cath Kidston, while other labels are making their airport début, such as high-street favourite John Lewis. There's also a Fuller's pub serving the famous London Pride beer and with a brewery just 10 km from Heathrow, and a restaurant by Heston Blumenthal, one of the UK's most famous chefs, the airport's second restaurant created by a Michelin-star chef.
Innovation was a requirement in designing the new terminal's retail offer. For example, Burberry embeds RFID chips in its products, which allow customers to use virtual mirrors and see how a garment works with different accessories. Customers at YO! Sushi can place their orders on Twitter when they arrive at the airport, and their food will be waiting for them when they reach the restaurant. A free personal shopping service will also be available and can be reserved online. It will include its own lounge, where passengers can receive shopping advice and assistance at any of the airport's terminals.
In short, Heathrow's sales management has received the Best Airport for Shopping distinction on five consecutive occasions at the Skytrax awards, based on passenger opinions. This inspires us to continue working and to exceed passenger expectations, sharing our sales success with the brands, airlines and our team. Heathrow has been able to create and capture value with its non-flight services, and its shops have become points-of-sale which respond to traveller expectations. A win-win situation for everyone.