Air traffic
A transformed Glasgow Airport gears up for the XX Commonwealth Games
On July 16, Glasgow Airport held a very special event as we opened our new international arrivals area and declared the airport ready for the 2014 Commonwealth Games. This milestone also marked the culmination of the largest transformation of Scotland's leading long-haul airport since it first opened in 1966, following an extensive £17 million investment program.
To celebrate such a great achievement, we couldn't have a better guest than Britain's most successful ever Olympian: Sir Chris Hoy. Joined by the Chief Executive of Glasgow 2014, David Grevemberg, the Games' mascot, Clyde, and myself, the eleven-time world champion and six-time Olympic gold medalist praised the large-scale improvements to the airport.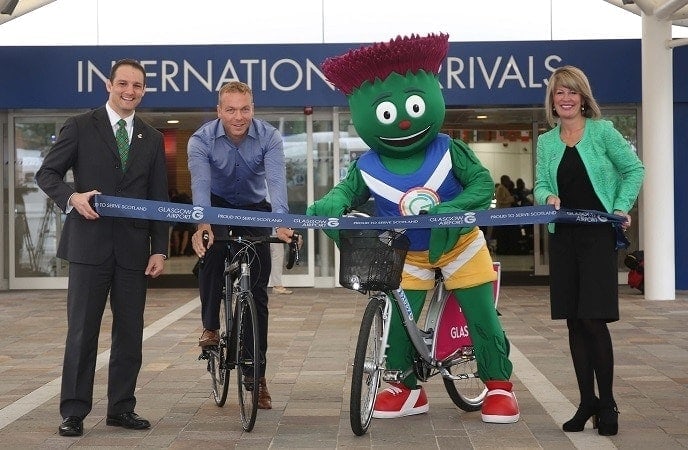 As the gateway to the XX Commonwealth Games and one of its three official non-competing venues, we knew the airport should look its best and leave a positive and welcoming first impression to the thousands of athletes and visitors who will pour into Glasgow during the coming weeks.
After our extensive preparations, the Glasgow Airport team is not only proud but also convinced that our legacy for the Games will benefit the city and Scotland as a whole for many years to come. Besides the expansion and improvement of our international arrivals area, the vast investment program has also modernized our main check-in hall, provided new flooring to our domestic pier and renewed terminal two's heating and ventilation systems.
Such an important transformation couldn't have come at a better time. Besides the Games, we are gearing up for one of our busiest periods of the year, as we expect more holidaymakers to take to the skies than last year.
But back to the XX Commonwealth Games, we are eager to welcome the biggest sporting event in Scotland's history from July 23 to August 3… First held in 1930, the Commonwealth Games are the third largest multi-sport event in the world. For its twentieth edition, it will feature 17 sports with 261 medal events on show. Glasgow will play host to 4,500 athletes and sell 1,000,000 tickets with the event aided by an army of up to 15,000 volunteers.
All in all, we are absolutely thrilled with our upgraded airport and looking forward to the Games. Needless to say, you are all invited!