In line with Ferrovial's strategy of developing Intelligent Infrastructure, its Social Infrastructure programme covers cooperation projects in the area of drinking water and sewage systems, through which we affirm our role as drivers of development, providing not just funds but also technical assistance and technology, and participating as specialists in project development. This allows us to involve the company horizontally and to implement a social action programme we view as strategic.
Social Infrastructure was set up in 2011, after we had been building water and sewage infrastructure in Tanzania for three years. That work was part of the Maji Ni Uhai initiative, which currently includes eight projects in Tanzania, Peru, Ethiopia, Colombia and Haiti, some of which are finished and others are still under way. This programme is an innovative model of Public Private Development Partnership (PPDP) which has received many awards.
IN THE MIDDLE OF THE JUNGLE, 8,000 KILOMETRES FROM HOME
 –"Boss, where did you say you were from?
– Spain.

– And why do Spaniards want to bring water to Pacurita?".
And that's when you look around and wonder: What are we doing here in the middle of the jungle, more than 8,000 kilometres from home, coordinating more than 25 people from 10 different organisations, in two countries, building a water supply and treatment system in a district with 1,300 people?
The question came from Uriel, a model of dedication, efficiency and hard work, though it's one I could I could have asked myself many times over the course of my lengthy career, on other projects and in other countries; but here that question took on a special meaning, not because of the project (a simple water system), but because of the immense wealth and variety of people who participated on it, proving that there are no cultural barriers or differences that can impede the attainment of a goal when everyone works together.
It all started in September 2012, when we finished analysing and evaluating the 41 projects presented as part of the second edition of the Social infrastructure Programme, which aims to deliver drinking water to people in need in Latin America and Africa. One of the projects selected in this edition was the "Pacurita Aqueduct Optimisation and Drinking Water Treatment, in Quibdó, Chocó Department, Colombia", submitted by the NGO Ayuda en Acción. It was notable for its outstanding technical features and for the large variety of participants; although this suggested that extra efforts would be needed to coordinate everyone, at the same time it also offered institutional and social sustainability.
But, what is Pacurita? It's a small district (smaller than a municipality) a few kilometres from Quibdó, the capital of Chocó, in Colombia. One hundred percent of the residents are Afro-Descendants (Chocó is 85%) from former slaves brought over from Africa by the Spanish to work on the plantations and in the gold mines. Life in Pacurita revolves around a river that is contaminated with mercury from illegal mining. But it wasn't always like that. There was a time when its inhabitants obtained water from the mountain via an aqueduct that they built themselves, but that has deteriorated over time. As a result, the people have to rely on the river once again, as their ancestors did when the district was first settled more than 60 years ago.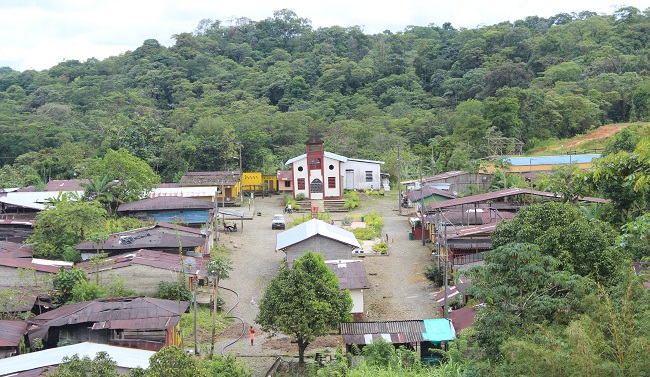 The district has a population of 1,000, living in 150 homes, with another 200 or 300 sporadic visitors. The people live in extreme poverty (average household income is €2.5/day) and its Human Development Index is lower than many African countries. "Africa in Latin America", as the Colombians describe it. The village has around 200 children, half of whom suffer from some illness deriving from a lack of clean water. According to Bárbara, who coordinates the "Piesdescalzos" Foundation in Quibdó, "The children gave us a lot of ideas. They were the protagonists. We didn't do it alone; they participated. We did it with them, since the only way for there to be a change in mentality is to work with young people and children who are studying, and bring them together with the older generation so that they learn from one another."
Once the community was "committed", we started to work with Ayuda en Acción Spain to plan the project, which had to take into consideration a never-ending list of cross-dependencies on which the success of the project depended. We started by publishing a public tender to find a company that could undertake the project; later, we involved the Barefoot Foundation, which organised the social side, and the company Aguas del Atrato, which will maintain the system. We also drew on funds from the mayor's office so that the budget covered execution of the sewers and connecting up the houses. Finally, the community was invited to contribute unskilled labour and to get involved in the water management process.
In the next phase, Ferrovial volunteers were organized in two groups, the first to review the technical documentation and prepare the project execution process, and the other to monitor and check the system. As a result of this process, we were fortunate to find six people who were wholeheartedly dedicated to making this project a success: Julián, Pedro, Lorena, Carlos, Fernando and Ana. And that's how the project evolved, with million challenges, such as hitting bedrock in the trench being dug to lay the pipes, having to trails into inaccessible areas to locate the reservoirs, weathering torrential downpours… but we also got to know the children and listen to stories about the village, bathe in the river, eat exotic fruit and feel the joy of seeing water flow from a tap.
Once the water flowed, with good quality, you start to think about everything you've achieved thanks to the hard work of a lot of people. You think about Jessica, Bárbara, Juandecha, Zulia, Félix, Uriel, Lorena, Carlos, Ana and Fernando, in Julián and Pedro, Paola, María Isabel, Adriana and Gabriel, Iván and Sofía, Armando, Nancy, Juan, Jesús, Sara, Patricia, Marta and Jorge and Fernanda—they all put their hearts into the project.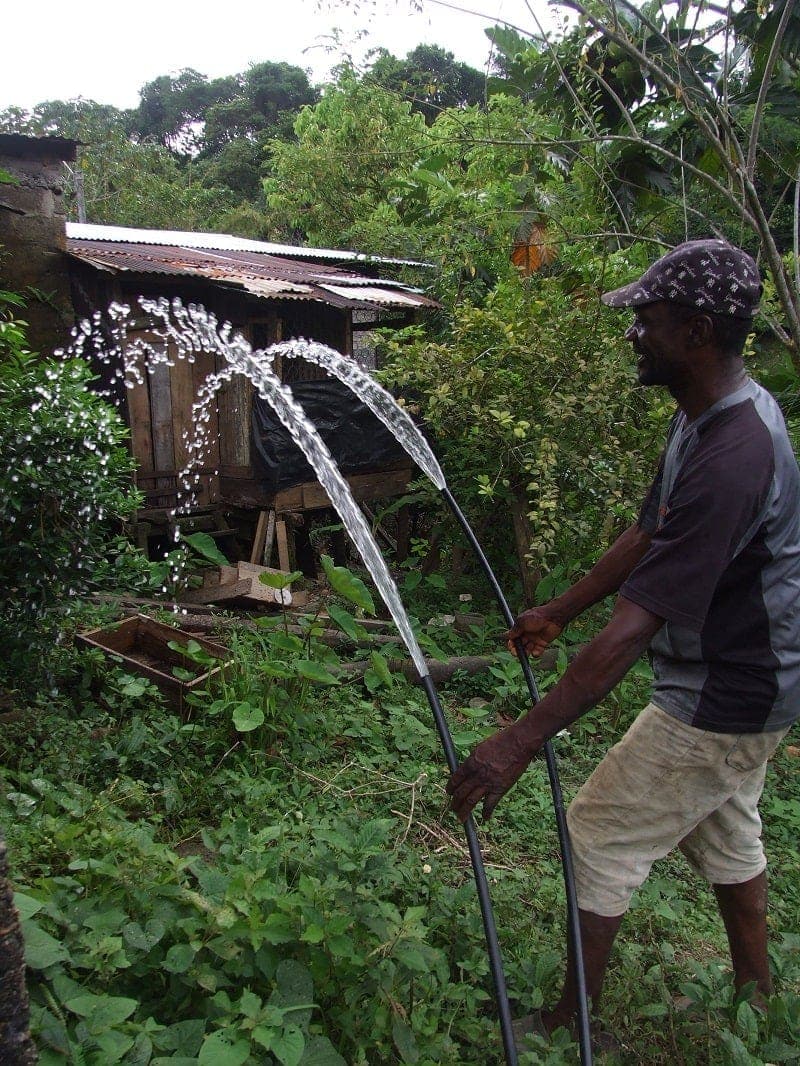 You also think about the results you see and those you just feel, because not everything is measured in bacteria counts, cubic metres or inches. We achieved other things as well:
Greater citizen trust in the mayor's office, as this was the first project to be completed in cooperation with a foreign company, and it was a success, not to mention transparent and clean;
An improvement in municipal processes ("Procedures existed but nobody know how to execute them, and this project helped us implement them", said Beatriz, who works in the mayor's office); Shared professional experience ("it was an exchange, on a cultural and technical level. We learned a lot from each other and, technically, we realised that engineering is the same everywhere, the only thing that changes is the language", said Juan, a project engineer and inventor with the mayor's office);
Maintaining sustainable methods of living ("The aqueduct is what we needed because the farmers' livelihood is the river, and this means they won't migrate", said Rubiela, community leader);
Motivation ("Without a doubt, it was one of the most enriching experiences of my professional career. It's an opportunity to learn by teaching, share knowledge, meet new people and understand that people's situations vary widely, depending on where they live. Overall, the people that benefit the most from volunteer programmes are the volunteers themselves, more so than even the company, the communities, and the NGOs that we serve", said Julián, a volunteer).
In view of all of this, and in response to Uriel, I would respond with another question: does it really matter why?