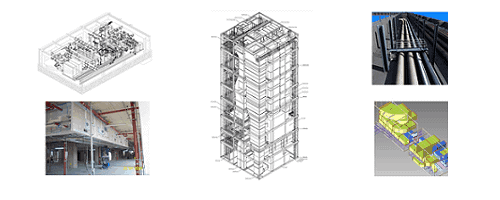 The Innovation in Architecture Workshop, at the CEU San Pablo University School of Technology, commenced on 10 September 2014. The Innovation department at Ferrovial Agroman, Ferrovial Group's construction division, is participating actively in this workshop by proposing a challenge to which students must provide a solution by the end of the four-month workshop. The challenge encourages the use of innovation and creativity in a real situation, which requires that students design an entire building or infrastructure based on the principles of modular construction and prefabrication (Design for Manufacturing and Assembly—DfMA).
In addition to those principles, the fifteen participating students, who are in the fifth year of their undergraduate programme, must consider the use of recycled materials, so that innovation and process improvement go hand in hand with the principles of sustainable architecture and construction. The modules to be used must preferably be made of recycled materials (shipping containers, precast concrete pipes, material recycled from infrastructures, old buildings, etc.) and must be designed for universal use. The challenge focuses on the "construction" of a building or infrastructure (park, sports stadium, etc.) from such components, which will be used recurrently in the construction process to facilitate assembly, enhancing the advantages from optimising the system variables related to consumption, production and sustainability in order to improve quality standards.
The project specifications also require each architect to imprint his/her personal touch on the design to make it unique, the goal being to ensure that, despite being made from modular components, the projects all have a unique character.
With this initiative, Ferrovial Agroman is strengthening its links with universities as part of its commitment to innovation and the development and implementation of new technologies and processes.
What is DfMA (Design for Manufacturing and Assembly)?
The term refers to a set of guidelines aimed at ensuring that a product is designed with a view to being simple to manufacture and assemble. Prefabrication per se is nothing new, and has been used for decades in industries such as aeronautics and the automobile industry. However, apart from specific experiences in architecture in the past, the use of this approach on a large scale in construction is relatively new.
The use of innovative processes such as Building Information Modelling (BIM) and the associated technology simplifies the design of modular prefabricated systems and makes it feasible to use them in large construction projects. A landmark project recently completed by Ferrovial Agroman in which the advantages of this approach were made patent is Heathrow T2; not only were structural components prefabricated but a "plug-and-play" approach was adopted for horizontal and vertical modules that would be inserted on site.
The advantages of prefabrication and modularisation over traditional construction methods had a positive impact on the basic principles underpinning the development of the construction process by Ferrovial Agroman in a number of projects.
Safety is enhanced since there is greater control and stability in the factory process and on-site processes are minimised.
Better quality finishes are achieved, and defects are eliminated at an early stage of construction. Reliability improves due to a reduction of the number of components, the number of assembly steps, and the need for stocks of materials on site; there is also a consequent reduction in transport costs.
Costs – Standardization, using moulds, reduces the need for formwork, preliminary materials, on-site storage, etc.
Lead times are reduced by increasing predictability and reducing uncertainties due to external factors such as weather, absenteeism, accidents, etc. and better organisation of logistics and on-site installation.
Sustainability: Waste reduction and reduced environmental impact: reducing noise, dust and CO2 generation.