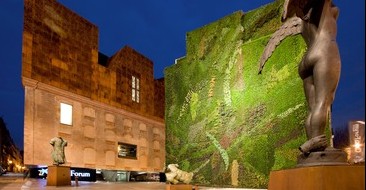 When the good weather arrives it's a real pleasure to stroll around the city, and if you are in Madrid we would recommend you pay a visit to the CaixaForum, not just to see its exhibitions, but also to admire its vertical garden, created by the botanist Patrick Blanc (currently being looked after by Ferrovial Servicios). This is the first of its kind in Spain, and it weaves a natural tapestry made up 15,000 plants from 250 species, measuring 460 square metres. It is not a mere decorative feature, but an environmental agent, given that it helps to combat pollution, cleaning the air and, at the same time, protecting the wall from bad weather and making it possible to reduce energy consumption (in the winter it insulates from the cold, and in the summer it is a natural cooling system).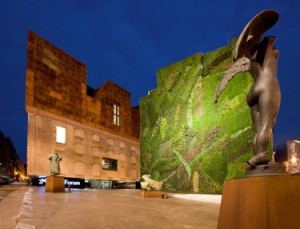 There are many advantages to vertical gardens and, as such, if you have a bare wall we would encourage you to create your own vertical garden on one of your home's surfaces.
Steps to creating your vertical garden
You can make a vertical garden using both the wall of a balcony or terrace and inside the house. Normally you need the wall to be water-proofed or to fit a protective panel.
Measure your wall and choose the supports or pots that you are going to use. For instance, you can be original and use plastic guttering, arrange tins on a pallet, or use flower pots. Or even use water-proof felt bags which are the best option if your wall in indoors as you won't need to protect the wall! Furthermore, they have the advantage of being moveable, taking into account the design of your garden, because some plants grow quicker than others…
Fit the structure onto the wall from one side to the other. If you use guttering, remember to put stoppers at the end of each piece of tubing so the earth doesn't fall out.
To water your garden you can fit a drip irrigation system on the top row, in such a way that the water filters and trickles its way down, thereby watering the plants on the rows below.
You can go beyond having a vertical garden and set your sights on an entire orchard! So don't be afraid of planting whatever you like, even vegetables and fruit. You can arrange plants that have shallow roots, in such a way that they can grow well, choosing creeping plants, that is to say ones that will climb across the wall as they grow.
What plants can we hang on the wall?
If you feel inspired and make your own vertical garden, don't hesitate to share it with us, by sending us your photos.