Of all the options one has for living one's life, the most comforting is, without doubt, the one in which one devotes one's time to making the world a better place. There are no magic formulas, and no superheroes, and there is nowhere in the world without injustices to eradicate. As well as the duty of the public authorities, who are not always as efficient as one might hope, each of us is responsible for spreading a little solidarity throughout the world. That is what defines us as human. There are many ways of committing to our fellow beings, and all are necessary. One of these means getting involved in a project whose professional and vocational aim is precisely that of getting those the system has forgotten heard, and demanding social justice.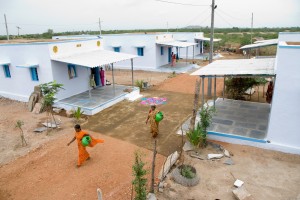 On 8 September, Aid-Worker's Day, this is precisely the figure we would like to pay homage to. According to the Spanish Association of Aid-Workers, there are around 2,500 Spaniards working on social, healthcare, environmental and other projects across the globe, and 26 on our project in the south of India. Know more about global aid-workers.
These are individuals who have chosen to devote all their knowledge to improving living conditions in deprived countries because they feel that inequality knows no homeland or borders, who feel that change is possible, that the transformation of society, however far from home they might be, is a task we all face. They have made non-conformism their way of life.
In rural India we have been able to take a qualitative leap forward thanks to them; professionals from the worlds of medicine, nursing, education, ecology and occupational therapies, devoted full-time to sharing their knowledge with the local population, to contributing to the empowering of groups which, for a range of reasons, do not have access to sanitation, to social services, to education. By 2022 India will become the most populated country in the world. 80% of the nigh-on 1,400m inhabitants it will have (there are currently more than 1,200m) will continue to live in rural areas in extremely adverse conditions, where hunger and easily treatable conditions, such as diarrhoea and tuberculosis, will continue to wreak havoc. Extreme poverty is the worst of injustices, and the most deadly, because it denies access to the chance to change your destiny.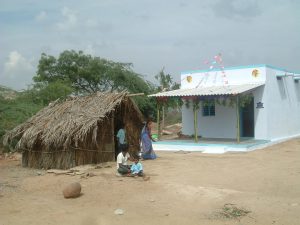 Paradoxically, if everyone showed their commitment extreme poverty would come to an end. And that's where all governments, NGOs and individuals come in. Our personal commitment is to assess the way in which we can participate in the deep social changes needed to bring this about, to come out of our comfort zone and use the mechanisms at our disposal to support the most noble cause we can imagine: to succeed in making those changes translate into the recognition of the fundamental rights of those people who are suffering.
Know more about Vicente Ferrer Foundation here. 
About Vicente Ferrer Foundation & Ferrovial
Ferrovial and Fundación Vicente Ferrer are working in 2015 to build houses for 20 untouchable women and their families – a total of 119 people – in Byrepalli village, Anantapur district (India).
The houses, built using local materials and workers, will allow these people to leave their present precarious housing and gain access to better living conditions in the medium term.
This partnership is part of the Stronger Together (Juntos Sumamos) programme, where Ferrovial employees who wish to do so can donate a portion of their monthly salary to a social project and Ferrovial doubles the amount raised.