London Heathrow Airport needs no introduction. It handles 74 million passengers per year and runs at 99% capacity across two runways. Their mission is to "make every journey better" and, as you would expect, Heathrow focusses on delivering great customer service to their passengers, making sure flights are arriving and departing on time and keeping the airport safe and secure for everyone at Heathrow.  Their contractors play a huge role in achieving this – Ferrovial Agroman are no exception.
We are currently delivering Lot 3 (Northern Airside and Landside) of Heathrow's 6th quinquennium of works (Q6) within a live, operational environment where logistical arrangements are constrained – time is precious. Heathrow also sits on a complicated web of services, cables and pipes, therefore when HAL required these works, we clearly understood that this would involve substantial effort to identify, replace and divert services running beneath the works area. This would ensure the safety of those carrying out the work as well as the continued safe operation of those services.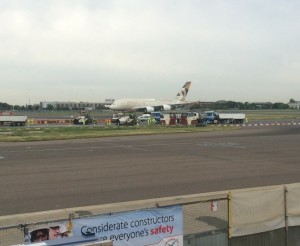 Our strategy throughout Q6 is to avoid any operational impacts maintaining the Health, Safety and Quality standards throughout the whole project, especially within the restricted hours through effective construction methodologies, protection measures and increased monitoring. This approach is proving to minimise disruption and in fact, some of the best innovations suggested by our enthusiastic team members are small iterations that are making a big difference.
Small Innovations, Big Impact
Hydraulic Seeding: Heathrow have been trialling alternative approaches to seeding of new airfield grass areas and, unlike net and batons, applied erosion control systems are sprayed on and therefore genuinely follow the contours of the ground, with no bridging or potential for washout below the matting. Conventional netting can allow water to seep through and gradually cause washout. These spray-on systems actually lock the soil particles down using soil binders and biodegradable fibres to create a seamless blanket of protection and an ever-lasting layer of grass.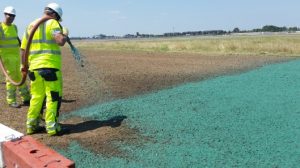 Melba Logs: Used to limit work zones

In order to eliminate the problem Heathrow had with voles and other rodents making their homes inside the melba logs, in conjunction with Heathrow's project engineers, we decided to turn them upside down to stop voles them entering the holes.
Instead of using the traditional reflective tape on the melba logs, reflectors that are screwed on to the blocks have been implemented to reduce the risk of FOD (Foreign Object Damage) from weathering.
Concrete cutter activities are now used in conjunction with the lights on the melba blocks for services protection on nights.
Vacuum Excavation Used in place of hand-digging to create less surface damage, less spoil removed, less dust creation, reduced fuel use for transport and smaller excavations. This method also allows for positive visual identification of services and reduces manual handling. The material removed can also be reused.
Vacuum lifting / Expansive grouting / Pneumatic Hand Breaker We have tried and tested a number of methods to remove the concrete surrounding the services, however the success story lies in the vacuum lifting method. The handling of concrete is controlled at every stage: it is now possible to demould, to lift, to turn, to tilt and to store concrete in record time. This method was approved by HAL after also trialling a drilling and bursting of the concrete method, as well as the use of a pneumatic hand breaker to break the material surrounding pipework.
Access ladders / scaffolding Safe access need to be provided during night possessions of  restricted area. This prefab platform provides a quick and safe access to the deep excavations on site.

Filtersock Implemented on site for the first time at Heathrow Airport. The nature of the works on the taxiway required an innovative measure to reduce risk of water contamination in surrounding wetlands without holding up works waiting for test results. This sock allows Ferrovial Agroman to start pumping rain/groundwater into storm water drain as needed.
Protective tape An innovative form of tape is used to protect the slabs adjacent to the areas where the concrete is being broken during the works. It acts as a second edge to the concrete in between the two areas to absorb the vibrations during demolition. This tape not only reduces damages to the surrounding areas, but it can also be recycled for other demolition tasks.
Traffic lights A traffic light system has been introduced to guarantee safety when crossing the runways to reach the work sites. They have been carefully placed at the safest points to cross the runways to minimise any disruptions to the live operational airport.
Juan Pablo Perez, Q6 Project Director Ferrovial Agroman highlights that, "Innovation is always at the forefront of our projects, along with high Health, Safety and Quality standards. It is so impressive to see how the small yet effective techniques established by the team at Bravo and the ease at which they adapt to these changes can facilitate their daily tasks. We promote an open platform to communicate ideas across Q6 and Ferrovial Agroman as a whole, and through sharing best practice we can continually improve the operation of our projects. Without the enthusiasm and commitment to innovation from all our Q6 team members, this would not be possible."
Pedro Roa, Q6 Project Manager Ferrovial Agroman on the Bravo Taxiway Project adds that "in delivering Innovation in Heathrow, one key lesson learned has been the importance of providing a variety of approaches to engage with colleagues and partners. We try to make sure that everybody knows where and how they can come to us to talk about innovation. We then compile this information in to our Lessons Learned tool on the web based Document Management System (4Projects) for easy access and sharing with the rest of the Q6 and FAUK Communities as well as our Innovation and Value Engineering Register so we can monitor our developments throughout the project."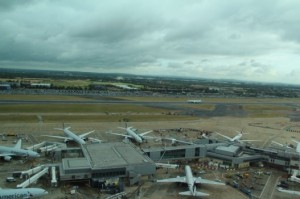 The innovations we are implementing on our Heathrow Q6 works are perfect examples that anyone can innovate, and that no matter how big or small the idea, the benefits achieved could have an enormous impact on your day to day activities. Have a look around you and think about what small changes you could make to improve your daily activities, not only on site, but also in your offices – you might surprise yourself!