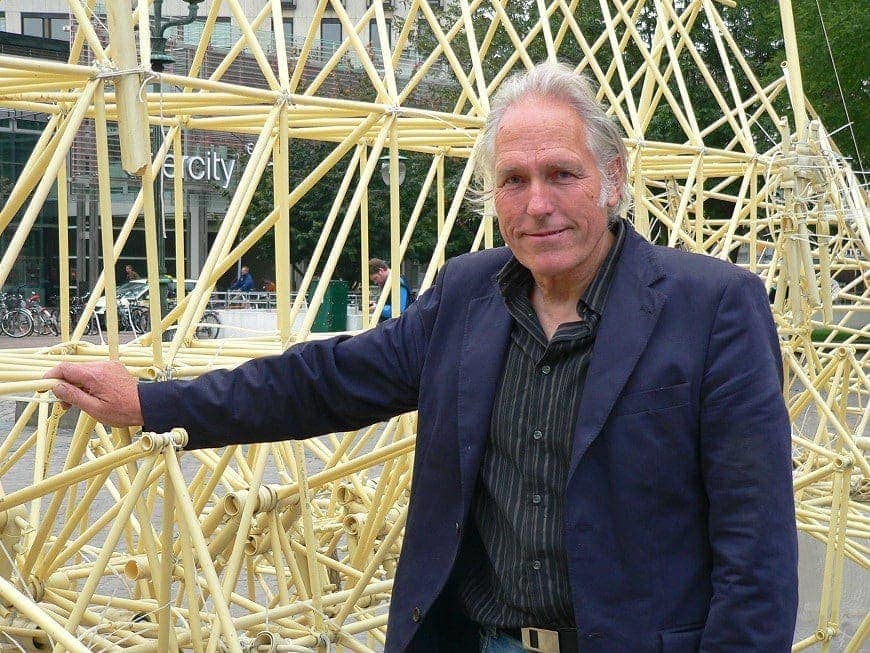 You might have all your plans sorted for the 24th, 25th and 31st of December but what have you got planned for the rest of the holidays? If you're not very sure or if you're going away for the holidays we have some suggestions of  museums and exhibitions on architecture, engineering or design to check out around the world.
If you're in Madrid…
Amazing creatures by Theo Jansen 
If you walk through Gran Via and head towards the street Fuencarral you will find the Espacio Fundación Telefónica that until January 17th hosts the Theo Jansen exhibition "amazing creatures". This exhibition offers surprises both big and small as it's not every day that you come across beach beasts (Strandbeest). These sculptures break with  tradition, they are large animals created with plastic tubes, which have lungs and a heart, and are born to survive autonomously on the beaches of the Netherlands.
Location: Calle Fuencarral, 3, 28004, Madrid
Timetable: Tuesday to Sunday from 10am to 8pm
Price: Free
If you are in Barcelona…
German Pavilion Ludwig Mies van der Rohe
For the International Exhibition of 1929, the architect Ludwig Mies van der Rohe (1886-1969) designed the national pavilion of Germany. The work stands out due to its straight lines, the use of glass and steel and the different types of marble used to create it. After the exhibition finished, it was dismantled but later became a key benchmark of modern 20th century architecture to the extent that 50 years later, in 1980, the Barcelona architect Oriol Bohigas encouraged the reconstruction of the building. On your stroll through Montjuic be sure to pay a visit to this architectural icon.
Location: Av. Francesc Ferrer i Guàrdia, 7, 08038 Barcelona
Timetable: Monday to Sunday from 10:00 to 18:00
Price: € 5
If you're in the UK…
Designs of the Year 2015
The Designs of the Year exhibit at London's Design Museum prides itself on celebrating design that promotes or delivers change, enables access, extends design practice or captures the spirit of 2015. Amongst other innovative works you can check out 'Human Organs-on-Chips', designed by Donald Ingber and Dan Dongeun Huh at Harvard University's Wyss Institute which received the Design Museum Design of the Year Award for 2015.
Place: Design Museum, 28 Shad Thames, London.
Dates: 25 March 2015 – 31 March 2016
Time: Open daily 10:00 – 17:45
Price: £13.00
Alexander Calder: Performing Sculpture
American sculptor Alexander Calder (1898-1976) was a radical figure who pioneered kinetic sculpture, creating new worlds with minimal resources and bringing movement to static objects. Calder first trained as an engineer and you can notice this in the very precise composition of his artwork. His mobiles are enchanting and give the visitor a unique artistic experience. Joy is at the heart of his work so if you feel in need of a bit of a cheering up this exhibition at Tate Modern is for you.
Place: Tate Modern, Bankside, London SE1 9TG
Dates: 11 November 2015 – 3 April 2016
Time: 10.00–18.00, Sunday – Thursday, 10.00–22.00, Friday – Saturday
Price: £18.00 (without donation £16.30)
If you're in the US…
Architectural Models from the Ancient Americas
This exhibition at New York's Met Museum offers a rare look at ancient American architecture and is the first of its kind in the US. From the 1st millennium B.C. until the arrival of Europeans in the 16th century, artists from the ancient Americas created small-scale architectural models which were placed in the tombs of important figures. These models made of stone, ceramic, wood, and metal ranged from abstract minimalist representations to complex architectural structures. The exhibition gives a unique take on the lives of the Aztecs, Incas and their predecessors.
Place: 1000 Fifth Avenue (at 82nd Street), New York, NY 10028
Dates: October 26, 2015–September 18, 2016
Time: Sunday–Thursday: 10:00 a.m.–5:30 p.m and Friday and Saturday: 10:00 a.m.–9:00 p.m.
Price: $25.00 for museum entry (exhibition included)
Olafur Eliasson: The Collectivity Project
The collectivity project at the Museum of Fine Arts in Houston invites visitors to help recreate an imaginary cityscape made up of 580,000 white Lego bricks. This interactive installation was conceived in 2005 by Danish-Icelandic artist Olafur Eliasson and the project has previously been installed in public squares in cities such as Oslo and Copenhagen.The human-scale work of art encourages visitors to look at Houston's architecture and spaces in a different way. The initial constructions were built by students from the Rice University School of Architecture and Texas Southern University.
Place: The Museum of Fine Arts Houston, 1001 Bissonnet, Houston, Texas 77005
Dates: Oct 16, 2015 – Jan 31, 2016
Times: Tuesday–Wednesday, 10 am to 5 pm, Thursday, 10 am to 9 pm, Friday–Saturday, 10 am to 7pm
Sunday, 12:15 to 7 pm
Price: $23
Texas Instruments Engineering and Innovation Hall
The Texas Instruments Engineering and Innovation Hall is a testament to the diversity of engineering and to the North Texan engineers who have made history with their inventions. Inside the hall you can experience what it's like to build a better building or to program movements in a 3D animation lab by building for example a model skyscraper to withstand a simulated earthquake. As well as this, you can also design and build a robot to race through a maze, pick up objects, or battle with other robots.
Place: Perot Museum, 2201 N. Field Street, Dallas, TX 75201-1704
Time: Mon – Sat: 10am – 5pm Sunday: 12 – 5pm
Price: General Admission $12-$19
If you're in Australia…
Sydney Harbour Icons With Lego® Bricks
Ryan McNaught, Australia's only certified LEGO professional has recreated Sydney Harbour's most iconic and visionary structures. He has brought to life the Sydney Harbour in all its intricate detail in colorful LEGO bricks through a series of playful installations which include world-first fireworks, lights, movement and almost 1000 miniature figurines. This includes a giant model of the Sydney Harbour Bridge made up over 130,000 LEGO bricks complete with traffic, pedestrians, commuter trains and the Harbour Tunnel underneath.
Place: Museum of Sydney
Dates: 7 November 2015 – 31 July 2016
Time: Entry by timed session
Price: $15