Although we don't often stop to think about it, tunnels are an essential part of the day-to-day of millions of people worldwide. This type of infrastructure reduces travel time and improves connections. They improve our living standards.
Cutting-edge technology is vital for creating tunnels. Tunnel boring machines (TBMs) have been used in the most daunting and complex excavation projects in recent decades. TBMs make large excavation projects safer, quicker and more efficient.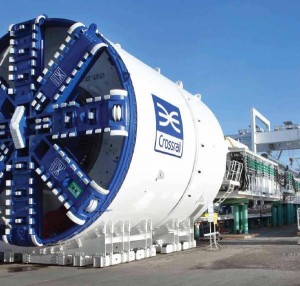 A good example is our current project in London. Ferrovial is part of a consortium which is building the largest section of Crossrail, a new underground railway that will connect east and west London.
Ferrovial will bore two large tunnels, 6.4 kilometers long and 6.2 meters wide. It is using large tunnel boring machines, which are 140 meters long, 6.2 meters in diameter and weigh 1,000 tons.
The machines are running practically non-stop, boring 100 meters per week. Once the machines are underground, they will be operated round-the-clock almost every day. As the TBM advances, the tunnel walls are also lined.
Ferrovial has participated in tunnel construction projects for a wide range of transport infrastructure, including the Lisbon Metro, Heathrow Airport and Madrid's M-30 road.
The latter project was a popular item in the news, thanks to "Dulcinea". Not to be confused with Don Quixote's muse, Dulcinea was the name given to one of the TBMs on the M-30 project, an underground beltway which circles Madrid with up to four lanes in each direction.
At that time, Dulcinea was the largest TBM in the world, weighing in at 4,300 tons and with a 12,000 kW motor. Its massive size, 107 meters long and more than 15 meters wide, caused a commotion in the media after it was featured in the Discovery Channel series "Really Big Things" .
Ferrovial has used TBMs in other major projects, such as the expansion of Madrid's Metro. They were also used in the Guadarrama and Pajares tunnel projects, which were construction milestones in the development ofSpain's high-speed railway network.
At the end of the day, TBMs enable veritable feats of engineering and construction. These state-of-the-art machines make life a little easier for all of us.