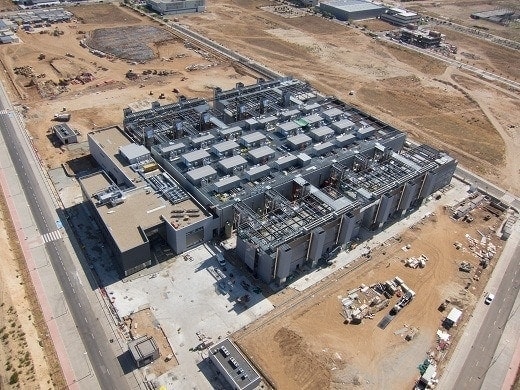 It is really quite an interesting exercise to compare what I thought several years ago about data centers with how I see them today. My involvement began four years ago with a project to design and construct one of the world's largest and most innovative data centers – one that Ferrovial Agroman was building for Telefónica. Since this type of work was completely new to me, initially all the information I received about it seemed nothing more than a bewildering array of acronyms. Far from aiding my understanding, I became increasingly confused and somewhat perplexed at the thought of immersing myself in this decidedly complex field.
As is only natural, my perseverance began to pay off with the passing of each day. I gradually improved my understanding of the data center philosophy and – although one never ceases to learn, and even more so in this technological world – I'm going to try to express in plain language what a data center actually is. Obviously I'll avoid using the same acronyms which I referred to earlier – or at least I'll use them in an explanatory way.
Essentially a data center is nothing more than a building, boasting a dedicated room to store computer equipment at its heart. This room requires a number of facilities and pieces of equipment to make possible, and ensure, the continued operation of the computer equipment that it houses. Due to the importance of the data stored there, users have claimed that the most important characteristic is its reliability. This parameter has been measured by various private organizations, including the Uptime Institute. The rating given by this organization is known as Tier II, III or IV, depending on the center's reliability.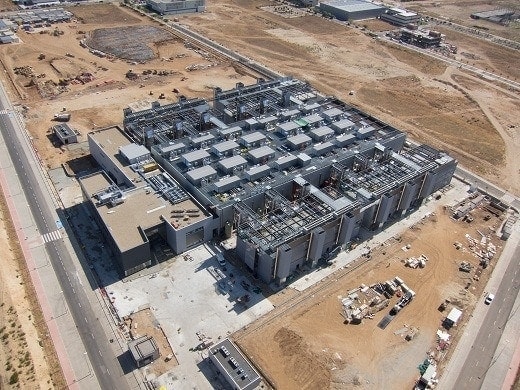 Efficiency is a critical factor in the project
Another concept to be considered is the energy efficiency, which is derived from the energy expended in guaranteeing a data center's operation around the clock, 24/7. To get a rough idea, for every KW intended for IT equipment, it is necessary to use a large percentage of this energy to cool the room and effectively dissipate all the generated heat. The ratio between total energy consumption and IT consumption is called the Power Usage Effectiveness (PUE) – thus a lower PUE will translate to a more efficient building. To give an idea of the scale, I'd point out that the energy expenditure of a data center in operation is more than 60% of the total investment.
Additionally, given the high investment cost and considering how fast technology advances, two other concepts that should be included in the design and construction of a data center are modularity and flexibility. These allow us to reduce investment for initial requirements to a minimum while also providing a simple and economical way of facilitating future extensions, according to the needs of the day. There are numerous examples of both data centers that have been left without sufficient physical space or power as well as those which have remained empty because of designing on day one a center supposed to satisfy all potential future requirements, however uncertain they may be at the time.
After penning this simple description of a data center, in which I've tried to highlight the elements that demonstrate excellence in design and construction for such a project, I realize how lucky I am to have been able to work on this particular project. It is one of the five largest data centers worldwide, with 16,000 m2 of space for IT, an initial IT density of 1.7 KW/m2 (expandable to 7 KW/m2), and has a total IT demand of 112 MW – equivalent to 15% of the power a standard nuclear plant can generate. In addition to its magnitude, it has been developed under rigorous technological conditions that result in cutting edge reliability (TIER IV) and efficiency, achieving average annual PUE levels of less than 1.2.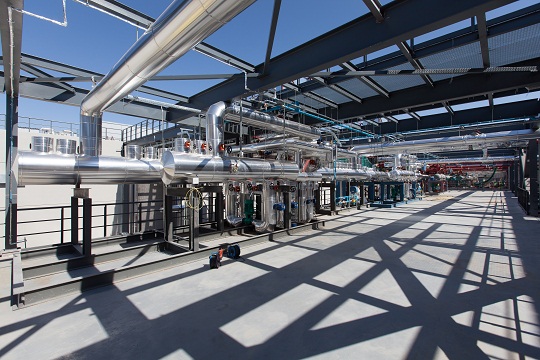 A 500-strong team
Last but not least, I'd like to highlight not just the technical knowledge acquired with this type of project but also the human value, which has marked a milestone in my life. This is essentially thanks to the team that successfully completed the project – an extended family to which I ended up forming an integral part. These include the 45 people comprising the technical team (engineers, technicians, administrators, managers and supervisors) as well as the more than 500 people who have worked on site. Each and every one of them has been important and necessary. I'd like to say a big thank you to all of them.