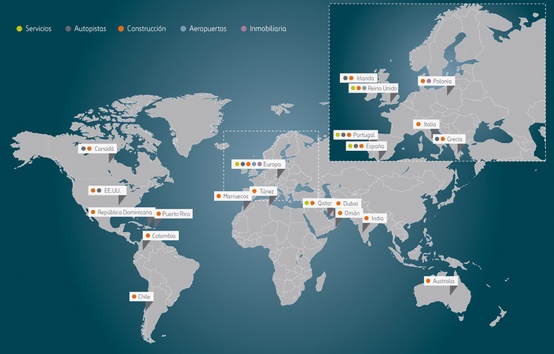 This week, Spain's Club of Exporters and Investors has recognized Ferrovial in its 2012 Internationalization Awards. In line with this prestigious prize, it is important to reflect on the importance of opening up the world to promote growth and prosperity.
The Spanish economy is currently suffering, and this has highlighted the need to internationalize our country's private sector. Opening our industries to the global economy is not an easy task, but the rewards will make the effort worthwhile. The increase in dynamism and competitiveness that our country can enjoy every time a firm expands beyond our borders is remarkable, and remains fundamental to come closer to the recovery.
In this context, big companies have the responsibility to open new business opportunities for Spain. Although our "country brand" has lost relevance in the last years, many of our companies have enjoyed remarkable international success, and this has diminished the effects of a difficult scenario like the one we are facing now.
Four our company, internationalization has been a central part of our strategy since the 70s, although our first contract outside of Spain had already been signed in 1954. Thanks to the success of our aim to take Ferrovial global, we have been able to manage the on-going crisis much better.
Consolidated markes and emerging economies
Starting new projects in countries like the United Kingdom or the United States of America was one of our biggest bets, and the results have been remarkably good. Infrastructure projects such as the London Crossrail or the LBJ Express Highway in Texas are some examples of the opportunities we have enjoyed in these countries.
Although most of the talk about new projects is often focused on emerging economies, OECD countries also have a lot to develop in the field of infrastructure and services. The United States, for instance, will have to undertake a profound renewal of its infrastructure network over the next years. Therefore, we know that opportunities may come up in both mature or developing markets.
OECD countries represent a higher degree of security when conducting business outside of Spain. We focus on them because they offer macroeconomic stability, sound institutions, well-functioning Justice systems… However, we also want to be present in emerging markets.
A good example of this approach is our recent work in Colombia. There, we have  recently began building the new jetty at Puerto Bolívar, a very important project that will help develop the mining industry of Cerrejón. Another project in the South American country will see us build the tunnels for the Hydroelectric Power Station in Ituango.
Another relevant emerging market which is also a part of our internationalization strategy are the Middle East economies. We have recently signed a contract that will see Ferrovial Services work with Qatari authorities on the management and upgrade of the country's national road network. The list is even longer, since Ferrovial also develops projects and/or maintains business offices in many other countries.
We are talking, hence, about a strong commitment to internationalization, which Ferrovial understands as a need to develop itself in the long term. Our entry into new markets is always the result of a slow process of reflection and analysis. Minimizing risks and maximizing growth opportunities we adapt to a globalized economy and improve the services we provide to millions of people around the world.