Control
Sport, health and leisure: the keys to our well-being
Since 2004, Ferrovial Services is responsible for the management of a range of local council sports centres under its Inacua brand, and as such provides sports services and consulting, as well as general maintenance services for the facilities. Here, one of our experts in sports activities, Carlos Leal, talks to us of the links between sport and physical and mental well-being. 
Physical exercise and sport and their influence on our well-being
Physical activity, practised in moderation, has a proven positive influence in our physical, mental and social wellbeing. When carried out on a regular basis, it has very positive consequences on improvement and maintenance of our health. In Spain, a growing interest for physical activities is reflected in the important role now played by local councils in sports management, aimed at increasing the number and range of activities available for people of any age, personal goals or physical form.
The range of activities provided includes those that could be considered a sport, if we are to establish a difference between simple physical exercise and the practice of sports. Indeed, this is a difference that must be made, given the implications for people's health and quality of life: practising certain sports at a competitive level usually implies a greater risk than simply doing them as a means of exercise.
The benefits of good physical form
Whether we practise either of these activities (or both), the important thing is to consider what will benefit us most, and what might actually harm us. The practice of physical exercise and sport contributes to improve wellbeing at all levels, and makes us better able to tackle the various risks to our health that we encounter on a daily basis. Today, a sedentary lifestyle affects two thirds of the adult population, and as such good physical form will help us avoid illness, in addition to providing other physical and psychological benefits.
Proper dietary habits will contribute to a healthy body, and therefore benefit our general wellbeing. A healthy diet and exercise are the perfect combination. With a varied and balanced diet, and a weekly routine of physical exercise, we will feel healthier, both inside and out.
Where to start: what sport to take up?
Choosing the sport or physical activity that suits us best is essential to acquiring healthy habits. We could, for example, take up running, an activity that will help us maintain our body weight –or even lose weight–, strengthen our bones, improve circulation and breathing capacity, and also help us to combat stress, improve our self-confidence and keep illness at bay.
And we could, or in fact should, combine this with power exercises, which are excellent for toning our muscles as well as burning some calories.
Perhaps we would prefer a different activity to running, more suited to our tastes and preferences, such as power walking, i.e. walking at speed, whether out in the open air or on a running machine at the gym. This provides practically the same benefits as running, but is more suited perhaps to all age groups, whatever your physical form.
Many sports activities can be done on our own, outdoors, or in groups in a sports centre where, in addition to meeting other people, you will be able to share experiences and benefit from the support of a team of instructors.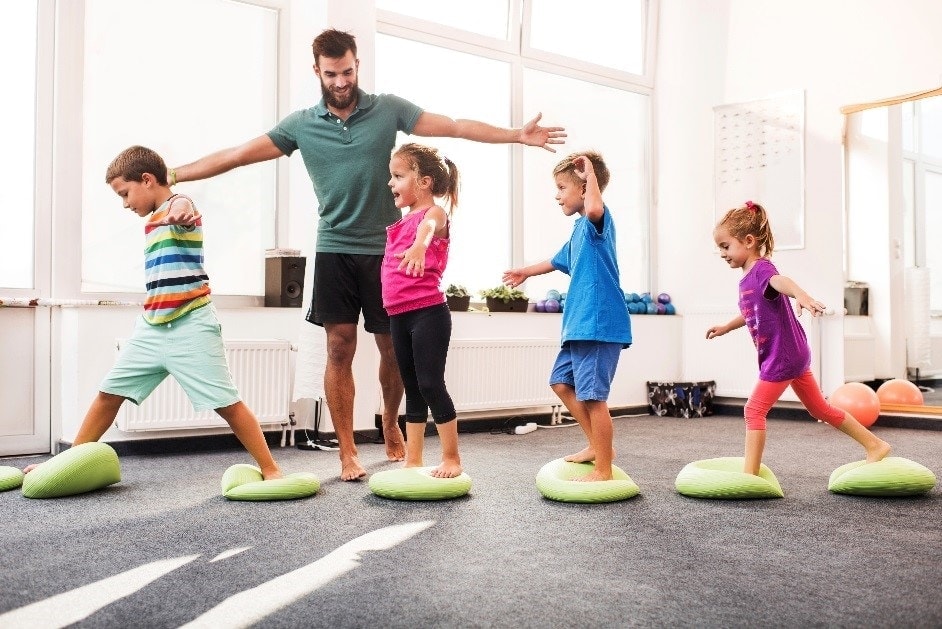 Whatever your age
The benefits of sport at any age are undeniable. Older people, for example, will benefit greatly, provided, obviously, that they choose appropriate activities: in the pool, dancing, muscle-toning, mobility exercises, balance, flexibility…
And then there's children. Physical, sports and leisure activities, practiced from an early age, are essential for creating healthy habits which will be of the utmost importance for subsequent personal and social development.
In other words, sports and physical activity in general are key to our physical, social and emotional wellbeing. With this in mind, Ferrovial Services, through its Inacua brand, carries out integral management of a range of local council sports centres in Spain, thus contributing to our health and therefore also to improving our quality of life. Inacua currently has ten sports centres in Murcia, Málaga, Granada, Madrid, Barcelona, La Rioja and Zaragoza.
This aspect is so important that the company's Human Resources department is working on promoting the keys to a healthy lifestyle with tips on diet, sport, and positive habits, for example for looking after your health or preventing injuries; as well as on the importance of knowing oneself in order to achieve our personal and professional objectives.
And so I would like to encourage you to make small changes in your daily routine, by introducing sport or physical activities, some dietary improvements, and a more positive outlook. Over time, you will reap the benefits in your daily life.