Asset Inspection – What are the current challenges?
When it comes to inspection, asset owners need to drive down costs, but often the demands on today's networks mean that inspections need to be done faster and more often. Human inspection of assets (walking, roped access, using binoculars) is not only expensive, but also time consuming, and can compromise safety. As well as this, data input is manual and slow. Traditional drones have limitations and require a trained pilot and observer along with post-analysis of video footage or stills. Overall, the ability to accurately inspect assets at low cost and ensuring accurate data processing whilst safeguarding engineers is becoming vital on a regular basis , so what can be done in order to achieve this?
Transforming asset inspections through innovative drone technology
Ferrovial's UK subsidiary, Amey, is committed to developing technological opportunities that reduce the risk to employees who work in high risk environments. That´s why we have formed a partnership with world-leading technology firm VTOL to utilise the unique Flying Wing drone which will change the speed by which any asset can be inspected, and reduce the requirement for inspectors to be on the live network, bringing enormous benefits for safety and cost savings for the industry.
The AmeyVTOL joint venture, combines our asset management expertise and capability with the latest in VTOL's drone technology to give it a new industrial application and change the way in which asset inspections can be carried out, allowing them to be made more safely.
Introducing the Flying Wing
AmeyVTOL's unique and patented Flying Wing outperforms existing drones and is the future of aerial inspections. It is the market-leading unmanned autonomous long-range drone that will carry multiple sensor arrays including GPR, HD video and still, IR, thermal and LiDAR.
Our Flying Wing can take off and land anywhere; travel far, fast and change direction, precisely mapping the same route over and over, regardless of weather conditions. It can take off vertically, hover, spin, and fly at speeds of up to 60kph. With sophisticated radar, GPS and collision avoidance technology, the Flying Wing transforms asset inspections of infrastructure like roads and railways, as well as in the utilities, maritime and oil and gas industries.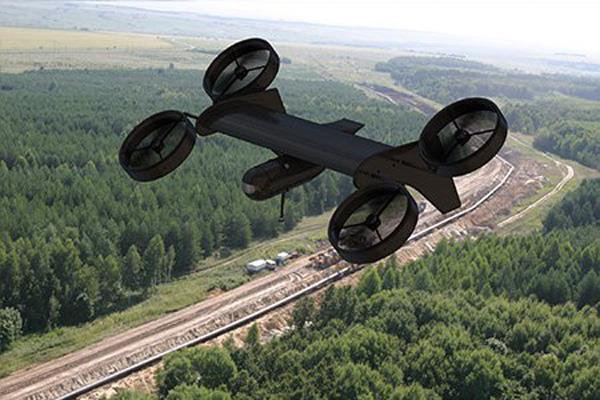 In addition, with the technology to enable it to perform ground penetrating radar and because of the quality of the visual examinations, the AmeyVTOL product and service offering can dramatically change the cost of asset inspections. From a safety perspective, even the industry's best efforts haven't been able to completely eliminate hazards such as slips, trips and falls or the risks when working at height, so the reduction in need for engineers to be in the live environment is also of huge benefit.
Additionally, the deployment flexibility of the new drone is of benefit. It can be deployed from anywhere on land or at sea, even from moving vehicles or ships. The drone collects data in real time which can be streamed live to a data processing engine and its precision flight settings and manoeuvrability improves consistency and accuracy in setting up the inspections, which can then be programmed for repeatability, particularly useful for routine inspections.
Safety first
As part of our safety commitment, the development of the Flying Wing drone gives a solution to the 'boots from ballast' challenge by offering a sustainable product that allows us to more effectively use our engineers asset management expertise without needing to place them in high risk environments. To date, our  best efforts haven't been able to completely eliminate hazards such as slips, trips and falls or the risks when working at height, so the reduction in need for engineers to go on the live environment is also of huge benefit.
AmeyVTOL in action
Wales Britannia Bridge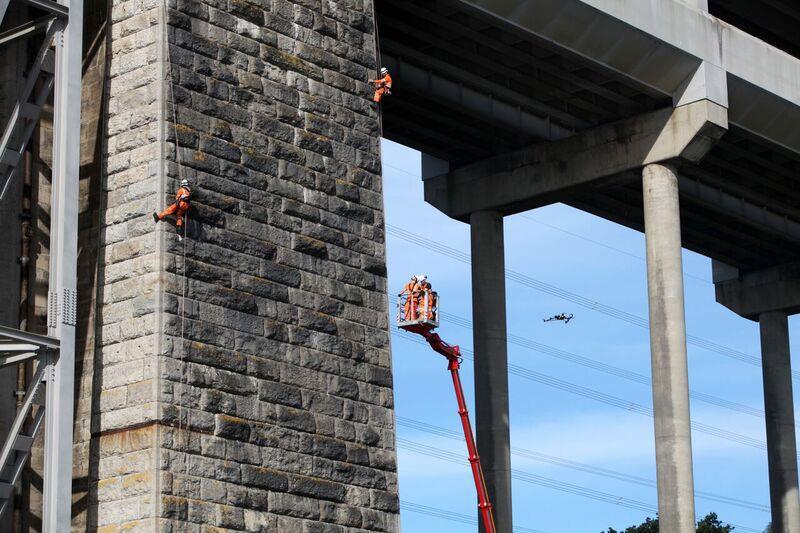 AmeyVTOL recently supported our CEFA team completing a complex project to inspect Wales' Britannia Bridge on behalf of Network Rail. Connecting Anglesey to the mainland of Wales, this bridge carries thousands of motorists and hundreds of railway passengers every day, so regular inspections and data collection is crucial to the maintenance of this iconic structure. We used a long-range drone to complement the hands-on inspection techniques enabling examinations of areas that had previously been inaccessible. As a result, we were able to keep the bridge open and totally eliminate any travel disruption whilst ensuring the safety of our engineers.
For more information on Ferrovial's work with drones, click here