Admired for its roof and unique design, Madrid Barajas International Airport's T4 can provide services to some 70 million passengers per year, all of whom expect the 1,150,000m2 of its two buildings to be always at their best.
Achieving this is no easy task. Cleaning of the terminal is carried out by 400 people and several robots, the latter helping to make the job not only more efficient, but also safer.
Cleaning plans coordinated with flight plans
Airports hardly ever sleep, and life in them is usually frantic. This means that cleaning must be carried out without inconveniencing passengers, and without affecting the airport's normal activity. To achieve this, specialised cleaning tasks (such as the cleaning of beams, roofs, windows, etc.) are coordinated with flight programmes and other tasks carried out within the facilities.
Most of these are usually done at night or at times of the day when flight pressure is lower. However, a large part of cleaning activities must be carried out when there are passengers in the terminal, although the aim is for cleaning staff to be practically invisible while carrying out their jobs.
In the case of the cleaning robots which help with these tasks, this is not always so, given that many times these machines are in fact the focus of attention from passengers, who even go as far as to take pictures or videos of them.
Low tolerance to failure
The T4 must be spotless at all times, and a very strict level of service is required. Indeed, income earned by AENA partially depends on the ranking passengers give to the different airport services.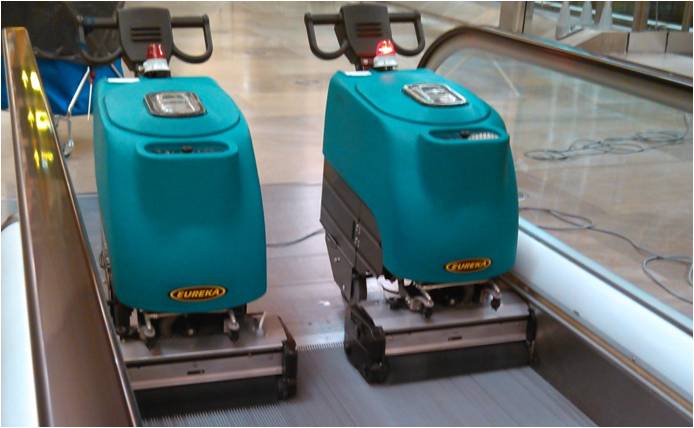 The airport's own inspectors also audit the cleaning service continuously: every month 1,800 points within the terminal are inspected, and only a maximum failure of 2% is tolerated.
In order to ensure that cleaning is efficient and employee safety is improved, robots and automated processes are an essential part of the system. These devices can improve efficiency and allow safe interaction with passenger flows, as they are equipped with obstacle avoidance systems.
Making cleaning a safer task
Toilets,air bridges (the T4 has 104 passenger boarding bridges), beams, roofs, lifts, escalators, moving walkways, interior and outside windows… An airport terminal has numerous and very varied elements to be cleaned. Window cleaning robots are the machines that have contributed most to improving passenger flows. Before them, cleaning was done manually, using ladders and other elevator equipment.
Use of such systems (elevator platforms, for example) necessarily implied closing off and marking the affected area for safety considerations, whereas the window cleaning robots adhere to the windows and need no human intervention, except for at the start and end of operation.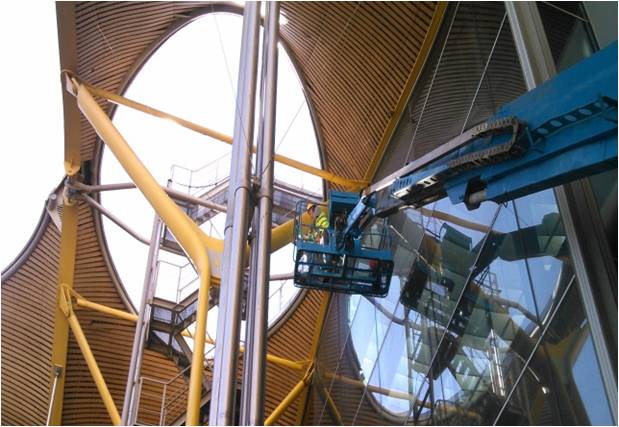 Avoiding heights
Output of these window cleaning robots is not very high, but preparation time is much lower than what is required when performing the task manually.
One of the greatest advantages of robots is that they avoid employees having to work at heights, thereby improving worker safety. The same is true for the robots used for cleaning the beams and pillars.
Other types of machines are also used, such as sweeper-mopping robots, designed especially for large open areas with fewer passengers, as they brake and change direction when they encounter an obstacle. They are therefore normally used in areas such as baggage reclaim or parking access walkways.
In the name of efficiency
We can definitely say that improved safety of tasks that were previously carried out at height is, without doubt, the key advantage of the robots used for cleaning spaces such as airport terminals.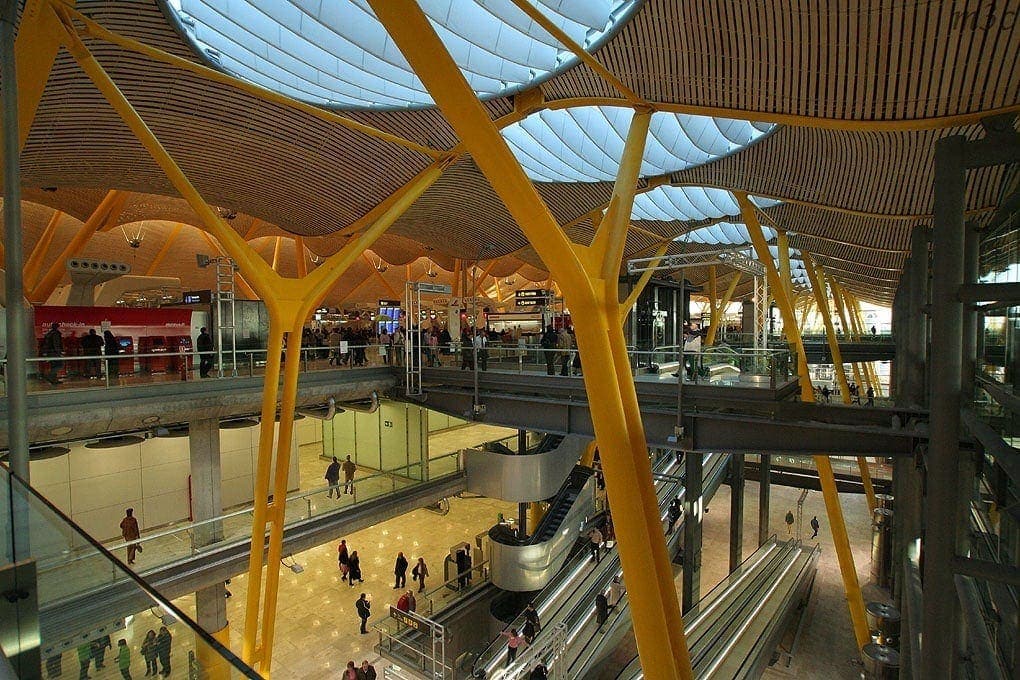 But these machines also increase the efficiency of operations, improving efficiency and particularly availability and cost.
For example, window cleaning robots result in cost savings of over 50% and a 33% increase in service frequency. Floor cleaning machines take 60% less time to do the same job, and thus the surfaces they clean have a longer life.
Nevertheless, such machines still have scope for improvement, especially as regards efficiency and accessibility of robots to small or difficult to reach areas. This means that some areas, such as toilets and seating, are still cleaned manually.
Another issue with machines is their battery life and weight. Although they have large capacity batteries, if these lasted longer or were lighter, changeover periods could be streamlined.