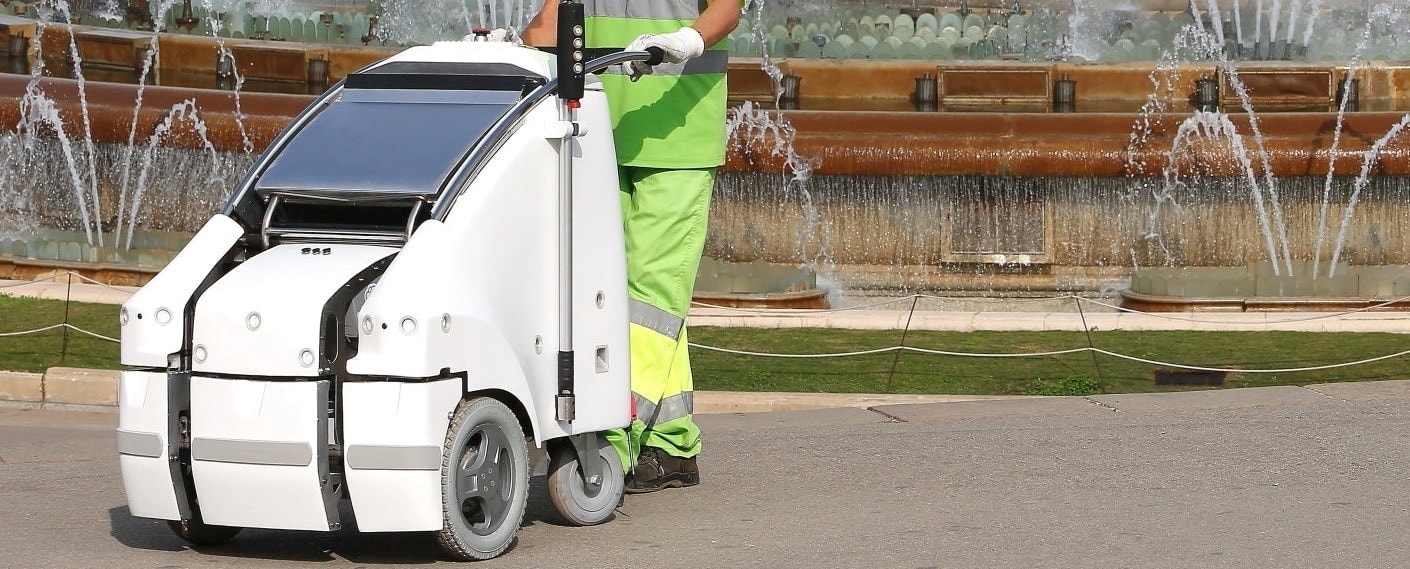 Perhaps you see only a robot, but the fact is that behind this mobile trolley which is helping street cleaners to be more efficient in their job and improving ergonomics, there is a whole process of innovation which has allowed the project to come to fruition.
But first, let's get the introductions done.
Hello world, I am the A1A3 robot!
A1A3 is the name of this robot which was recently launched and which is already working on the streets of Barcelona.
This smart trolley for use in street cleaning is programmed to work in four different ways: it can autonomously follow the cleaner; it can move up to the cleaner when summoned; it can be used manually but with automatic speed adjustment depending on its surroundings; and it can be operated in full manual mode.
For this to be possible, the A1A3 is equipped with various technologies and systems: real time navigation, awareness of surroundings, obstacle avoidance systems, automatic waste picker, operational and safety signalling features, unlock movement by deadmen control, anti-theft security system, mobile laboratory to measure pollutant gases such as CO, NO2 and O3…
Moreover, battery range for the robot is over 9 hours, and it is additionally fitted with a power-saving mode.
A culture of innovation making this possible
This robot emerged out of Ferrovial Services' street cleaning contract in Barcelona.
We set in motion a process for reflection, with creative sessions based on the street cleaning services of the future. Initiatives of this type have been used before with the aim not only of incentivising research and creativity, but also of introducing a new way of thinking and tackling problems within the organisation. The result of this particular reflection process was the idea of developing a robot to help improve workplace quality for street cleaning operators.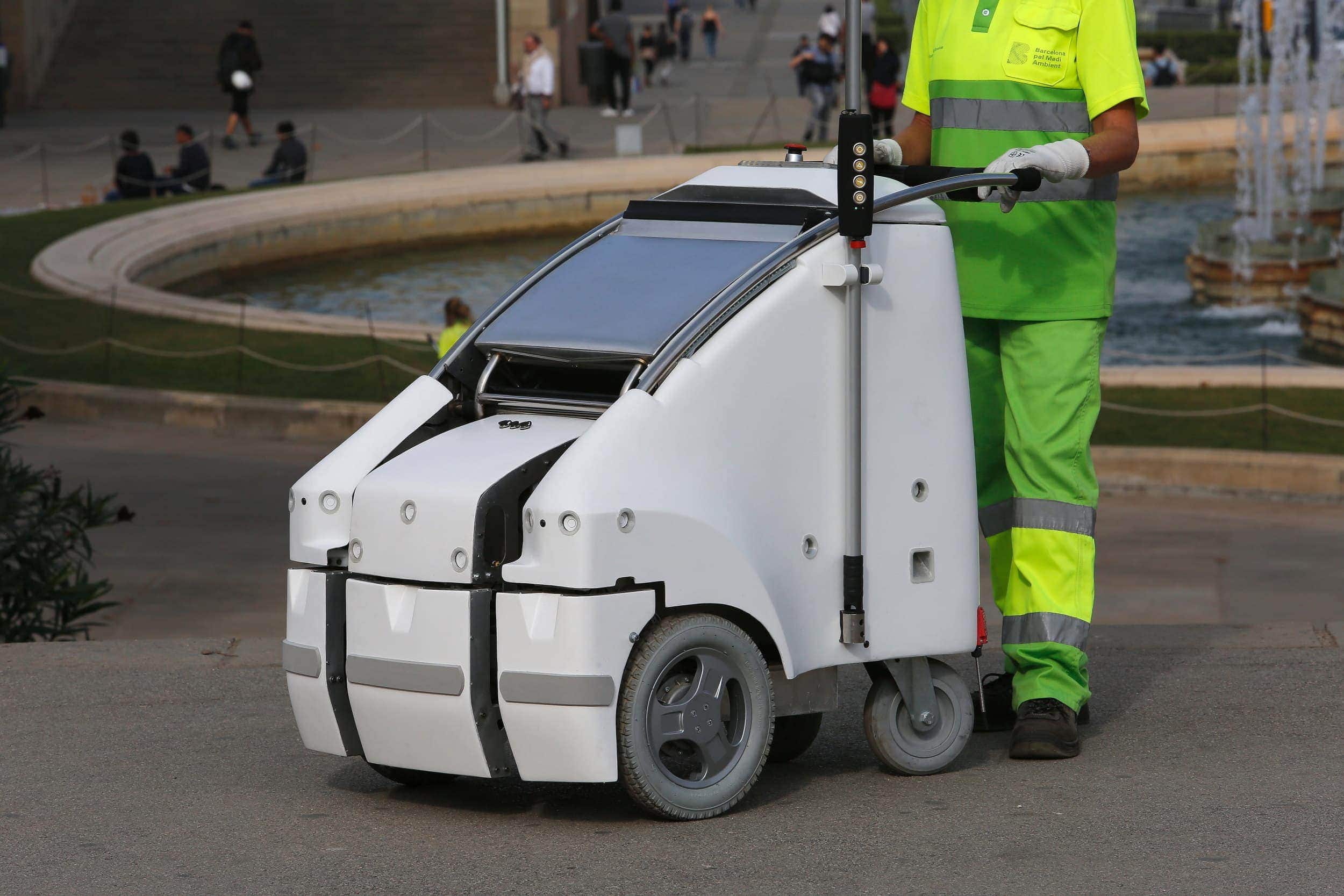 In fact, according to data from the company, there are over 100 projects aimed at both promoting continuous and systematic innovation and creating wealth in a sustainable manner, improving productivity and supporting social and economíc development.
Ferrovial seeks to promote innovation both internally and externally. The Zurintaken programme is available to Ferrovial employees, allowing them to put forward innovative ideas to solve important challenges facing the organisation, either individually or together with other colleagues.
Externally, agreements are reached with other entities (both public and private) to boost this culture of innovation and creativity. Some of the agreements are entered into with start-ups in order to develop projects that are both visible and feasible. Robot A1A3 is one such project.
There's always something to learn
But even projects and initiatives which do not materialise in the end, have a positive interpretation for Ferrovial, because they provide learning and experiences which help other initiatives avoid the same mistakes.
For example, within the same context of street cleaning in Barcelona, a solution was designed for solving the problem of overflowing rubbish bins. This consisted of a frame in the shape of the Olympic rings so that a single bin could accommodate several bags (up to 5) for collecting different waste products.
This design served as a learning curve on how to patent an idea, and also helped get over the fear of innovating and proposing different things. It likewise served to gauge support for innovation, even if in this particular case it was considered a failure because not a single unit was sold.
But the same team came up with a new idea, namely a "maze" in which to place rubbish containers so that wild boars would not push them over while attempting to access the rubbish. The idea, after successful trials, was not only patented, but was also marketed and has so far generated more than 500 anchorages in Barcelona.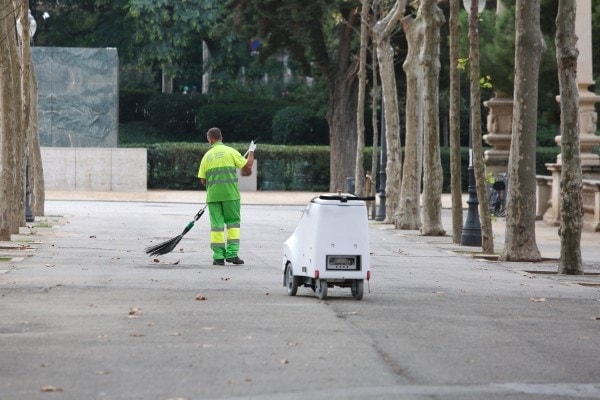 Robot innovation
Motivating and including the whole team
All of these robot innovation projects have been carried out within the framework of the Barcelona street cleaning contract, where the local Town Council has been open to such ideas.
For Ferrovial Services, ideas can emerge at any point of the organisation and receive support in order to become successful projects. This requires a network of contact persons, as well as key persons with the all-important profile of internal entrepreneur.
In this way, the organisation is able to detect not only the persons having the good ideas, but also staff with the ability to turn such concepts into a real project, and to design the road map for doing so.
What is still to come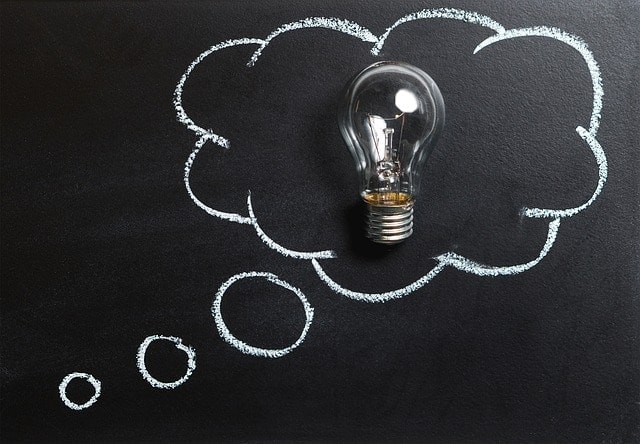 In the same way, and while it is obvious that the A1A3 robot is still at the test stage, this robot is a clear example of how much there is still to develop and improve. It is very possible that improvements will be made to the A1A3 – perhaps in future versions the broom will not need remote control buttons, with the robot able to respond to voice commands, for example.
And so we must keep our eyes and our minds open to new solutions for the future, in order to build a more efficient world.