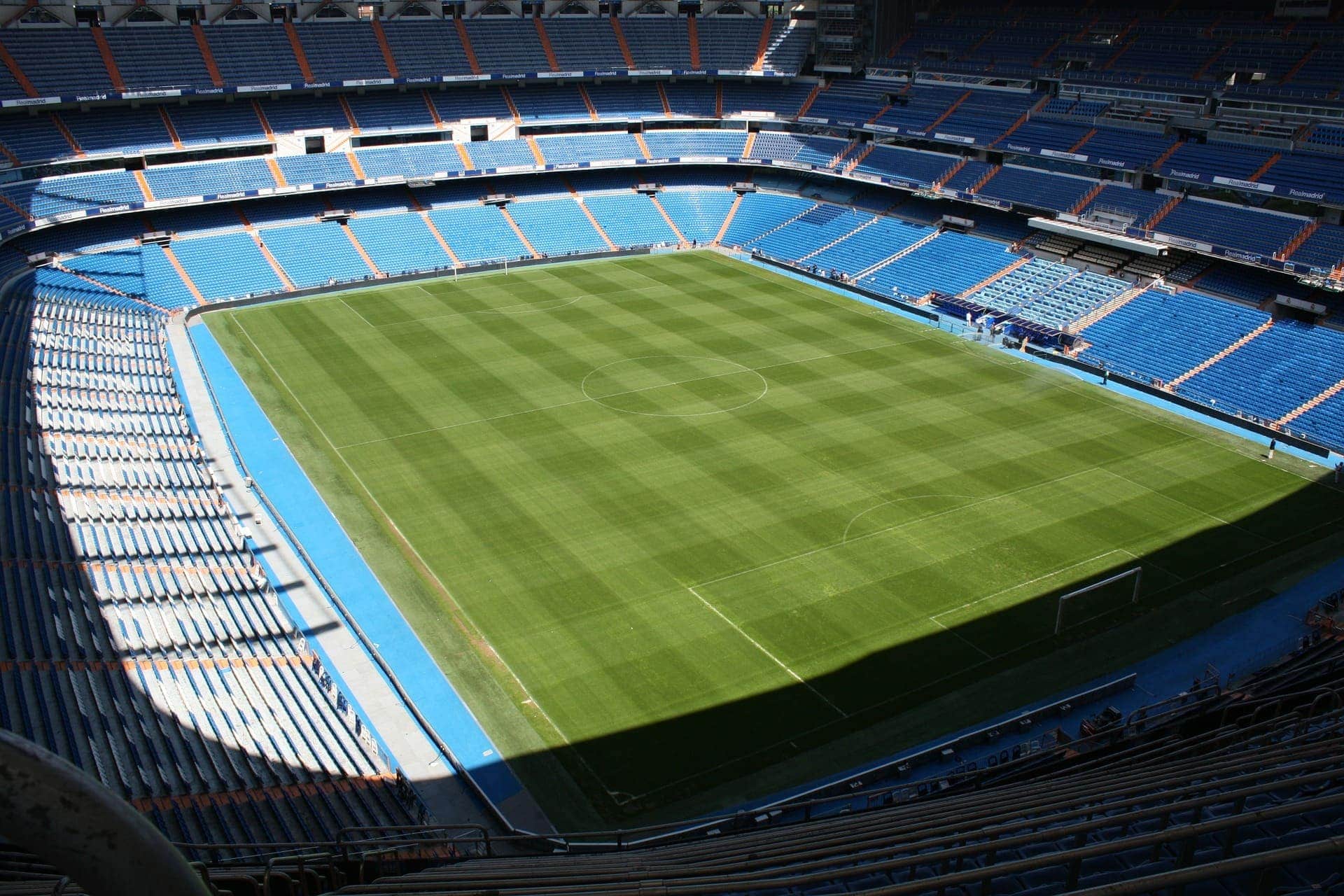 Visiting Santiago Bernabéu Stadium, whose original construction dates back to 1947, is one of the main tourist attractions in Madrid. To me, it means much more than that. It's part of those sentimental memories linked with unforgettable moments. I was born a blanco. In my household, we were all for Real Madrid. My Uncle Pocholo went so far as to wear his jersey like a national ribbon.
So I've had the opportunity to see some of the evolution of the stadium that was born ten years before I was. Now, Bernabéu, which didn't acquire that name until 1955, is being remodeled. In my mind, it's a perfect stadium, filled with history and unforgettable nights, an architectural project that is continually being improved.
I've been in it stands for decades, and I still get excited before the game, especially those European nights that mark the history of Real Madrid. I love those stands that sit over the field, putting spectators so close to the players, which  lets you not just see but commune with the game.
Soccer, Standing Up
The first time I went to Bernabéu, I had just turned 11 years old. My father had passed away, so my neighbor Aurelio – who is like my uncle – carried me to my first historic game. The legendary Las Palmas de Tonono, Germán and Guedes, were playing in Madrid to win the League. The stadium was overflowing. Aurelio found a spot on the stairs so I could watch the game without me getting trampled. it was like a dream. My Madrid beat them 2-1, and they went back to the archipelago downcast.
I was a good student, and when I turned 14, my mother got me a membership to real Madrid. I couldn't have asked for a better gift. Since then, I've been a regular on Sundays with my friends from the neighborhood, especially with the classmate who is now Dr. Segovia. I remember that, back then, we watched the games standing up.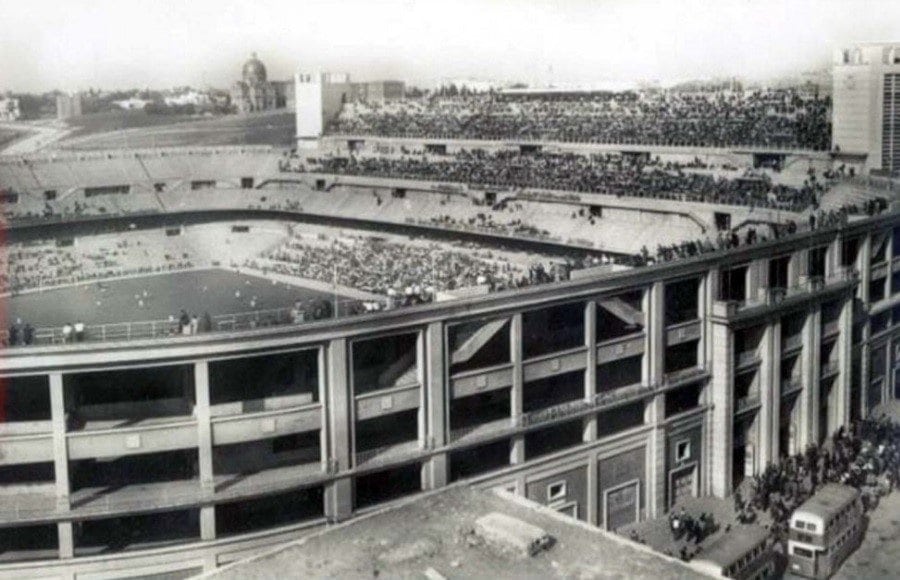 The Turnstiles
I remember the turnstiles at the entrance, flanked by doormen, as well as my fear of stampedes. Sometimes, we sat in the southern part, sometimes in the legendary "coop" in the fourth amphitheater (up between the two towers) built in 1954. We would get there early enough to find a good spot, but nothing would guarantee that a tall adult wouldn't come sit in front of us so we would have to stand on tiptoe to see the game.
On other occasions, six or seven of us would go, and with two membership cards, we managed to get everyone in. Those were different times, and today's strict security controls were just manual back then. My record was getting eight friends through. I got caught on the eighth. Security came up to me, grabbed my arm, took my ID card, and threw me out. They gave me a fine, but I could get my membership card back. We were just being kids.






Birds-eye View
I've had the opportunity to attend thousands of games in Bernabéu, but the time I invited my friend from Millán Salcedo's (Martes y Trece) stomping grounds stands out in my mind. He was also very much a blanco. It was the first time he was going to a soccer match, and he got so excited at seeing Viberti, Guerini, and Vilanova, Malaga's stars back then.
Those electrifying Madrid-Atleti games from the top of the fourth amphitheater with Benito and Iselín Santos Ovejero also come to mind. From up high, we watched those little figurines in the distance, their movements breathtaking.
In those years there wasn't an electronic scoreboard. An operator would change the score on the scoreboard by hand. There were no covered bleachers or heating. If it rained, you got wet. If it was cold, you ended up freezing. But we would do anything for soccer.

Santiago Bernabéu, originally Nuevo Chamartín, has never stopped improving its infrastructure. I already knew it as Santiago Bernabéu, but before that, there was another stadium on a nearby plot, Chamartín. Up high, the stadium building that I knew is still visible (with a lot of improvements and more to come), while it seems to be devouring its predecessor. That construction was a complete logistical challenge.
Ajax, Akin to the Beatles
Another one of my earliest memories was the elimination round between Real Madrid and Ajax. I was 16 years old, and Ajax was unbeatable. Madrid had lost 2-1, giving it their all in Amsterdam. I went with two or three neighborhood friends with plenty of time to spare. We got into the stadium as soon as the doors opened to get the best spot, right next to the dressing room tunnel.
After we'd waited for an hour, the Ajax players started to come out. There was Cruyff, Johnny Rep, Keitzer, Rudi Krol, and the rest, all just a few feet away from us. It was like seeing the Beatles right next to us. We tied at 1, which knocked the wind out of the competition's sails.
There was also the exciting Real Madrid-Hamburg game with the legendary Kevin Keagan in the lineup, who was stopped cold by our homegrown Ángel Pérez García, who played just a handful of games. We won 2-0. I watched it all from high up in the stadium, along with Carlos García Miguel Astasio, sadly missing.
The stadium Is Up-to-Date, Even After All This Time
In my early twenties, I started to go with my friend Pedro Delgado. By then, Bernabéu had gotten a 1972 electronic scoreboard (above). That was revolutionary, even though today we're used to Hawk Eye and a system of cameras spread out all over the stadium that can make us feel like we're down there with the gods.
The stadium underwent remodeling in 1982 for the World Cup. That reduced capacity from 125,000 to 90,000 spectators, but there were more spaces with seating. We enjoyed the wonderful 'Quinta del Buitre,' and the most memorable game was the 6-1 win against Anderlecht.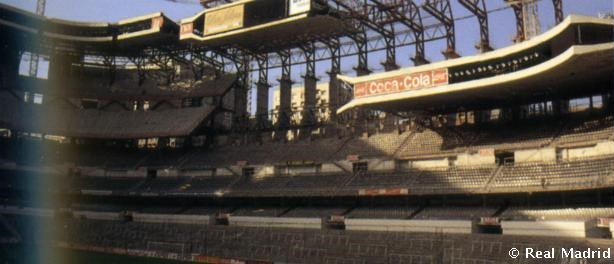 In Brussels, we'd lost 3-0. The rematch was a once-in-a-lifetime event, with Emilio Butragueño scoring three goals. There are so many other nights after them: Borussia, Inter, etc. The other team's players set foot in the stadium and felt the panic of its legend sweeping over them.
From Fathers to Sons
My children were born, I got them memberships, and they started to come around to soccer. Remodeling and updates had been done in 1992, promoted by the great Ramón Mendoza. But I kept going to the section at the foot of the southern part. They stayed near the fence right next to the field where they children stayed for safety, to keep them out of the stampedes that might happen. Years later, both for my kids and because my economic situation allowed me to, I got the passes I've enjoyed to this day.
The next big remodeling took place in 2001, with Florentino Pérez as president, and another round in 2011. The stadium turned out great. There were more seats, it was covered by overhangs, escalators were installed, and heating was put in under the stands. To me, it was the best stadium in the world for the best club ever. But the best part about Bernabéu is on the grass, and what is yet to come.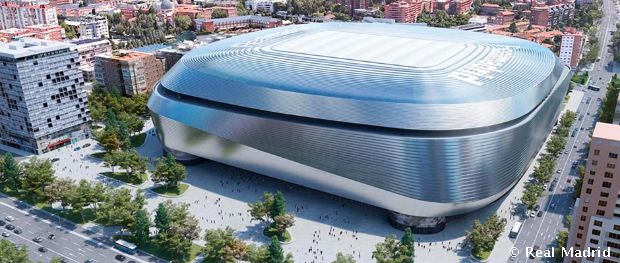 I couldn´t write this article without paying homage to the players who have brought me such joy. Di Stéfano, Puskas and Gento; Amancio, Pirri and Velázquez; Santillana, Stielike and Juanito; Butragueño, Sanchís and Michel; Zidane, Ronaldo and Figo; Casillas, Raúl and my Guti; Ramos, Cristiano and Modric. There are many – too many – more to name. But soccer is an emotion, a feeling I get every time I go into Bernabéu, the lights come on, and the ball starts to roll.
Photographs | © Real Madrid, Museo Real Madrid Archive