Are you interested in construction? Do you want to know why Roman bridges are still standing, yet some modern churches collapse during earthquakes? Learning to build a house, finding out fun facts about architecture, and utilizing the basic principles of ecological construction are all possible if we know what book to check out.
In this article, we're talking about five essential books for understanding construction. Even though there are thousands of highly recommendable books, here we'll quickly go over a few of them that complement each other well. If you have something in mind, you can always leave a comment. Let's get to some construction…
Structures, Or Why Things Don't Fall Down, by J. E. Gordon
When night fell, the Greeks took the wheels off of wooden carriages to keep the weight of the axle on the spokes from flattening the wheels. In order to gain this knowledge about the materials' behaviors, a lot of carriage axles and spokes had to break, leaving thousands of merchants stranded on remote roadways.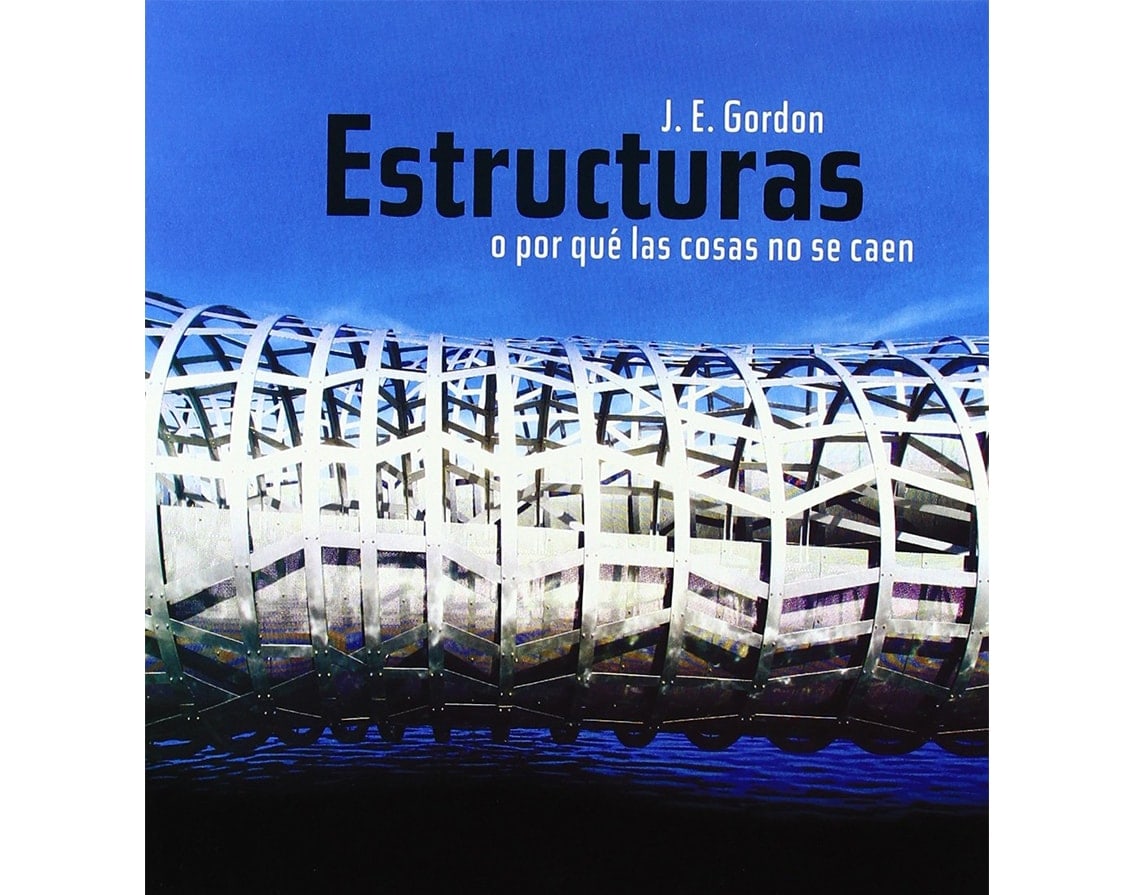 But without that experience, today's skyscrapers and spaceships would be impossible since the design for materials and structures uses the same physics principles as spiderwebs and hanging bridges.  Once we unravel how nature behaves, we can then build marvelous buildings.
All of this is explained in an enjoyable and even entertaining way (and above all without the use of formulas) by J. E. Gordon in "Structures, Or Why Things Don't Fall Down." To do so, he goes over the history of humanity's most important construction projects. From Egyptian reed boats to the Titanic, and even Greek triremes, the warships that conquered the Mediterranean with their battering rams.
Most of us are oblivious to the fact that the sails of caravels are structures, as well as fabrics such as clothes or pastry bags. Fabrics support tension by putting weight on strips, as do buildings, cars, and industrial machinery.
They were calculated at first, but the art of material resistance opened up the world of engineering and architecture. If we praise Gordon's book, it's for the ease with which it explains relatively complex concepts in an accessible way without technical terms.
Illustrated Dictionary of Historic Architecture, by Ware and Beatty
Construction frequently makes use of terminology that often escapes us non-experts. What is an apse? How do different types of roofing work? What's the use for spiral scroll, if it has any at all besides decoration? More out of curiosity than needing these technical words, Ware and Beatty's "Illustrated Dictionary of Historic Architecture" is a wonderful glossary of construction terms. And it includes drawings.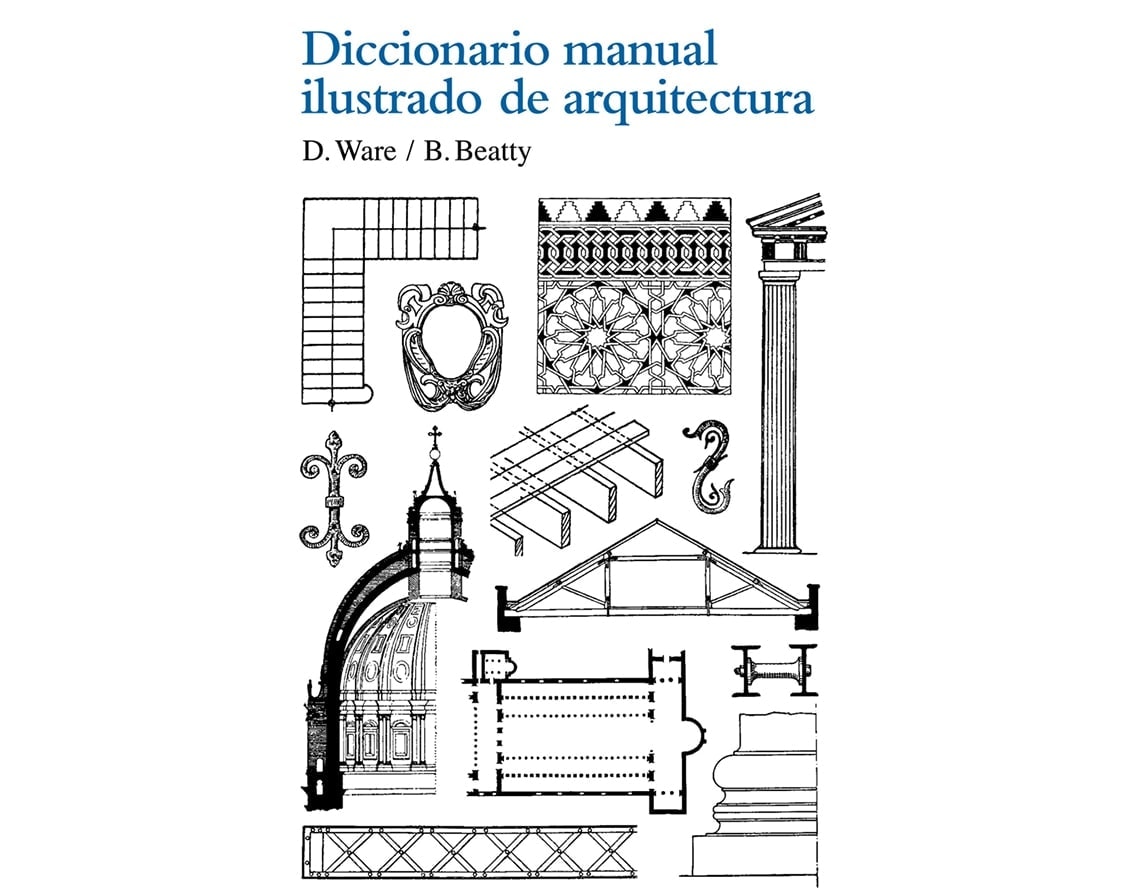 Not only is it useful for architects at any time during their training, but also for anyone who finds themselves wondering what life was like in past centuries. And this visual dictionary totally immerses us in traditional architecture. Churches, cathedrals, mosques, and other temples are crisscrossed with lattices and construction concepts, and one is not possible without the other.
Even though the book may be intimidating (it's written for architects and is in a dictionary format), it's perfect for getting absorbed while browsing its pages. By its very nature, it's easy to open up to a new page, or just use it for reference. That said, it's impossible to flip through a few pages without stopping to look at its drawings and diagrams, which often incorporate blueprints or details that we wouldn't otherwise be able to notice, even if we had the building right in front of us. A little jewel.
101 Rules of Thumb for Low Energy Architecture, by Huw Heywood
Do you check out orientation when buying a house? Do you count the number of trees in front of your window? If so, you could save some money on heating or air conditioning. Low Energy Architecture takes into account a large number of factors that may help us minimize our environmental impact, and therefore design and choose more sustainable homes.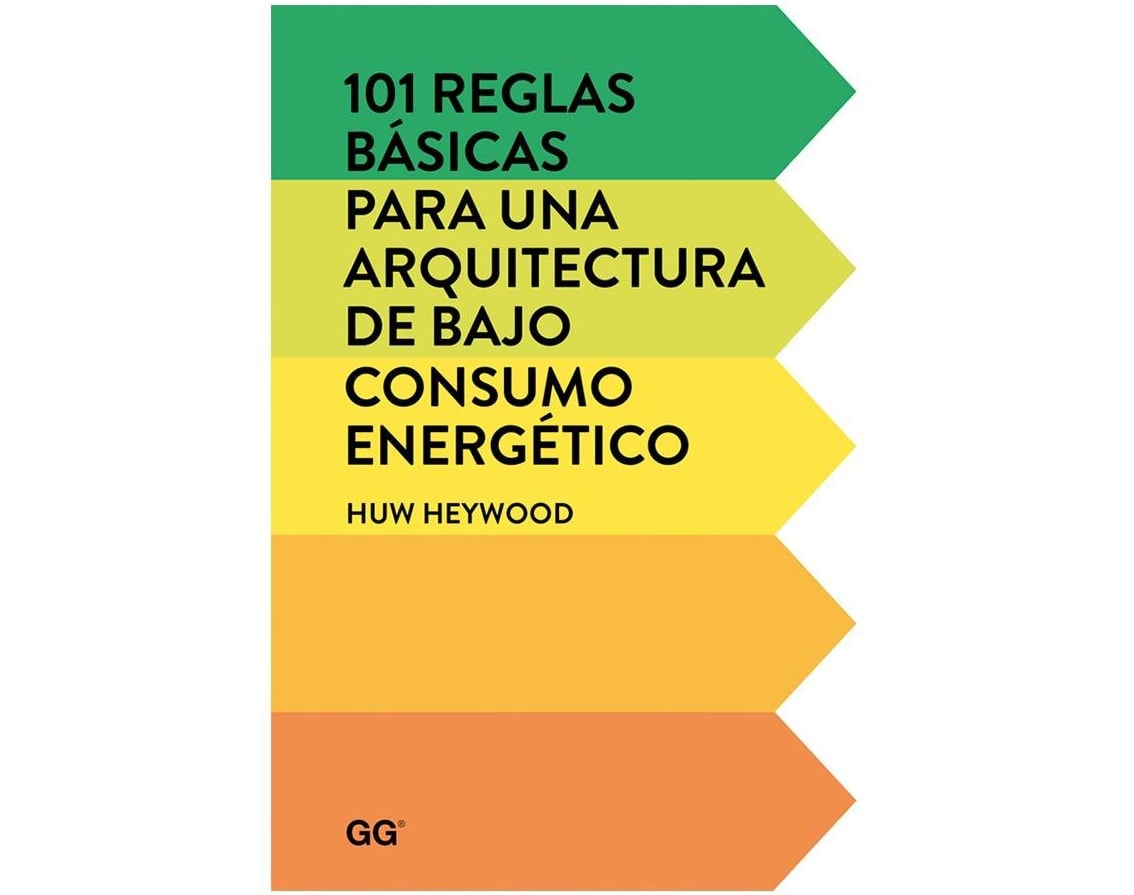 Orientation tells us the watts of solar radiation on the façade, for example. In cold climates, the southern wall is important when it comes to saving on heating, and in warm climates the northern wall helps keep things cool. Huw Heywood explains all of this without formulas, technical terms, or complicated diagrams. He only uses drawings that anyone (not just an engineer) can understand.
Summing up "101 Rules of Thumb for Low Energy Architecture" with one example doesn't do justice for a book that should be part of basic education for every architect who wants a better future for the planet. In fact, the universal concepts presented in this book should be considered in future construction projects, which would make energy consumption plummet.
Rooftop gardens for preventing overheating, wind tunnels for cooling, dark walls for capturing heat, and canopies should be commonplace elements in our architecture. If you want to know how they work and why they're so useful in saving energy, Heywood is able to explain it to you with very simple diagrams.
Wood Architecture + Design; by Michelle Galindo
Even though materials like concrete, steel, or brick are used in most cities, a large number of buildings around the world are still made of wood. Everything from places of worship to housing, and even construction scaffolding itself, tends to include slats or cane (depending on the climate). Can wood still be used for construction in the 21st century? Of course, and even for living in luxury.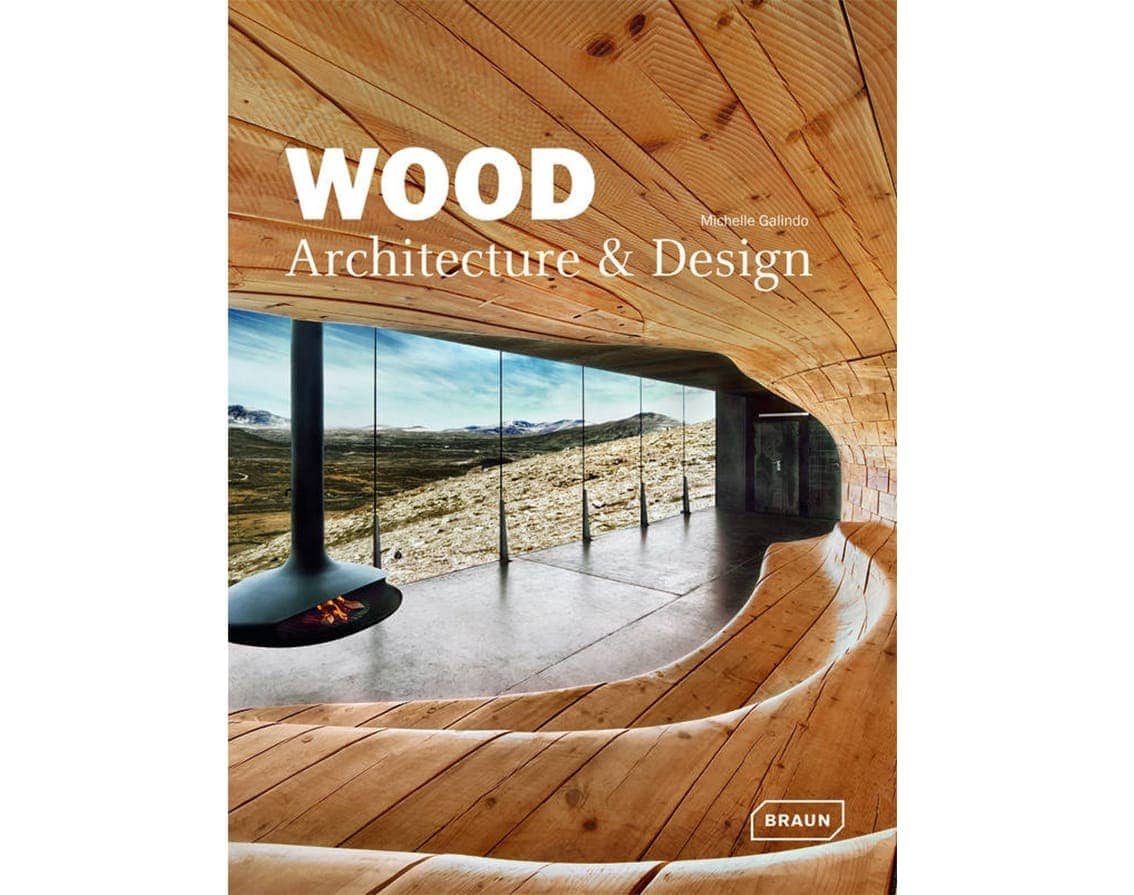 Wood architecture + design shows that we can in a book of few words and many images. In fact, the book is composed of scarce blocks of text that are often outshined by different sectional views and high-quality photographs of wooden construction, most of which are designer and, as such, out of the reach of mere mortals.
Perhaps this book is worth it. Michelle Galindo goes beyond traditional wood construction and enters the world of design reserved for the very few. So why not gather around to wander through the closed-off spaces and see where they live? Because one good thing about wood is that it is a fantastic insulator, in addition to its structural properties.
If you're studying architecture and looking for examples that aren't so utilitarian but very showy, this is the book for you. You won't learn the efficient, optimal way to organize space using humankind's first construction material, but all the same you'll learn about designing cozy homes, and that's just as valuable, if not more so.
Building Construction Illustrated, by Ching and Adams
It's not new, but it is still relevant, and it answers the question, "How do I build a house?" History, fun facts, technical terms, and cute homes are important, but perhaps a step-by-step beginner's guide that explains how to do anything from lay a foundation to install a window is even more so. Because we just want to get down to work.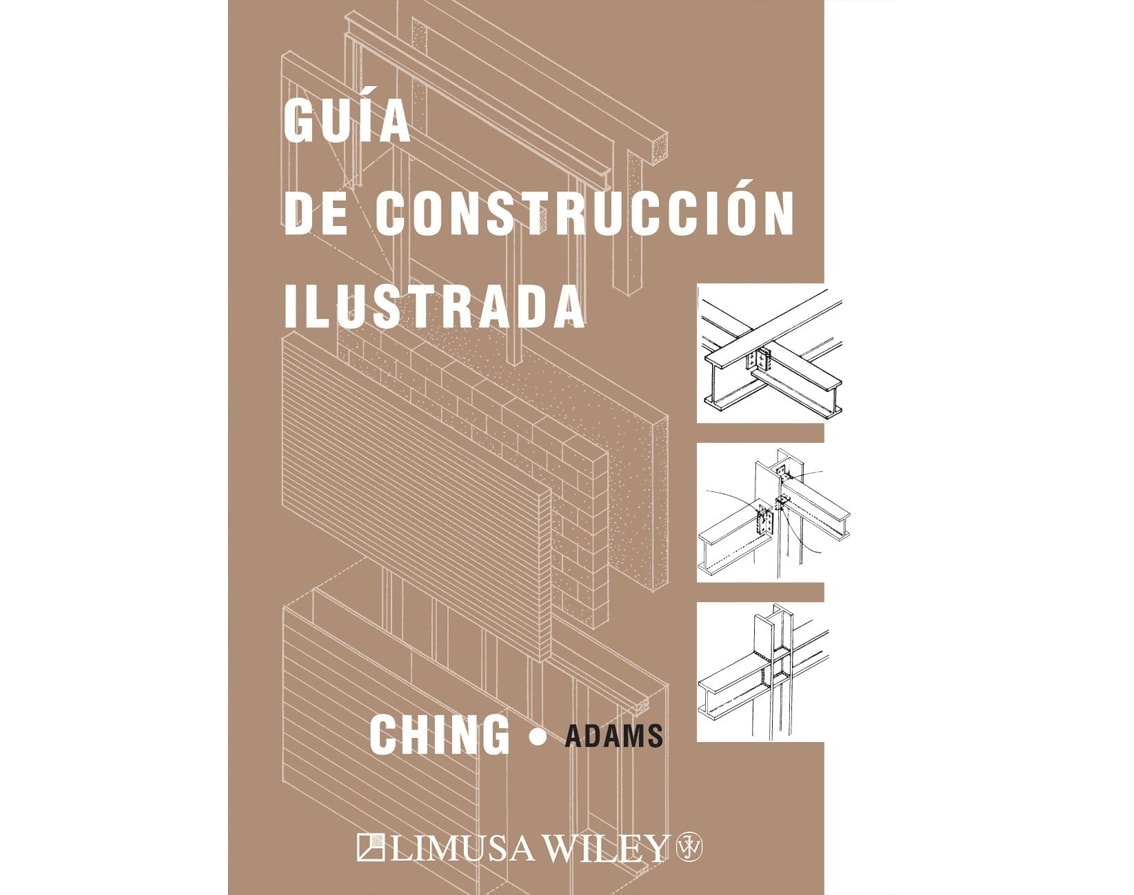 Francis D. K. Ching and Cassandra Adams were able to nail a very thorough "how-to" in their book, Building Construction Illustrated. The title says it all, and the book guides you through each of the steps needed to design and build a home. With one important note: it is not adapted to the technical standards of every country, but it's a good place to start.
With this book, anyone who has enough time and is in search of a hobby can start ordering materials and get to building their next home by starting with how to choose the perfect plot. Unfortunately, it's geared toward single-family homes, which are less efficient in terms of the environment and boost car use for easy access.
Ching and Adams's guide is heavily directed to the 20th-century North American market, even though the building principles on which it's based are still applicable. The house, even though it may not take energy efficiency and the development of smart cities into account, will stay standing. It's the perfect book for survivalists.
There are many essential books for construction enthusiasts. Finish off this list and comment with your top book.