Company management
Hannah Olonovich, from Webber, shares her thoughts in this interview about International Women in Engineering Day
To celebrate International Women in Engineering Day, we asked our female engineers about the reasons that pushed them to pursue an engineering degree. In the following interview, we talked to Hannah Olonovich, Environmental Manager for Webber, our partner company in the U.S., to know more about her personal and professional motivations for becoming an engineer and what are the things in her job that she enjoys the most.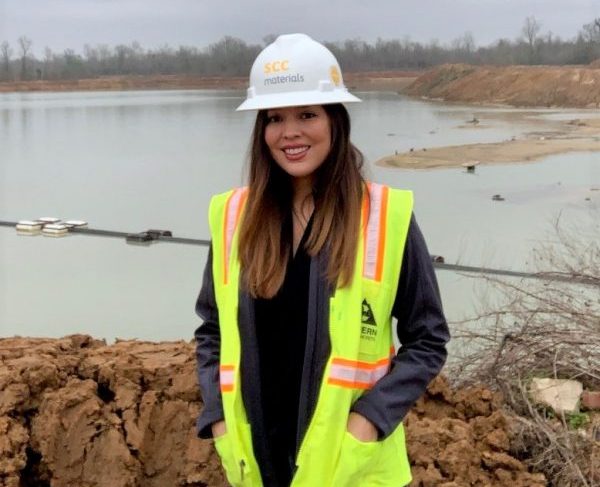 Hello Hannah, where are you from?
New Mexico, United Sates
What area/department of the company do you work in?
Webber Materials Division (Southern Crushed Concrete, LLC) – Environmental Manager
What do you do?
Create, implement and manage environmental compliance in air, water, waste and soil to not only follow federal, state and local regulations but to minimize the overall impact to environment and human health.
How long have you been in your field? How long have you been with Ferrovial?
2.5 years for both!
Tell us what your day-to-day work is like.
Field inspections to ensure compliance with regulations, emissions testing for particulate matter (rock crushers), stormwater sampling to ensure levels are below regulations, handle any ongoing permitting process, recordkeeping for all environmental permits and training for environmental situations (spills, cleanups, etc.). And of course, collaboration with the entire team to ensure there's an overall understanding of environmental compliance throughout day-to-day operations.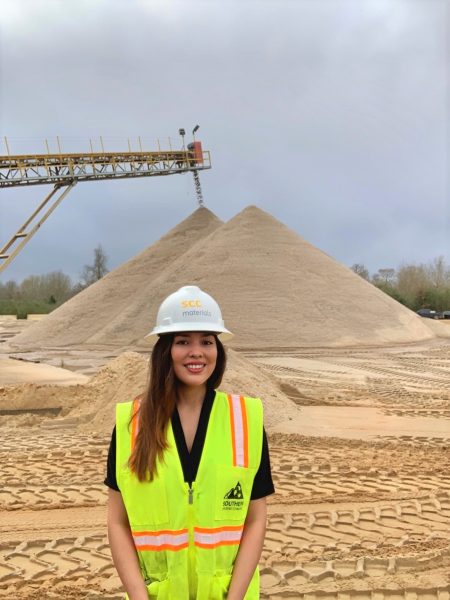 What is the project you are most proud of?
We had a situation arise where we needed to relocate a rock crusher to mitigate public interaction and satisfy continual production needs; the relocation of the equipment along with the permitting fees would have been an expensive move. Thoroughly knowing how the regulatory process works, I was able to find a situation that met all the requirements – without a relocation, and ultimately saved the company $25K.
What do you have to do to lead a project like that?
Consistent learning to fully understand federal, state and local regulations. But the most important trait to work through tough situations is collaboration! I wouldn't have been able to succeed if I didn't have a team that I could consistently run ideas by and hear educated feedback.
Why did you decide to pursue your career?
I always knew I wanted a career that would be helpful. I initially thought about pursuing a career in the medical field but during my time in school, I found a passion in physical learning – which is why I stuck with geology! It's enriching to me that the role I play in the industry is to protect our environment!
What was your career plan to get to your job/role? What did you study? (undergraduate, graduate, masters, different positions)
The beginning of college you have a few semesters to really zone in on what your true interests are, mine was Earth and Environmental Sciences (geology). Despite the educational process, I knew that an internship was the only way I was going to find out what I wanted to do. If I could recommend a "career plan" to college students, it would be to get as many internship opportunities as you can! The variety while you're still molding your career plan will allow you to make an educated decision on what you truly have an interest in doing.
Currently, we have a global challenge to increase the amount of young women in STEM careers. How would you encourage future generations to become an engineer?
I enjoy attending and recruiting at college career fairs. I'm able to interact and educate young women on what I do and why it's not only important to the industry but the role I play in protecting and conserving our environment. I believe the passion and love I have for my career radiates; so, I love to share and ignite a similar passion to all young women interest in STEM professions.
What do you like most about your profession?
Consistent learning! Ten years from now, I can guarantee I will still be learning new methods and professionalizing my known understandings.
If I wanted to pursue the same career as you, what would you recommend studying or doing? What should my career plan look like?
I would recommend a study in Earth and Environmental Science, Environmental Engineering, Soil Science (Agriculture) or any major related to air, water and soil science. Focus on absorbing as much as you can while you're in school – then look for opportunities. Internships, internships, internships! Gaining experience is vital – for you to figure out your interested career path but to also have a leg-up when you're applying for jobs.
Do you have any hobbies? What do you like to do during your free time?
I grew up near the mountains of Colorado so anytime I can get out and explore, I'm down! There's something about hiking around and admiring the beauty of our planet, maybe that's why I love my career so much – I play a role in protecting it. I also love reading! I just got a Kindle (I know, I'm late to the game!) and I have been OBSESSED. During quarantine alone, I've probably finished 20 books!
What book/music/series/movie/sport would you recommend?
Recent page-turners for me have been The Institute and The Outsider by Stephen King.