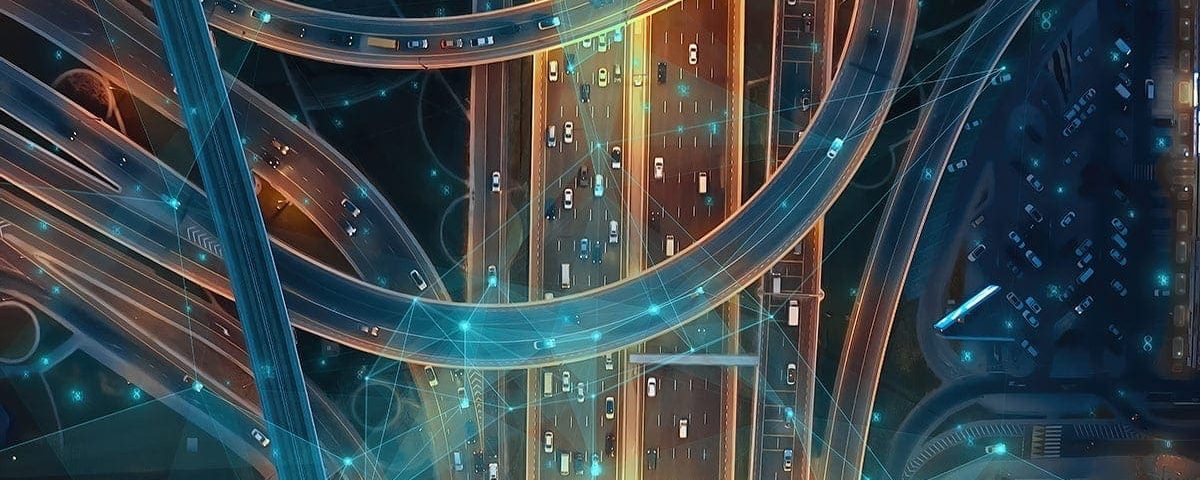 By 2025, it is predicted that up to 70% of new vehicles will be connected through a myriad of alternative technologies.
This includes those using a subscription-based service provided by a phone carrier (AT&T, Verizon and the like) to receive and send information, the ones using satellites (Sirius or similar ones), or even those with device-to-device connection without service providers. In this last category one finds the mature Dedicated Short-Range Communication -DSRC- technology developed twenty years ago, or the newer cellular Vehicle-to-Everything -C-V2X- technology which uses the same principles that cellular communications for vehicles to "talk" to each other and to the infrastructure.
Road safety as the top priority
One may imagine dozens of cases in which these connections will contribute to increase the road safety of those using our roads, including vehicles, trucks, vulnerable users (pedestrians, cyclists, road workers' mobile phones or wearables) or even those safety components such as traffic lights, crossings or the road itself.
However, this requires the ability to detect these elements and communicate accurate data instantly. Two different technologies can help with that:
Device to device: This C-V2X or DSRC link is designed to broadcast standard messages directly between two devices situated in close proximity (usually hundreds of meters) without the need for any third party (e.g., the mobile network operator) to become an intermediate in the communication process.
Edge computing: This model brings the computing power as close as possible to the point where data is produced, to be able to process it and communicate it quickly, thus avoiding the delay of the cellular network. It's no surprise that the main providers of cloud-based services (Amazon and Microsoft) have already identified this as a huge market trend and are investing significant amounts of money to deploy these services together with the phone carriers.
Looking back at the vehicle-to-infrastructure model
Before the new C-V2X technology entered the market, a DSRC vehicle-to-infrastructure model sponsored by transportation agencies had been in the radar for years without much success or signs of progress.
Stakeholders were realizing that scaling this technology – effectively putting a walkie-talkie in every car and installing them at 100m intervals on the road – would have been a monumentally costly exercise, at a time when mobile phones were already ubiquitous. The allocated radio spectrum to Intelligent Transportation Systems was free and reliable for communications, but by no means secure.
With so many different infrastructure operators, both public and private, managing roads that were used by many different vehicles, there was simply no practical way of agreeing on a coordinated investment or a workable business model that would help install the countrywide digital infrastructure needed to enable DSRC.
The bet of mobile network operators
On the other hand, the interest of large phone companies in the transportation market is much recent, as they see this market as a place where they can grow, once their capability to selling services to their existing customer base became limited.
Telcos bet on a model where they can be playing the role of intermediary, while increasing their subscription-based services. Their business model would be based on the combination of edge computing services running these applications, which require standard messages to be distributed quickly, with other services (infotainment mainly) which require the deployment of large volumes of data.
Instead of vehicles talking directly to other parties, these companies would act as an intermediary even between vehicles connected to different networks, such as the case of Telefonica and Deutsche Telekom which recently reported a successful trial in Frankfurt involving a cyclist and a driver. And, at the same time, be able to provide a ready-made network, ensure better coverage and increase cybersecurity.
New hybrid model
The C-V2X link is designed to serve use cases well beyond the communication of a vehicle with the infrastructure. In fact, most of the use cases currently being carried out by the different stakeholders facilitate cooperative driving by performing direct vehicle to vehicle communication (V2V). This is what C-V2X offers. Although several research studies have demonstrated the utility of C-V2X equipped vehicles to increase road safety, even when their penetration is limited, it is obvious that it will take several years for the technology to demonstrate its value. Once large manufacturers (such as Ford) have shown their commitment to equip all their vehicles with a C-V2X radio starting 2022, the question becomes clear: How can we increase the road safety of these cars until the penetration is large enough to facilitate cooperative driving and its promised benefits?
This is where the infrastructure, together with the need to provide coverage across wide urban areas, becomes essential. After all, stakeholders have long realized that the best way to address all these constraints is to support all road safety needs by a mixture of different technologies. All of which combine edge computing, C-V2X roadside units operated by infrastructure operators (public or private) when available, and services provided by cellular networks (or satellites). A radio in each vehicle able to cope with two antennas, one for the traditional cellular communication and the other one for V2X, seems to be the way to go.
The interest of Telcos in the rise of this new hybrid model will continue to roll out cellular technology – and in the future perhaps enable fully autonomous driving – with no significant investment needed from states or countries, and at a time in which they have the potential to claw back a return on investment on the huge upfront cost of the 5G network. From a user perspective, this means car software updates, subscriptions to infotainment and entertainment content such as video streaming and games to individual motorists and commercial vehicle fleets. They could also collect and share great swathes of data from the vehicles to car manufacturers and national transportation agencies – reportedly up to two terabytes per vehicle per day. All of which can be monetised to support the deployment of new services.
On the CV2X side (in particular V2I or vehicle to infrastructure), and even in some 5G deployments, roadway operators can still play a role thanks to the proximity to the users and their right of way, and thanks to the information they can capture and the expertise to communicate it to maximize safety and enhance the efficiency of road traffic.
Infrastructure must keep up with vehicles
Ferrovial and Cintra are pioneers in the world of mobility management and innovative infrastructure. We are leading the way in the development of infrastructure for the highways of the future.
As a Road Operator, safety is always at the core of our business, and in mixed traffic scenarios, ensuring user's safety is key. The future is digital, our clients are going digital – so we have to evolve and are doing so by embracing and exploring all the technologies above (5G, CV2X, Edge, etc) and making the first deployments of what this future could look like.
We believe infrastructure needs to be as advanced as the vehicles on modern roads. As highly connected – and in the future fully autonomous – vehicles increasingly take to the roads, connected and orchestrated infrastructure will play a fundamental role in the safety, utility and value of connected automated vehicles (CAVs).
Our AIVIA Orchestrated Connected Corridors initiative is helping to manage this transition – maximising the utility CAVs can bring while providing benefits for all road users. AIVIA, though different horizons as technologies evolve, aims to create a safe, high-speed connected road infrastructure by capturing, processing and communicating critical information to our users so that they, or their vehicles, can make better decisions.
Our motivation is the safety of all users of the road – connected users and non-connected users – and to pave the way for a future where fully autonomous driving will be a genuine option.