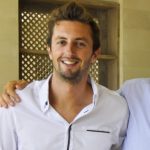 Enrico Calzavara
Enrico is a passionate (really close to a GEEK level) "BIM guy", as the colleagues call him at Battersea, where he works as BIM coordinator / Digital Engineer for the Northern Line Extension project in London, UK. After achieving a Masters degree in Civil Engineering and a Bachelor degree in Buildings Engineering in Italy, he decided to jump into the working world all around the globe (or at least, this was his intention). Starting in Valencia (Spain) where he worked in an architecture studio (arquitecturayconstruccion.es) as an intern" for six months, then he moved to Merida (Mexico) spending one year in a small construction business (mostly high-end design and renovation for private clients). After that, to improve his English, he headed to London (UK) where started working for VolkerFitzpatrick. After working there for a year, he was delighted to then move on to the company that stood out for him during his time in Valencia - Ferrovial. Now, his plan for the future is helping spread the BIM word, within the company, possibly all-around the world!
Subscribe to our newsletter
Subscribe now and you will receive our top posts and keep up to date on the latest from our blog.
Utilizamos cookies propias y de terceros para posibilitar, personalizar y analizar la navegación, mejorando la calidad de los servicios. Haciendo click en el botón "Acepto todas las cookies", acepta su uso conforme a nuestra
política de cookies
. Puede cambiar sus preferencias tanto en su navegador como en el panel de gestión de cookies que aparece a continuación. Si desea más información, consulte la
Política de Cookies
.
Acepto todas las cookies
Ajustes de cookies