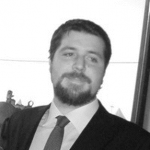 Javier Nieves Acedo
Ph.D. in Computer Science and Artificial Intelligence from the University of Deusto in 2012, carrying out his research work on the optimization of production processes by using machine learning. Prior to that, he furthered his research career for eight years, and finally, as chief operating officer at DeustoTech's lab, S3Lab - Laboratory for Smartness, Semantics, and Security, leading and managing R&D projects at the local, regional, and European levels on Information Security, Artificial Intelligence, and Production Process Optimization. For over six years, he was a professor at the University of Deusto, where he taught courses at both the undergraduate level of Computer Science and Telecommunications, and for the Master's Degree in Information Security and the Master's Degree in Development and Integration of Software Solutions. Since 2015, he has been continuing his research at Ik4-Azterlan as Principal Investigator in the field of Artificial Intelligence and Advanced Technology Solutions.
Subscribe to our newsletter
Subscribe now and you will receive our top posts and keep up to date on the latest from our blog.
Utilizamos cookies propias y de terceros para posibilitar, personalizar y analizar la navegación, mejorando la calidad de los servicios. Haciendo click en el botón "Acepto todas las cookies", acepta su uso conforme a nuestra
política de cookies
. Puede cambiar sus preferencias tanto en su navegador como en el panel de gestión de cookies que aparece a continuación. Si desea más información, consulte la
Política de Cookies
.
Acepto todas las cookies
Ajustes de cookies