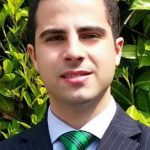 Manuel Mosquera Belfort
Manuel is Industrial Engineering (5-year degree, University of Navarra) with a MSc in Technology and Processes in Automotive Industry (University of Vigo). Fascinated by the analysis of technology and processes associated with innovation. I joined Ferrovial Services in October 2014 through the first International Graduate Programme. I have worked in strategic planning, project management and tendering as well as in business like Highways and Treatment and Environmental Services. I previously worked for Amazon Spain.
Subscribe to our newsletter
Subscribe now and you will receive our top posts and keep up to date on the latest from our blog.
Utilizamos cookies propias y de terceros para posibilitar, personalizar y analizar la navegación, mejorando la calidad de los servicios. Haciendo click en el botón "Acepto todas las cookies", acepta su uso conforme a nuestra
política de cookies
. Puede cambiar sus preferencias tanto en su navegador como en el panel de gestión de cookies que aparece a continuación. Si desea más información, consulte la
Política de Cookies
.
Accept all cookies
Cookies settings