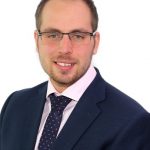 Simon Grundy
Innovation Manager, Ferrovial Services, Centre of Excellence for Asset Management.Simon joined Amey in 2015 after studying Mechanical Engineering at Brunel University in west London, focusing his studies on disruptive technologies and energy recovery, particularly on passive energy harvesting and automated solutions. In 2016 Simon joined the Centre of Excellence for Asset Management as Innovation Manager to lead and deliver a portfolio of disruptive technology innovations to differentiate the Ferrovial Services Asset management capabilities. Simon is currently focused on the following strategic lines of R&D & Innovation: Automated Data Acquisition & Processing, Additive Manufacturing (3D Printing), Worker Safety via Sensor technology, Virtual & Augmented Reality, Automated Data Analysis and Visualisation, Drone Technology and finally Industry 4.0 as a whole Simon is focused on accelerating the development and adoption of game changing technologies to challenge the convention and push the boundaries within the infrastructure sector. VR and AR are but one of the technologies that Simon believes to be critical in the future development of the industry, particularly with regards to training and safety.
It was recently reported by rail chiefs that over ...
Subscribe to our newsletter
Subscribe now and you will receive our top posts and keep up to date on the latest from our blog.
Utilizamos cookies propias y de terceros para posibilitar, personalizar y analizar la navegación, mejorando la calidad de los servicios. Haciendo click en el botón "Acepto todas las cookies", acepta su uso conforme a nuestra
política de cookies
. Puede cambiar sus preferencias tanto en su navegador como en el panel de gestión de cookies que aparece a continuación. Si desea más información, consulte la
Política de Cookies
.
Acepto todas las cookies
Ajustes de cookies