"We all have an important job to do: we must ensure that knowledge that is inherited from others, along with our particular added value, is passed on to future generations in freedom. And all this in a context of serving society, based on dedication, work and sacrifice. And if we use our knowledge to improve the welfare of others, we will have done our duty and contributed a little to facilitating co-existence of the Earth's inhabitants" Rafael del Pino y Moreno
Our company was born 60 years ago in Madrid. Originally a family business, it was founded by Rafael del Pino y Moreno, a December 18, 1952. Among Ferrovial's first business activities were track renewal contracts.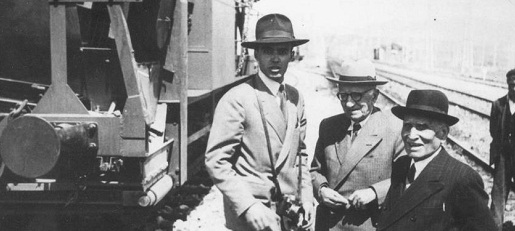 After several decades of hard work and innovation, that small firm has become one of the leading international groups in the fields of infrastructure and services. We currently have around 70.000 employees, with operations in 15 different countries.
Our first works were conducted in the Spanish province of Burgos, although we soon expanded to several other areas in the country. We quickly demonstrated our international approach with our contracts in Venezuela, were we worked on a road construction project in 1954. Throughout the 60s, Ferrovial expanded its horizons to other business areas: dams, water treatment plants, etc.
One of the milestones that marked this period was the construction of the Bilbao-Behobia motorway, which marked the company's entry into the business of toll road concessions.
Six decades of history: a reference in innovation and sustainable management
Ten years after it's birth, our company had 500 employees. It's turnover at the time was equal to 25 million euro, in constant terms. Despite the economic imbalances of the 70s, Rafael del Pino y Moreno led the early internationalization of the company and it's diversification into areas such as real estate development, infrastructure maintenance, urban services… This business vision was based on initiative, creativity and a risk-measured method.
Over the last 30 years, the company has settled on the world market as a leader in innovation and sustainable management. Our business activities are currently diversified in four main areas: airports, highways, construction and services. The company manages multiple public and private assets throughout the world.
Ferrovial has always stood out thanks to it's effectiveness, it's innovative approach, it's international focus and it's talented workers. These are our company's keys to success, which have led our constant growth and evolution. After sixty years looking ahead, we continue aiming to make a difference in society through our specialized work in the worlds of infrastructure and services.
Throughout 2013, we will mark the milestones of this journey. In this regard, we will display various communication initiatives that will help us communicate our company's past, present and future to the general public.