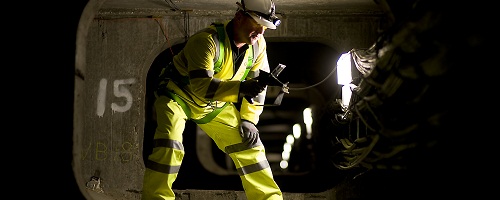 Amey has been presented with two awards that praise its innovative approach with Transport for London (TfL) to strengthen the Hammersmith Flyover in London.
The Ferrovial Services subsidiary was recognised twice on the same evening: firstly at the ICE London Civil Engineering Awards for their approach to emergency engineering and secondly with the award for the most innovative transport project at the London Transport Awards.
Both accolades were awarded for the remedial work on the Hammersmith Flyover, which had been closed in December 2011 after structural assessments identified serious defects in the post tensioning system. In partnership with TfL, we devised a new system that could be retrofitted to the structure and would work in conjunction with the existing post tensioning system.
Our end to end capability provided early contractor involvement allowing the site team to progress advanced works whilst designs were still being finalised. This ensured that any issues were identified and rectified avoiding delays to the project.
It also meant that the flyover returned to full load capacity by late May as vital maintenance was carried out whilst traffic was kept flowing, allowing it to perform as a key artery on the Olympic Route Network.
Through innovative and collaborative working, the project was completed in just five months, reducing the project completion date by 19 months had traditional approaches been employed.
We are delighted to be recognised by the ICE and the London Transport Awards for our work on the Hammersmith Flyover. The award demonstrates our team's commitment to introducing innovation whilst ensuring the project was completed in an efficient, timely and safe manner.
Click here to read ICE.co.uk's review of the award-winning remedial work project.