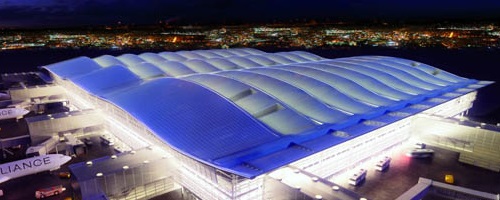 A journalist specialised in financial and business communication, Fernando González Urbaneja has authored the book "Ferrovial: un viaje sin fronteras", dedicated to our company's 60th anniversary. He was one of the founders of El País and editor of its Economy section; he was also formerly deputy editor of Cambio 16, and editor of Cinco Días, and he has been Chairman of the Madrid Press Association and of the Spanish Federation of Press Associations.
Ferrovial's logo begins with a lower-case letter, an instance of typographic licence, as if to suggest discretion and unobtrusiveness. The corporate colour is an intense yellow – a difficult, daring colour that is quite distinctive. It is colour with personality that makes demands on the wearer. With its lower-case letter and yellow colour, Ferrovial has turned 60 with the same name and spirit with which it was founded, though updated to reflect the transformation from a family firm with a few dozen employees to a multinational group with 57,000 employees scattered around the globe.
Ferrovial is still based in Madrid, the city where it was founded in 1952, but it also has a footprint in more than 25 countries, including the United States, Canada and the United Kingdom. This century, Ferrovial is more global than local: it has more operations, opportunities and prospects outside Spain than at home, but it is a Spanish company, listed in Madrid, yet also multinational in terms of its employees, shareholders, assets, goals and projects.
It is now a sophisticated company, having added complementary, free-standing activities to constitute an industrial, financial and services group with the will to lead in its various business areas. In this, it is like General Electric, perhaps the main industrial group of the last 100 years, which requires that it occupy the first or second position in each industry, since the opportunities for the runners-up are much less appealing. Ferrovial also seeks to be a leader in the areas where it operates, particularly in terms of profitability and innovation.
The first contracts in the 1950s, which sustained the company in its early financial periods and made it independent, involved working in all weathers to lay railway sleepers more efficiently and diligently that its rivals, since a latecomer to a business is forced to be better than the established players. The founding drive to innovate had to be maintained by avoiding the routine and complacency that lead to decadence and depletion.
The people of Ferrovial can boast, with justification, that their performance over the last sixty years is above average and even on par with the best; and that they suffered downturns in revenues or earnings due to economic circumstances in no more than three of those sixty years. They have always striven to over-deliver, by overcoming unforeseen obstacles, which are the true measure of character and a veritable learning experience. Clear objectives, unwavering management, and discretion as pre-eminent values. Doing things well while avoiding ostentation. Reinvesting profits, spending only as needed, watching cash flow, demanding returns, taking care of collections… without profits, there is no growth, no future.
Ferrovial has always been a family firm with the Del Pino surname at the helm. Rafael del Pino y Moreno asked his siblings to join his business venture in 1952, and his son, also named Rafael del Pino Calvo-Sotelo, is accompanied by his siblings in turn, together with other stable shareholders, from Spain and other countries, both individual and institutional, who rely on the intrinsic value of the company's accumulated assets and on the capacity of an experienced, skilled management team that is interested in renewing itself and bringing in new talent.
Below the Ferrovial brand is the tagline intelligent infrastructure; this means that what was (and still is) a rigorous construction company has broadened its horizons, first into advanced transport infrastructure (toll roads, high-speed rail, and airports) and also into municipal services, serving smart cities that need their maintenance, cleaning, waste and environmental services to be managed efficiently while using resources sparingly.
As a result, Ferrovial now operates in four distinct business areas: value-added construction, buildings and infrastructure in Spain and other countries; original, landmark projects, occasionally produced by other businesses. Secondly, toll roads, a business that the company entered in 1968 with one of Spain's first toll roads, Bilbao-Behovia, a project that was executed efficaciously and with precision, within the deadline and budget. The road has since reverted to the State, as stipulated in the original concession. Building on that first success, Ferrovial has constructed thousands of miles of highways and toll roads on several continents. It now manages over two thousand kilometres of toll roads in Spain, the US, Canada, and other countries. Among them is 407 ETR in Toronto, probably the most efficient and innovative toll road in the world. It also has two advanced projects in Texas that incorporate innovations which can be replicated in other projects.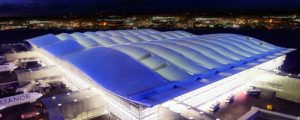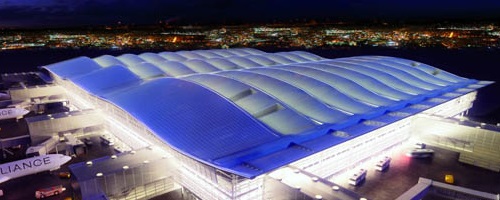 Another core business is airports, particularly Heathrow, Europe's leading airport and one of the top five in the world. Ferrovial has managed Heathrow since 2006, when it made a successful takeover bid for BAA, one of the United Kingdomís most emblematic companies. Since then, it has overseen a complex restructuring of BAA, now Heathrow Airport Holdings, including the sale of over one-third of its assets (other airports in southern England, Scotland and other countries, as well as real estate and commercial assets), restructured its debt and renewed the airport. At the maximum of its capacity  with 70 million passengers per year, Heathrow currently handles over 1,300 flights per day. After the construction of the new Terminal 5 (the largest single building in Great Britain), with capacity for 30 million passengers, which came into service in March 2008, and the new Terminal 2A, to be concluded in 2014, Heathrow will be a new airport, aspiring to be one of the most efficient in the world.
Two key figures: when Ferrovial made its takeover bid, it was actually smaller than the then called BAA in terms of market capitalisation, and there were no shortage of critics who claimed that Ferrovial had bitten off more than it could chew. Six years later, the results reveal skilled management, and evident improvements in quality and efficacy at the airport – an audacious investment based on a long-term vision is paying dividends. Since then, the shareholders who supported Ferrovial in its bid (a Canadian mutual fund and Singapore's sovereign wealth fund) have been joined by other highly reputable international investors which enhance the strategic and effective value of the investment.
Ferrovial's vocation to grow and expand its range of activities is evident in the new services division, Ferrovial Services, which is now ten years old and is one of the Groupís largest business areas in terms of earnings and future potential. Another word deserves to be added to the ìintelligent infrastructureî tagline: cities, also intelligent or smart, a concept that summarises the new approach to managing municipal services in modern citiesóintelligence to offer more services at a lower cost; intelligence to clean, illuminate, recycle, maintain, adapt and expand services to citizens. Managing services in smart cities requires meeting citizens' demands in detail and being permanently concerned about quality and sustainability. Municipal services in two countries – the United Kingdom and Spain – with experiences and approaches that are suitable for both countries and for others.
In its four business areas, Ferrovial operates with a global vision, in several countries, adopting an over-arching approach in which each business has its own bottom line and must finance its own growth. More than half of the business is done outside Spain, in countries that offer legal certainty; there are established businesses in Great Britain, Canada and Poland (including the region's largest construction company), considerable potential in the United States, and the search for opportunities in new markets such as Australia, Brazil, Turkey and India.
At the onset of the current crisis, which has brought double-dip recession (2008-2012), Ferrovial was expanding capital expenditure and carrying a high level of debt linked to new investments. That posed risks and a challenge to management in view of the change in trend, which turned debt from a sign of opportunity to a motive for suspicion. In the last four years, since 2008, Ferrovial has restructured the funding for all its projects, reduced debt by monetising non-essential assets, and adapted to the demands of the recession and the virtual closure of the financial markets. Machiavelli said that it is difficult to expand a kingdom, but even more difficult to maintain it and make it great. In these years, Ferrovial's managers have shown resilience and adaptability, by defending and improving good assets, preparing them for the future, and maintaining credibility and profitability.
The character of a person or a company is only really tested in adversity. In this recession, which has proven to be deeper than the worst predictions of most commentators, Ferrovial has shown its resilience by consolidating its investments, defending the integrity of its balance sheet, restoring its liquidity position and orienting its businesses to the new situation. To this end, it has internationalised and diversified: into complementary, offsetting businesses in different geographies and with different currencies.
Complex global listed companies, such as Ferrovial, are obliged to be transparent and to build their social and financial reputation, to be concerned for their credibility. They need stable long-term funding to undertake ambitious projects – not just to build intelligent infrastructure but also to manage services in intelligent cities. Projects that will outlive their creators, contracts lasting from fifty to a hundred years, which make it possible to sustain research and innovation to improve productivity. But that needs sound finances, credit in the markets, and good performance to fulfil commitments and honour contracts. And talent to imagine the future.
Advanced democracies demand that their leading entities, listed companies that provide services to citizens, explain what they do and listen to stakeholders. This brings sensitivity to change, as well as tension and passion to improve and excel. The projects executed by Ferrovial in the last sixty years exemplify a track record of growth and good performance. Behind every project lies a plan and a team of people who are proud of their work; because the history of any company is the story of the people who made it possible.