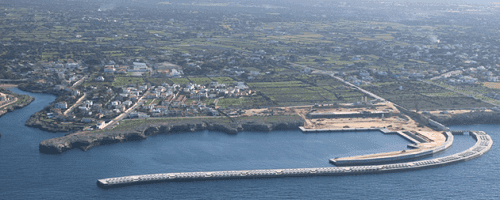 Located at the western end of the island of Menorca, Ciutadella is a major tourist enclave because of its climate, landscape and its location on the shores of a ria of extraordinary beauty that opens onto the Mediterranean in an area of coastal cliffs of great environmental value.
The traditional port has experienced major capacity constraints in recent decades in the face of growing maritime passenger traffic, in terms of both offshore and dockside mooring and onshore facilities.
To overcome this problem, the Balearic Islands Government promoted the development of a new port with sufficient capacity to cater for growth in demand; for environmental and operational reasons, the new port had to be located on the outer coast, near the mouth of the ria. The construction contract was awarded to our company, and Ferrovial Agroman developed the construction project during four years.
The area's great environmental value imposed major challenges on the new port design and construction. The height of the breakwater was limited by the need not to obstruct the pre-existing view from the shore.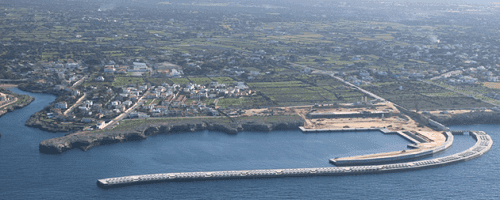 To handle the rated storm for the area, which involves a significant wave height of 6.55 metres, a conventional breakwater would have to be 12 metres in height, representing a visual barrier that was inadmissible in environmental and landscape terms.
To overcome this problem, a novel breakwater design was adopted, consisting of two parallel vertical barriers 4.5 metres in height separated by a buffer channel 33 metres wide and 14.50 metres deep. The low height of the two breakwaters enables viewers on the coast to enjoy an uninterrupted view of the seascape. During a storm, waves will top the first breakwater and pour into the buffer channel, losing much of their energy and height, with the result that they are unable to cross the second breakwater; consequently, the combined structure provides the necessary protection and mitigates the storm waves inside the port.
Both the breakwaters and pier no. 1 consist of floating caissons made of reinforced concrete, equipped with windows and buffer chambers in the upper part of the body; along the crown of the outer breakwater is an array of hexagonal reinforced concrete prisms that dissipate the energe of overtopping waves before they pour into the buffer channel. A total of 31 floating reinforced concrete caissons were built with the following characteristics:

The new outer port was built by Ferrovial Agroman according to a strict work plan that was shaped considerably by the area's great environmental value and the proximity to the town of Ciutadella and the ria, which greatly limited the scope of the on-site installations and required a major environmental monitoring plan.
For these reasons, the 31 floating caissons were built in mainland Spain and floated 112 miles to the site, in a journey that took an average of 45 hours per caisson.