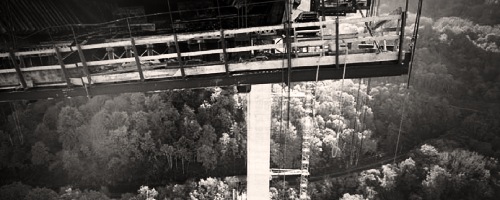 Colombia is one of the most attractive economies in Latin America, with a GDP of USD369 billion and real GDP growth of 4.3-4.5% in 2013 and 2014. In recent years, the Colombian economy has consistently implemented pro-business policies and diversified to improve the competitiveness of its services sector and reduce its dependence on commodities. This shift has enabled it to reinforce capacity, achieving strong growth despite the adverse economic situation worldwide.
The development of its transportation network is an issue that still needs to be addressed to enable Colombia to boost competitiveness and seize its full growth potential. To this end, the Government has launched an ambitious infrastructure plan based on public-private partnerships (PPPs).
Building roads in Colombia has always been a challenge, due to the difficult terrain (mountains and jungles) and internal problems in those areas. But it is worth the effort. According to The Economist, improving the country's infrastructure and communications would put an end to the main obstacles impeding growth. Colombia's complex terrain poses notable engineering challenges.
At the moment, the USD55 billion 10-year plan presented by the Government in 2011 seeks to double the length of Colombia's four-lane highway network, improve airports (including El Dorado, in Bogotá), upgrade railways and expand ports. More than half of the capital is expected to come from private investors.
In 2013, Colombia presented its Fourth-Generation Concession Plan ("4G"). The plan aims to upgrade 8,000 kilometers of roads and attain 3,500 kilometers of four-lane highway before the end of the decade. 4G, which has a budget of USD23.2 billion in 2015-2010, will be implemented through PPPs. The plan includes more than 30 actions, mainly focused on roads but also involving other areas, such as ports and railways.
LARGE PROJECTS TO IMPROVE COLOMBIAN ROADS
The structural changes implemented by the Colombian government in recent years provide a framework that is better adapted to tendering projects and attracting private investors. Colombia has significant potential and a robust economy that is open for business; as a result, it represents an opportunity to invest in infrastructure projects.
Interest by more than 60 Colombian and international companies in the USD718 million tender for the Cartagena-Barranquilla road in April 2013 as part of the 4G plan confirms the revival of investor confidence in the country. This project will benefit trade and tourism in Colombia's Caribbean region by connecting the two main cities, Cartagena and Barranquilla, with ports and free trade zones.
Additionally, a USD3.5 billion project to connect the department of Meta with central and northern Colombia was announced in the second half of 2013. This contract will make the mining and extractive industry more competitive by enhancing its logistics. The first two contracts are expected to be awarded in April 2014 under a public-private partnership (PPP).
The industry has been expanding at a good pace since the first round of 4G tenders, worth USD7.1 billion, commenced. The work, which includes building around 668 km of road, 246 bridges and 17 tunnels in five sections, will improve Medellín's communications with the rest of the country. Travel time between Medellín and Cali is expected to be cut from 15 to 8 hours as a result of these projects. At the end of last year, Ferrovial was awarded a contract to build a section of the road that will connect Medellín with the Pacific, in the Department of Antioquia.
OTHER SECTORS
A number of railway projects are at the planning and development phase. They include the "Dry Canal" linking the Caribbean with the Pacific, and also the Bogotá Metro. Colombia's ports have also expanded considerably in recent years. At present, ports such as Barranquilla are receiving considerable investment. There are also major new projects in the areas of airports and water and energy infrastructure.
In order for this ambitious plan to come to fruition, the National Infrastructure Agency (ANI) needs sufficient funding to manage around 30 individual projects; consequently, a consortium's experience should be a primary factor in the pre-qualification phase. Also, since many of the projects are complex, the bidding phase should be extended as long as possible to ensure that the solutions offered are optimal for the country's interests.
Ferrovial has expressed interest in investing in Colombia. We understand that we have the necessary capacities and experience to become the best possible partner for the Colombian government. We know the country, since we have worked there before, and we have developed and built similar projects elsewhere in Latin America and throughout the world. We like Colombia and we are interested in it. And we are convinced that the Colombian authorities will be open to us.