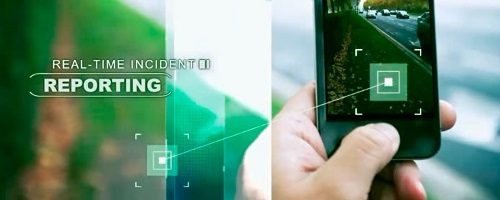 If we focus on sociability as the starting point for design and tapping citizens as the source of innovation, how do we go about crafting a smarter city from the bottom up? An ideal beginning is to leverage the growing array of smart personal devices we all wield and recruit people as the sensors of a city rather than relying only on formal systems embedded into infrastructure.
The traffic function on Google Maps is a good example. Instead of building a costly network of dedicated vehicle sensors along roadways, Google constantly polls a large network of anonymous volunteers whose mobile devices report their up-to-the-minute status, which reveals where traffic is flowing, slowed or stopped.
The information is delivered to drivers via mobile mapping applications in various ways – as colored overlays indicating traffic speeds, as estimated driving times that account for delays or as a factor in determining alternative routes. These handy data allow users to see the circulatory network of the city in real time and to understand the constantly changing cost in time of getting from point A to point B.
Although Google is certainly not a grassroots platform, this example shows how peer-to-peer sharing of sensory data can have a huge impact in helping to manage urban infrastructure. This scenario also shows how smart cities can be both sociable and more efficient without imposing order from above; you choose the best route based on your peers' observations instead of being directed by traffic engineers.
Google's traffic app leverages a large base of existing consumer devices. But bottom-up approaches to sensing can also provide rapid, cheap deployment of new kinds of sensors that measure and record data about people's activities, movements, surroundings and health. As recently as 2009, Paris had fewer than a dozen ozone-monitoring stations. To greatly expand this official data stream, the Green Watch project, overseen by Internet think tank Fing, distributed 200 smart devices to Parisians. The devices sensed ozone and noise levels as their wearers went about their daily lives, and the ongoing measurements were shared publicly through the Citypulse mapping engine.
In the first trial more than 130,000 measurements were taken in a single city district. The experiment showed how a grassroots sensing network could be deployed almost in an instant – at dramatically lower cost than expanding the city's archaic fixed stations. The project also showed that citizens could become deeply engaged in environmental monitoring and regulation. Ultimately, sensors for grass-roots networks will be built into everyday objects: phones, vehicles and clothing.
Bottom-up approaches are also leveraging the sociability of cities to change patterns of activity. As the booming popularity of local shopping networks such as Groupon and LivingSocial shows, connecting local businesses and city dwellers through mobile social networks is a powerful catalyst for action. These new ways of scripting the city can create more lasting kinds of social touch points, too.
The Foursquare mobile social network that Amamou used in Tunis can also turn going out on the town into a kind of mobile game. It crowns the most frequent visitor to every café, bar and restaurant as the "mayor" – a reference to the "self-appointed public characters" described in 1961 by urbanist Jane Jacobs in The Death and Life of Great American Cities. Like the corner gossips that Jacobs argued were so critical to neighborhood cohesion and safe streets, Foursquare's mayors remind us that even the most intelligent of digital cities are vital because they are filled with interesting and accessible people.
Another way to put citizens in the driver's seat is to instrument buildings, plazas and even sculptures with embedded sensors and actuators. These devices will create capabilities for passersby to alter how the built city behaves. For example, the Digital Water Pavilion in Zaragoza, Spain, is a public sculpture whose walls are created by jets of water that can display patterns and react to people. As individuals walk through the space, the jets turn on and off, allowing pedestrians to proceed without getting wet.
This programmable world will extend beyond the physical city. Today many municipalities offer telephone hotlines reached by dialing 311 that give citizens rapid access to city government information and services, as well as the ability to file reports about everyday issues. These systems will evolve into wiki-like information repositories that allow citizens to team up and help themselves.
For instance, one resident, using Boston's mobile 311 app (dubbed Citizen's Connect), responded to a plea for help in removing an errant possum from another Bostonian's garbage can in less than half an hour – well before the city's own Animal Control unit could mobilize to respond. On successfully evicting the critter, the Good Samaritan left a comment on the 311 system that the matter was resolved. As government information systems that enable citizens to add and edit information become more wide­spread, they will support innovation in how services are delivered and funded in caregiving, education and other nonemergency functions. Successes in online social gaming can provide lessons in how to motivate and reward volunteers. Citizens will have to make sure, however, that city government does not view "crowdsourcing" work from the masses as a convenient way to offload its obligations.
More natural computer interfaces will let non­techies, disabled persons and the illiterate participate more fully in civic life, making it smarter still. Although gestural interfaces that recognize individual faces are new, the Institute for Creative Technologies at the University of Southern California has developed a gestural controller for Gmail that, if combined with speech synthesis and recognition, could allow the illiterate poor, the elderly and the disabled to use e­mail and explore the Web. As these technologies spread to cybercafés throughout poor urban communities, such as the national network of more than 600 Pontos de Cultura (culture hotspots) in Brazil's favelas, we will see an urban movement emerge for more inclusive smart services.
Part of what makes cities smart is a system of checks and balances, and networked cities are changing the way citizens monitor city hall. Hyperlocal news sites such as EveryBlock aggregate Web content and public data about individual streets, cover local issues and monitor local government more thoroughly than traditional newspapers or television. Web sites such as Oakland Crimespotting in California enable residents to analyze and create interactive maps of detailed crime data by using information mined from ubiquitous, real­time social media streams and government databases. Crime information systems akin to New York City's CompStat have long allowed police departments to create detailed maps of criminal activity, but better access to crime data will empower citizens to analyze policing and public safety, perhaps leading to different kinds of community policing. If the risk of visions like Masdar is their elitism and singular focus on efficiency, their advantage is clarity of purpose.
The bottom-up smart city is a continual work in progress; its organic flexibility is also its biggest flaw. But as civic laboratories for urban innovation, these seemingly chaotic places are becoming part of a global movement. To make rapid progress, we need to build mechanisms for scanning, evaluating and cross-fertilizing good ideas – ways to spread the best methods for crowd­sourcing public services or using citizens as sensors, just as we have in the past spread the best ideas for bus rapid transit or bike sharing.
P.S.by Ferrovial All of these showcases are examples of how citizens could participate in the urban cycle. Truly smart cities will emerge as inhabitants and their many electronic devices are recruited as real-time sensors of daily life, creating a feedback loop between people, their actions, and the city. One such example, the Cities Open Challenge initiative by Ferrovial and Citymart – a call for innovative, technological solutions that engage citizens in a way that will help improve urban services delivery – gives us an opportunity to radically rethink what intelligent, connected communities of the future could look like, as well as how they will be designed, built and lived in. By empowering people to devise ways to run their daily lives as smartly as possible, we can make their extended community – the actual embodiment of a city – smarter, too.
The post above is adapted from an article written by Carlo Ratti, and published in Scientific American.