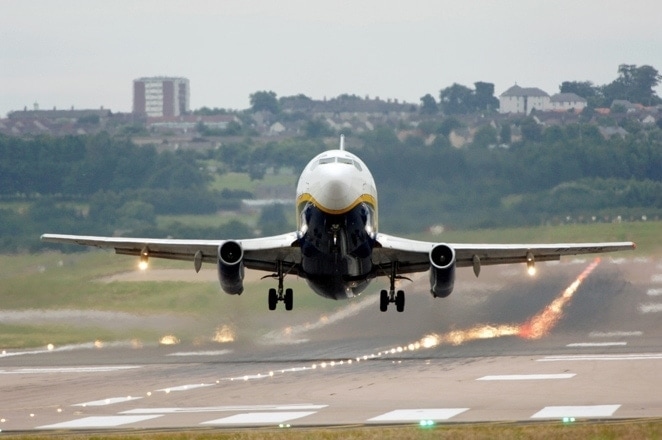 At last! The final meeting ended successfully, as if it were a beautiful wrap-up to your classical end-of-the-year frenzy and imminent start of the long-awaited Christmas break. Farewells and good wishes among colleagues and family are already in mind to share surprises and emotions in the coming days, especially with the youngest ones.
At his office, our man flashes a confident smile out of the feeling of having completed all of the homework as he checks his laptop for the latest alerts recommending departure times from the office to the airport based on real-time traffic conditions. The alert will allow him to organize his last tasks with enough time to catch his flight. The last task before sending off his laptop on holiday leave will be to ask it to print and send the checked baggage tags to his tablet as soon as he arrives at the airport. This will allow him to gain some time to shop around for a bit at a new store that specializes in local delicatessen.
His taxi arrives on time at the precise time previously booked through a mobile app. Staring at a radiant sun from his window seat, he has all of the time in the world during the ride to pull out his tablet and comfortably check the catalogue of the store he intends to visit. A brief exchange of messages with his family group on Whatsapp also activates home trip logistics and notifies him of the approximate expected landing time.
Access to the airport is characterized by your classical end-of-December Friday frenzy, depicted by a huge multicolored choreography in which everyone moves fast and pays attention to the information panels. Our protagonist walks up directly to the Fast Bag Drop desk where he bids farewell to his loyal suitcase before entering the security checkpoint. A new app from the airline will allow him to monitor the location of his luggage at all times until his final destination.
Standing in line at the security checkpoint, a screen system guides him to the most adequate queue based on his traveler profile. In just a few minutes he will have passed through the control checkpoint, hassle-free. A brief additional stop for iris recognition make the passport control process a breeze, before heading over to the shop area.
Our man continues to walk on the recently inaugurated moving walkway, blazing over to the shop zone at almost 12 km per hour, three times the speed at which a group of Japanese travelers passes by on their way to purchase the latest local souvenir. Our protagonist then shakes a flaming smartwatch on his wrist to confirm on-line data for gate number, departure time and seat booked. An alert warns him of a short 15-minute delay, which will allow him to enjoy a bit more of shopping time.
The store is huge and a true gourmet's paradise. A virtual digital assistant at the entrance guides him toward the products he is after. Once his main goal has been achieved, he uses the rest of his time to stroll around the area and walk out with more purchased goodies than he had initially intended: a rich sample of local gastronomical products and some decorations for the Christmas tree that will undoubtedly delight his 5-year old daughter.
Walking swiftly to the boarding gate on the moving walkway, he now shakes his smartwatch to activate the barcode that will allow him to speed up access to the aircraft with sufficient time to accommodate his purchases and reply to a few messages before takeoff.
Engines on, it is now time to relax. The plane takes off in its homebound flight, with only two hours to go to receive a warm family welcome at the destination airport. The moment has come to enjoy time with the family, share memorable moments, think and even lose with little remorse. With a challenging year ahead, our protagonist sets out to recharge his vital batteries to face an almost ever-present challenge and getting the most out of the most scarce resource: flight time.
_____________
All of these examples of the effective application of information technology systems are examples that are either available or undergoing testing at different airports, airlines and manufacturers bringing value proposals to the airport sector. Ferrovial, with its multiple business capabilities and a privileged position in the sector, invests continuously in the conception, testing and deployment of technologies that seek to constantly improve operations, security and especially user comfort and experience for the more than 84 million passengers we provide service to at airports that we manage.
Here you can find some examples of how the effective application of information technology systems is done:
http://www.airport-technology.com/projects/londoncityairportuni/
http://www.britishairways.com/en-us/bamediacentre/newsarticles?articleID=20131230134923&articleType=LatestNews
http://www.iberia.com/web/obsmenu.do?menuId=MYBAGTAG
http://www.rtpa.es/asturias:ThyssenKrupp-presenta-Accel,-el-nuevo-sistema-de-transporte-de-pasajeros-_111413983619.html