Communication
Improve your building, improve your life: Communication campaigns
For years, construction companies involved in building refurbishment have been asking the administration to launch informational and awareness-raising campaigns on energy efficiency and refurbishment in the residential sector.
The objective of the PRENDE project is to involve citizens in the refurbishment process by raising awareness about the benefits of improving the energy efficiency of their homes, neighbourhoods and cities.
Our project provides, in a structured way, the information that interested residents need to begin energy refurbishment, while also offering a simulator which enables them to estimate the savings they could achieve by improving their property. By clarifying the process and identifying the benefits, it dispels homeowners' doubts, helping create a culture of energy efficiency in neighbourhoods and cities.
Our first communication strategy includes Maria Luisa, a local resident and a senior citizen, but how old does she look?
The photo shows a little girl…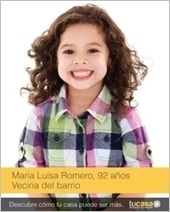 This photo is used at energy efficiency and refurbishment workshops. The goal is to inspire people to ask themselves about the homes in María Luisa's neighbourhood and their outward appearance. The buildings in the neighbourhood may look like they could be improved; maybe they're lacking those elements we associate with comfort nowadays. The underlying message focuses on the need to preserve and maintain our buildings, just as we do with other objects around us, without having to wait until they fall into disrepair.
In parallel, the owners should know that it's possible to take action with our housing stock to ensure that its quality is in line with homes built in the 21st century. These interventions are viable and also provide energy savings if we include improvements to the envelope and increase value and comfort. Hence the name of the specific website and image: "tu casa es más" — "make more of your home".
In this context, the Infrastructure Ministry has launched a campaign: "Si mejoras tu edificio mejoras tu vida" — "Improve your building, improve your life": http://www.fomento.gob.es/rehabilitacion/. The campaign is being rolled out in all media: TV, radio, static advertising, etc. While thanking the Ministry for its efforts, we must take the next step.
Does the target audience understand the message?
As part of this project, we want to take this opportunity to analyse the message's penetration and the impact of the campaign in the January and February workshops in "our neighbourhoods": requests for information, web traffic, applications for subsidies, etc. We have just started to work on generating demand, and our first mass communication action may not hit the spot, but the key is to identify positive and negative indicators so that the following actions are more successful. Hopefully we can reach citizens with a story about refurbishment whose impact is comparable to that of the Christmas lottery ad, the most popular commercial of the year. Can we tell a story that makes us think, like Manuel and Antonio did?
We have a new year in which to try…