Now that summer is here, we are going to show you some of the airports and terminals that Ferrovial has built: London Heathrow Terminals 2 and 5, Madrid-Barajas Terminal 4, Gdansk Terminal 2 and Lublin airport. If you are going to any of those destinations, your guided tour begins when you land. Bon voyage!
Adolfo Suarez Madrid-Barajas Airport Terminal 4 (2006)
Located at the northern end of the airport, Terminal 4 spans 470,261 square metres on 6 levels and serves over 35 million passengers per year. It was designed by Richard Rogers.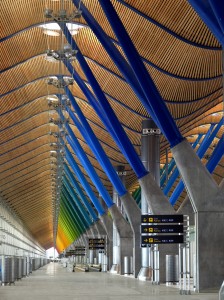 London Heathrow Terminal 5 (2008)
The picture shows the silhouette of the main building of T5A (south-east corner) as dawn breaks at Heathrow. Terminal 5 has been named the world's Best Airport terminal for four consecutive years in the Skytrax World Airports Awards.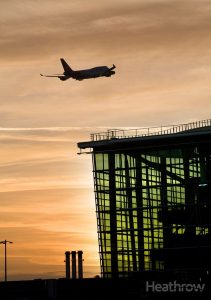 Lublin airport terminal, Poland (2012)
Built by Ferrovial subsidiary Budimex, the terminal spans 11,000 square metres and can handle 1 million passengers per year. It was built in just over one year.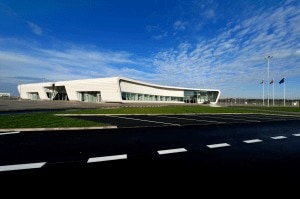 Gdansk Airport Terminal 2, Poland (2012)
Budimex built Terminal 2 of Lech Walesa airport in Gdansk. The project received the "Tricity Wings 2012" and the "Top Municipal Investments 2013" awards. The new terminal doubled the airport's capacity to 5 million passengers per year.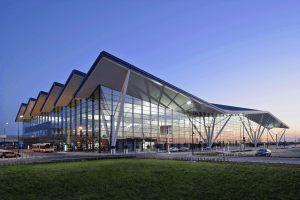 London Heathrow Terminal 2 (2014)
Inspired by aviation, sculptor Richard Wilson created 'Slipstream', which combines advanced technology and British craftsmanship and was the centrepiece at the inauguration of this terminal. It is the "greenest" terminal in Europe, and can handle 20 million passengers per year.