Both September and the beginning of the year are normally dates that are marked on one's calendar for making changes to your life (joining a gym, learning a new language, etc.). I for one, at the beginning of this year, came to Madrid looking to develop my career in Human Resources. After participating in several recruitment processes, I found the opportunity to work at Ferrovial as part of its trainee program and a few months afterward I was offered a position as Human Resources Development Specialist.
I know that searching for a job opportunity is no easy task and many are the factors that lead a recruiter to take the first step: contacting you. Certainly the main tool is one's CV, but today it is unthinkable to be looking for a job without a profile in LinkedIn. This is the professional network that is used the most across the globe, which means it is the place to be for anyone who wishes to give visibility to their résumé, develop his/her professional career or seeking new job opportunities.
Therefore, after my own personal experience while looking for work and my professional experience at the Human Resources Department looking for domestic and international profiles for Ferrovial, I want to give you 10 essential tips to make the best out of this professional network:
You picture: You must do your best to ensure that you use a professional-looking picture that is also friendly. Avoid using the pictures from your cousin's wedding (yes, the suit fitted like a glove but that does not make it look professional). In fact, it might convey an image of you that reveals a lack of attention to detail. The picture must be sharp and have a neutral background and be half-length, if possible. You can try to adapt it to your setting and even give it a twist (e.g., wear a hard hat if you are a site engineer). Oh! And smile a little bit.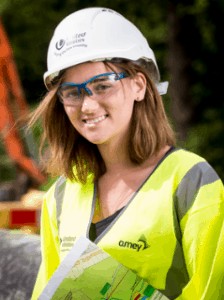 Your professional title: Before diving into this item, do you know how LinkedIn's search engine works? It is quite similar to Google's search engine: the recruiter looks for keywords that are of interest to him/her such as international tax advice. This way, the recruiter will be provided with those profiles that include these keywords.Nevertheless and with respect to professional certificates, the normal thing is to state your role in your current job, if possible; look for trends, that is: ask yourself if the keywords are used more in Spanish or English; how does it come up in those job offers that are of interest to you, how does a recruiter think, etc. Also, you can go beyond and try to attract their attention from the rest of the users by using an ingenious description.Avoid this kind of title: 

Third degree ITS Engineer. 

Think in titles like this:

Telecommunications and Intelligent Systems Senior Engineer.
The summary: In Spain we are not all too used to this concept; however in Anglo-Saxon countries excerpts always precede CVs. You must not reproduce what you will provide details about later on; it is simply the place where you must describe your competitive advantage, that which sets you apart from the other 500 million LinkedIn users. Answer the question about who you are, what you like to do and what you are looking for.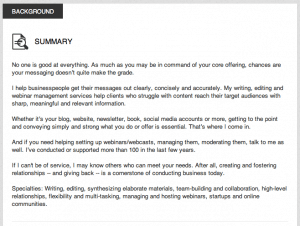 The URL: Creating a personalized URL will facilitate spreading your profile across other social media, placing it on your CV document, forums, blogs, etc. If in doubt on how to create one click this link.


Profile: In the majority of cases, many of the users just mention their role and company where they have worked or are currently working. Therefore, we advise you to differentiate yourself from the rest by completing your profile. How? By adequately explaining the functions in each of the roles you have held.  So take advantage of the unlimited number of characters you can use (but don't overdo it!). Depending on your experience and training you will know which section should come first. Add images, projects or URLs that are linked to your experience or academic background in order to bring in some fresh air and modern look to your profile. Furthermore, do not forget to create your profile in other languages if you want to be taken into account in the international sphere.

Here's a trick: if you want to show up in other users' search results use keywords that are related to your professional setting; this way you will be found more easily.
Recommendations: Request recommendations from all people who may have played an important role in your professional life such as professors, former bosses, colleagues, etc. Counting with recommendations that can back you will always help, as they provide added security and trust. Another easy way to bring credibility to your profile is the skills that you can add and which your network of contacts can validate. Take advantage of them!

Groups and company pages: The first step is to find groups that relate to your interests. Once you have been accepted to be a part of them, share their posts on your wall and take part in or start a discussion. This will help you to stay up to date about new trends and good practices, in addition to giving you visibility. Following companies within your sector will also bring you much information and even notifications about job vacancies.

Create an efficient network of contacts: Did you know there is a limit of 3,000 invitations per account? Yes, and although this may seem much, it is not so many. Therefore, be strategic and selective when submitting contact requests to other users, that is, do not try to connect with everyone, but rather with profiles that are similar to yours or of interest to you. Choose people with whom you want to network. When adding people, write a personal message to each user with whom you wish to connect, explaining the added value that your connection would bring to that person. You can also send 'Inmails' to people who are particularly interesting. If your problem is that you consider too many profiles to be attractive, why not activate the free Premium trial period and take advantage to connect with more people
Be selective when applying for job vacancies: Many people do not realize that companies can see other jobs you may have applied for at their company and therefore you must exercise caution if you wish to focus on a specific profile. Take advantage of the option of saving those job searches you use the most.
Do not give up: This is a marathon, not a sprint. Groom your profile by following these tips during the entire year. Think about what your competitive advantage is and make use of that; persevere and keep active to reach your goals.
I hope these 10 tips for improving your LinkedIn profile will be of help. See you on the network!