Entrepreneurs
María Benjumea, a budding entrepreneur must surround themselves with good people and when life gives you lemons, make lemonade'
After the celebration of the South Summit 2015 event, we interviewed María Benjumea. She graduated in Geography and History and shortly after set up her first company, an art workshop; in the nineties she came up with the first web portal for job searches, Infoempleo. She is the Vice-President of the Circulo de Empresarios, vice president of SECOT and founding partner of International Women's Forum Spain; and president of one of the most important events for  startups and entrepreneurs in the south of Europe.
Interview with María Benjumea, President of South Summit
After graduating with a degree in Geography and History, your first step as an entrepreneur was setting up an antique shop. Do you think the very first businesses back then are like those today?
I think they are very different, my first project actually came about by chance. I never thought that I could be an entrepreneur, never! I took the entrance exam for the civil service and failed it the first time around. I wanted to have a child and whilst I was pregnant someone suggested that I could put on an art workshop. I liked the project : it offered me the possibility of combining work with looking after my children, but I didn't come up with this idea myself.
After your first company, the Infoempleo website emerged and more recently the South Summit. All relate to the field of human resources, bringing businesses and individuals closer together, personal development. Where does this very humanistic vein come from?
You are what you want to be and where life takes you, and you need to tell yourself that you can do whatever you turn your hand to. But yes, people are important to me, they're very important to me. After doing the art workshop, we created a study guide to help to guide people, which led to the creation of Infoempleo. I wanted to improve employee satisfaction and help deal with the problems that people were facing in the workplace.
After so many editions of Spain Startup or South Summit, what has most struck you about entrepreneurs?  What do you think is their common denominator?
As I see it, entrepreneurs don't need to have the same profile, in no way whatsoever. There are many different types of entrepreneurs. Not every entrepreneur is the one with the idea, to really have a successful project takes a team, and the team must complement each other, i.e. it should be made up of people with different profiles, something that we need to have clear in our minds. The entrepreneur is not just the person with the idea, the idea is 1% and in order to be a success the other 99% comes from how it is executed, right?
I think that the defining characteristics of an entrepreneur are enthusiasm, persuasion, a good work ethic, the ability to not get frustrated, to be able to say "I am having a bad day/week/month, I have had a few bad months, but this will all work out" and there are moments that are difficult, but this is the case when working for any company.
And what I've seen, that really excites me, within entrepreneurs today is generosity. They are highly collaborative, and I think people are in general. I believe that every day we are seeing more of this entrepreneurial, generous spirit, and that it's entering into the common mass, like we are seeing here (at South Summit). It seems to me that everyone is willing to support each other, and this ultimately will benefit everyone.
Which of the startup projects seemed most interesting or you remember most fondly?
Many, I can't just pick just one, a lot come to mind, lots of good ones and many great people.
The profile of an entrepreneur is mainly male, as a founding member of the International Womens Forum Spain, how do you see the role of women in this new generation of businesses?
We need to encourage them. If you want to do it you can! According to the entrepreneurship map that we present, only 17% of the projects presented are led by women. What can we do about this? We need to make them believe that they can do it! It's the only way. There is good news however, almost 30% of the finalists in this new edition of Startup Spain are women. We work well, don't we? In any case, this is not an issue of men and women, this is about people and convincing them that we need more female representation.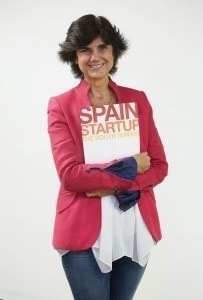 Before we talked about your digital project infoempleo. What were the defining moments of the technological revolution in recent years?
Definitely! There is certainly a 'before' and 'after'. I didn't have a clue about ​​technology, literally no idea. We actually got the Internet really early, in 1995. I hadn't heard  of the Internet back then, had no idea about it. First we started working with videotext, then shortly after the internet appeared and we thought 'this is the latest craze, we have to get on board.'
We had gone from writing things by hand, to writing them on a typewriter and when the computer was introduced we had to start again from scratch. The world is changing at an astonishing rate and that really excites me! I am 61 years old and I have seen an incredible evolution.
When we launched the portal Infoempleo in 2000, it was wonderful because we had  to compete with others, which I loved. The competitor was Infojobs, who were extremely smart and had done a great job. We even received awards together. But what happened? They were young and I imagine they were surrounded by computers. We didn't have the technology, we didn't have a good technology guy and of course, they overtook us. They did really well.I drew the conclusion that it's not about what you know, it's about surrounding yourself with good people. This is the key to everything. There are always going to be people who know more than you, so surround yourself with them, always look on the bright side and when life gives you lemons, make lemonade.