Energy efficiency
Plactherm: Floor tiles that provide heat where you need it without wasting energy
When, in the early 2000s, we saw reports about home automation and intelligent offices and houses, we all thought it was a bit science-fiction, and beyond the reach all but a select few. Doors which opened using the iris of the eye, people who spoke to their fridges, baths that filled themselves for their masters… but the intelligent transformation of both cities and cars as well as homes is now an accessible reality set against a sustainable and efficient backdrop.
At the last South Summit 2015 a range of start-ups were presented, along with their transformative and environmentally-friendly projects. But Plactherm was the winner in the event's "Industrial Revolution" category. Why? Because they have created what people both sensitive to cold and to heat have been waiting for. Their project involves intelligent and independent floor tiles which, through a micro-processor and sensors, regulate the temperature to which we want to heat our homes. But the thing is that these tiles also regulate themselves automatically depending on the situation. For example, depending on whether we have lots of people coming round or are on our own, they provide more or less heat, and in the most efficient manner. And the same goes for our offices. After all, put up your hand if you think we're all comfortable at the same temperature!
We interviewed Lluc Martí, the founder of Plactherm, so he could tell us all about these tiles.
Tell us how the idea for intelligent tiles came about. Is there someone highly sensitive to the cold in your team?
My girlfriend told me about the problems she was having to keep her working space warm in a physiotherapy clinic for disabled children. The radiators were not powerful enough and the heating pump dried out the air, with high temperatures at head level and cold at floor level, exactly the opposite of what you want. That led to her (more sensitive) patients getting itchy eyes and headaches. I then noticed these huge jigsaw puzzles that the children were playing with and I thought that if each of the pieces incorporated its own heating then it would be possible to achieve a highly efficient system, heating from the ground upwards, which is the most comfortable way. And thus Plactherm was born
The heart of the matter lies in the inside of the tile. What is the inside of these tiles like? What is each layer made up of?
Exactly, that is where the heart of the matter lies. Each tile is composed of multiple layers: a structure including electronics, insulation, multiple sensors and a resistor component extremely close to the surface. This allows each tile to heat and communicate independently. The system is fitted with an algorithm which enables it to make autonomous decisions. For instance, it would be able to turn itself on by itself so that the user finds the room at his/her chosen comfort temperature. All you would have to do is tell the system what time you are arriving for it to know what time to switch on and at what temperature, seeking out the most efficient manner of achieving the required parameters. The system teaches itself about the surroundings in which it is installed, and their requirements, providing the most efficient manner of complying with the instructions it has been given.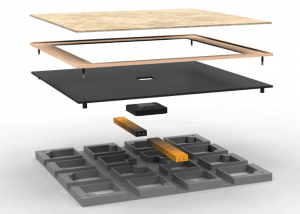 Watch video:  How Plactherm works
Can this system enable us to have more efficient and sustainable companies and homes?
Certainly! With Plactherm you have the option of heating when you want and where you really need it. Imagine the amount of money you could save and how much more comfortable you could be! An external study shows that we save up to 30% in energy consumption compared with current systems, a percentage that goes up when you start zoning. With our system we manage to reduce the overall temperature by 3°C compared to traditional systems, putting emphasis on where people are and busy hours of the day. Without wasting energy in places where there isn't anybody.
The ideal temperature is always a subject of heated discussion. How can this solution benefit those who are sensitive to the heat and those sensitive to the cold who can't agree?
There is no doubt that these are some of the people who benefit most. This was one of the questions we asked ourselves when we began to conceptualise the project. So if we all have different comfort temperatures, why do current systems not provide us with this zoning option? Our system puts an end to this subject of discussion. In a manner that is highly intuitive, different zones (groups of tiles) are created and assigned to each person (worker), giving each one the opportunity to regulate his/her comfort temperature through a mobile application.
Could you give us a few more examples of uses of Plactherm tiles, please? We've read that they can be used to raise the alarm if an intruder breaks in or in the event of an emergency.
Each one of the tiles is fitted with a presence sensor, which has a multitude of applications, from completely avoiding overheating (warming areas with nobody in them), alerting us to the presence of intruders during hours when there should be nobody about, or raising the alarm if someone falls over. The system offers a wide range of possibilities.
Having won the South Summit 2015 award, what are the plans for the immediate future?
We have completed our first showroom, where we installed 102 tiles. Now we are in the process of completing negotiations for the first 10 installations which we will be carrying out in the first half of 2016. So if you are a lover of new technologies, an innovator par excellence, and in search of savings and comfort, this is your chance.
We know you must have been asked this a thousand times, but… What would be your advice for someone who has an idea and wants to be an entrepreneur?
To understand quite clearly that we don't sell what we want to sell, but what people want to buy –  to verify the market and its requirements is essential. We cannot forget that people don't buy products, they buy benefits, and as such it is important to know their needs. I always stress our need to be flexible. Being an entrepreneur is a constant process of repetition. Trial and error. And one of great perseverance, patience, will and illusion. Being an entrepreneur isn't easy, but it's worth it. You have to dare to dream big, and dream of changing and improving the world, and fight to succeed with a smile on your face. Go for it!