Events
Instagram gets urbanised- check out the top 50 photos from #UrbanPeek 2016
From the 8th- 22nd of November, the #Instagramers community and @Ferrovial called for all Instagram users to fill their pages with urban images, using the hashtag #URBANPEEK. We received 7000 entries and 50 of these were chosen as finalists, which were displayed at an exhibition at El Paracaídista. Here´s a summary of #UrbanPeek, the 49 finalists and the winning image.
The smartphone surge
According to a study carried out by the UN in 2014, 54 per cent of the world's population lives in urban areas, a proportion that is expected to increase to 66 per cent by 2050. Furthermore, with such a huge advancement in mobile technology in recent years, it has been estimated by Ericsson that by 2020, 70% of the global population (6.1 billion) will own a smartphone. Taking into account that more people are living in cities and more of them are gaining access to cameras, it is unsurprising that there has been a significant rise in the prominence of urban photography.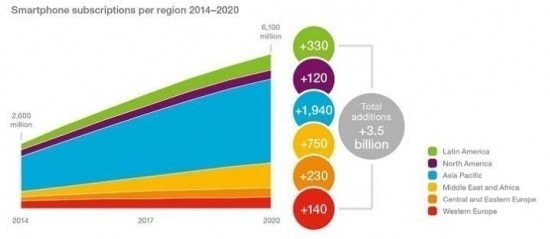 Smartphone subscriptions per region 2014-2020. Source: Ericsson
Everyone's snapping
Upon studying this surge in smartphone ownership, it is interesting to see that this year the 4th most popular app in the world is in fact dedicated to photography.  With a staggering figure of 500 million monthly users, Instagram has undoubtedly influenced today´s photography culture. Having started off as a simple start-up photo sharing app in 2010, the act of 'instagramming' has now become a modern day verb which is recognized and utilized worldwide; a transformation that founders Kevin Systrom and Mike Krieger probably did not expect. Due to its simplistic nature, the app enables users of any age to shoot, edit and share their favourite photos online within minutes. And that's exactly what they are doing, at a current rate of 95 million photos and videos being shared a day across the globe. Even if they aren´t sharing, they are certainly liking. An average of 3.5 billion times a day, to be precise.
Instagram: The rise of a tech giant. Source: The Telegraph
The origin of #UrbanPeek
Street photography, which evolved in the late 1800´s, focuses primarily on the life and society of a particular urban setting, by encapsulating human interactions amongst its inhabitants. On the other hand, urban landscape photography  differs slightly in that it places emphasis on the inhabitants but also on their surroundings; the actual urban structures. Using this as a basis, along with the fact that 30% of the world´s internet users are now on Instagram, in where people could share their personal 'peeks' which they have captured in their favourite cities on Instagram, using the hashtag #UrbanPeek.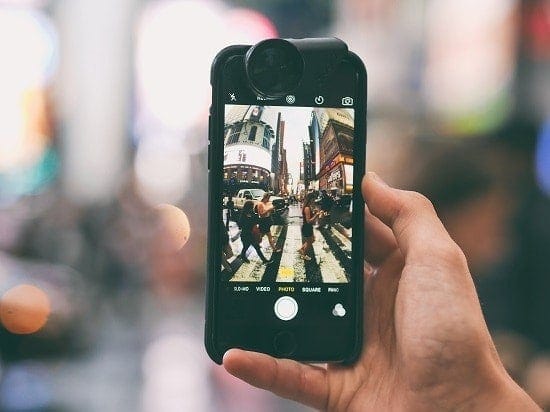 Capturing an urban peek. Source :Unsplash
#URBANPEEK 2016
After the huge response and success of last year´s competition which saw more than 3,500 entires, Ferrovial were excited to launch the second edition of #UrbanPeek, this time consisting not only of an online competition but also an exciting exhibition. Ferrovial once again collaborated with Instagramers (@IgersSpain), who have an impressive 49.9 million followers, in order to organize the online competition and exhibition. Just like last year, the concept was easy. Participants simply had to upload their image adding @ferrovial and #UrbanPeek. The company was delighted to receive over 7,000 entries in just 12 days, providing the judging panel with the challenge of narrowing a vast number of fantastic entries down to just 50.  
The Grand Opening
On 1st December, in order to inaugurate the exhibition, Ferrovial and the Instagramers hosted a highly memorable and exciting #UrbanPeek exhibition opening. The top 50 photos were showcased in a gallery featuring all things urban at El Paracaidista in the trendy Madrid neighbourhood of Malasaña. One of the great things about capturing urban landscapes is that there are no limits. As there is no real specific definition for urban landscape, it tends to be interpreted differently by every photographer, and this was clearly demonstrated through the 50 finalist images. Despite being very different, every photo projected a very high standard by making impressive use of composition through varied angles, lighting, and use of colour. As well as a diverse selection of subject matter, the collection also offered a full-exposure of urban imagery, but not only from Spanish cities. Many entries were set against an array of international urban backdrops, including London, Rotterdam, Chicago and Havana. For an added hint of urban authenticity, the exhibition even integrated a soundtrack of titles based on the subject matter of Ferrovial´s lines of work, including 'Highway to Hell', 'Night Flight' and 'Key to the Highway.' After a very difficult deliberation, this year's #UrbanPeek prize was presented to Rubén Rodriguez Montero (@rrmontero). The Instagramers felt that this stunning photo of a pedestrian jumping over a reflection of a skyscraper truly encapsulated the competition´s theme of an 'urban peek.' Rubén, who had been visiting Chicago for a month, commented that the photo was very special to him and was ecstatic to have captured the top photo out of 7000 entries.  After the announcement, all of the visitors converged on the gallery where they could check out the finalists . After the success of the second edition, the digital team are already excited for #UrbanPeek 2017! Start thinking about what YOUR entry will be, and happy snapping!  
Our top 50 finalists
Música ligera Una foto publicada por Antonio Jiménez (@nemobarriga) el